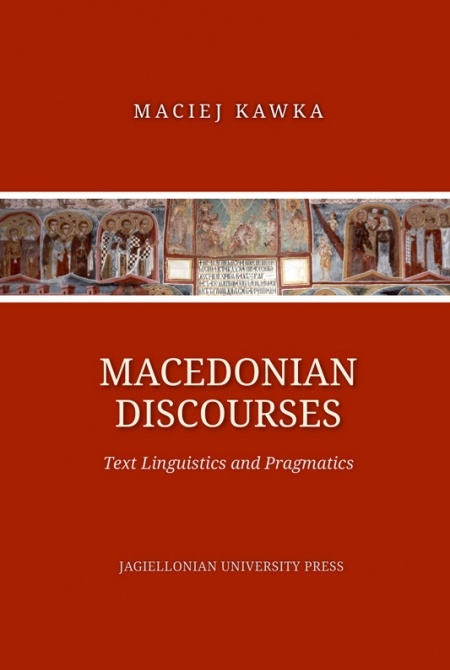 Zobacz więcej
Macedonian discourses
Text Linguistics and Pragmatics
Liczba stron: 278Format: B5Rok wydania: 2016Data premiery: 18.11.2016
Opis książki
Prof. Maciej Kawka, PhD – linguist, Macedonist and Slavist – is a fulltime professor at the Jagiellonian University in Krakow. He taught at the Ss. Cyril and Methodius University in Skopje in the period between 1978–1981, and at the Aix-en-Provence University between 1999–2001. His research interests lie in the field of text linguistics and discourse, language pragmatics and media communication with special regard to confrontational description of the Polish compared to the Macedonian language.
Repeatedly, he took part in the Seminar on Macedonian language and literature in Ohrid. He won Golden Plaque (2007 and 2009) from the Ss. Cyril and Methodius University for his contribution in the development and affirmation of the Macedonian language, literature and culture.
He is the author of more than 150 works and articles, of which a large number directly concern Macedonistic problematic, for example: O kodyfikacji normy współczesnego języka macedońskiego (2002), The Macedonian Language in a Multiethnic Society (2014), Zhivko Chingo, In the Eve of the Maccabees – Within the Circle of Biblical Transpositions (2015), Поимите "дискурс" и "жанр" во лингвистиката (2015) etc. as well as monographs: Słownik syntaktyczno-semantyczny czasowników polskich (1980), Metatekst w tekście narracyjnym na przykładzie wybranych utworów literatury dla dzieci (1991), Polski–macedoński. Studia konfrontatywne (1996), Dyskurs szkolny. Zagadnienia języka (1999), Sześć dyskursów o języku (2012).
Język publikacji
Angielski/English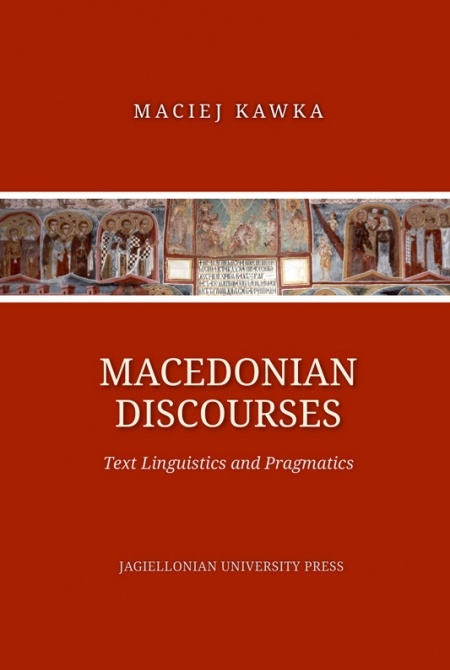 Macedonian discourses
Text Linguistics and Pragmatics
Table of contents


Introduction 9
A. Pragmatics of Discourse

I. Basic Tendencies in the Linguistics of Discourse 13
II. The Language of National and Cultural Discourses 18
1. Discourses – Macedonian, Balkan and European Discourses – Definitions and Language Determinations 19
2. General Types of Macedonian National and Cultural Discourses 20
3. Subject to a Linguistic Analysis of Macedonian and Balkan Discourses 21

III. On Codification of the Norm of the Contemporary Macedonian Language 23
IV. Notions of Macedonian Man // Macedonian Woman and Macedonian Language in Scientific Discourse 37
1. The notions Macedonian Man // Macedonian Woman // Macedonian People 37


a. Macedonians 38
b. Ancient Macedonians 41
c. Macedonian Slavs 43
d. Neighboring Nations' Point of View 45


2. The Notion of the Macedonian Language in Scientific Discourse 47

V. The Macedonian Language versus other Languages in Macedonia 56
VI. In the Circle of Politics and Linguistics 62
VII. The Macedonian Language and the Framework Agreement (Рамковен договор) 64
VIII. The Macedonian Language in Public Communication 66
1. За македонцките работи (On Macedonian Matters) by Krste Petkov Misirkov i.e. How A Political Discourse is Created 66
2. A Macedonian Discourse on Monuments and Statues 76
3. Discourse on the Name of the State (1990–1999) 83

IX. Forms of Address in Contemporary Macedonian Language 89
1. Basic Forms of Address in the Macedonian Language 90
2. Forms of Address in the Macedonian Public Discourse (based on examples from parliamentary discourse) 102

B. Language in the Discourse: Macedonian – Polish


I. Some Causative Verbs in the Macedonian and Polish Languages 115
1. On the Modal Verb Може // Móс in the Macedonian and the Polish Language 130
2. On the Category: Verb Distribution (function of prefixes pо-, pos-, poz- // по-, поис-, поиз- in the Polish and Macedonian languages) 135
3. Peter Draganov Danilovich as a Linguist – In Light of the Text on Nasal Vowels in Modern Macedonian Slavic and Bulgarian Dialects 142
4. Some Questions on the Sintactic – Semantic Dictionary of Verbs in the Polish and the Macedonian Language 147

II. Text in the Discourse 164
1. Basic Connection Indicators in the Macedonian Language – Anaphoric Function of the Article 164
2. Zhivko Chingo, On the Eve of the Maccabees – within the Circle of Biblical Transpositions 169

III. Functions of the Expression проклет да бидам (I'll be damned) in the novel The Great Water by Zhivko Chingo 177
1. "Foreign Speach" in the Novel The Great Water by Zhivko Chingo 177
2. Formal and Dynamic Equivalence in the Polish Translation of Големата вода (The Great Water) by Zhivko Chingo 193

IV. On the Metaillocutionary Power of Negation in Sugar Story by Slavko Janevski 198
V. On Poetic Antonyms in the Poem Огнот не знае, пепелта не знае (Fire Does Not Know, Ashes Does Not Know) by Petre M. Andreevski 205
VI. Games in Text in Расказ за шоа како се иишуваат раскази (Story about How Stories Are Written) by Vlada Urošević 212
VII. Instances of Deconstructivism in Zhivko Chingo's Short Story Paskvelija 217
VIII. Variance in Тranslation (Ivo Andrić: На Дрини ћуприја, Мостот на Дрина, Most na Drinie, The Bridge on the Drina) 224
C. Folklore

I. Textual Categories of Time and Space in Folk Tales by Marko K. Cepenkov 233
II. На тие зборои… (On those words…) – Place and Function of Prepositions in Folk Tales by Marko K. Cepenkov 239
III. King Marko in the Folk Tales by Marko K. Cepenkov – Cognitive Definition 250
IV. Linguistic Stereotypes in Polish and Macedonian Folk Texts by Oskar Kolberg and Marko K. Cepenkov 259
Annex 263
V. On the Development and Needs Of Textology, That Is, On Scientific Editing in Macedonia Related to The Phototypic Edition of the Anthology of the Madinov Brothers 264
Conclusion 267
Bibliography 268
Macedonian discourses
Text Linguistics and Pragmatics
SPIS TREŚCI
Table of contents


Introduction 9
A. Pragmatics of Discourse

I. Basic Tendencies in the Linguistics of Discourse 13
II. The Language of National and Cultural Discourses 18
1. Discourses – Macedonian, Balkan and European Discourses – Definitions and Language Determinations 19
2. General Types of Macedonian National and Cultural Discourses 20
3. Subject to a Linguistic Analysis of Macedonian and Balkan Discourses 21

III. On Codification of the Norm of the Contemporary Macedonian Language 23
IV. Notions of Macedonian Man // Macedonian Woman and Macedonian Language in Scientific Discourse 37
1. The notions Macedonian Man // Macedonian Woman // Macedonian People 37


a. Macedonians 38
b. Ancient Macedonians 41
c. Macedonian Slavs 43
d. Neighboring Nations' Point of View 45


2. The Notion of the Macedonian Language in Scientific Discourse 47

V. The Macedonian Language versus other Languages in Macedonia 56
VI. In the Circle of Politics and Linguistics 62
VII. The Macedonian Language and the Framework Agreement (Рамковен договор) 64
VIII. The Macedonian Language in Public Communication 66
1. За македонцките работи (On Macedonian Matters) by Krste Petkov Misirkov i.e. How A Political Discourse is Created 66
2. A Macedonian Discourse on Monuments and Statues 76
3. Discourse on the Name of the State (1990–1999) 83

IX. Forms of Address in Contemporary Macedonian Language 89
1. Basic Forms of Address in the Macedonian Language 90
2. Forms of Address in the Macedonian Public Discourse (based on examples from parliamentary discourse) 102

B. Language in the Discourse: Macedonian – Polish


I. Some Causative Verbs in the Macedonian and Polish Languages 115
1. On the Modal Verb Може // Móс in the Macedonian and the Polish Language 130
2. On the Category: Verb Distribution (function of prefixes pо-, pos-, poz- // по-, поис-, поиз- in the Polish and Macedonian languages) 135
3. Peter Draganov Danilovich as a Linguist – In Light of the Text on Nasal Vowels in Modern Macedonian Slavic and Bulgarian Dialects 142
4. Some Questions on the Sintactic – Semantic Dictionary of Verbs in the Polish and the Macedonian Language 147

II. Text in the Discourse 164
1. Basic Connection Indicators in the Macedonian Language – Anaphoric Function of the Article 164
2. Zhivko Chingo, On the Eve of the Maccabees – within the Circle of Biblical Transpositions 169

III. Functions of the Expression проклет да бидам (I'll be damned) in the novel The Great Water by Zhivko Chingo 177
1. "Foreign Speach" in the Novel The Great Water by Zhivko Chingo 177
2. Formal and Dynamic Equivalence in the Polish Translation of Големата вода (The Great Water) by Zhivko Chingo 193

IV. On the Metaillocutionary Power of Negation in Sugar Story by Slavko Janevski 198
V. On Poetic Antonyms in the Poem Огнот не знае, пепелта не знае (Fire Does Not Know, Ashes Does Not Know) by Petre M. Andreevski 205
VI. Games in Text in Расказ за шоа како се иишуваат раскази (Story about How Stories Are Written) by Vlada Urošević 212
VII. Instances of Deconstructivism in Zhivko Chingo's Short Story Paskvelija 217
VIII. Variance in Тranslation (Ivo Andrić: На Дрини ћуприја, Мостот на Дрина, Most na Drinie, The Bridge on the Drina) 224
C. Folklore

I. Textual Categories of Time and Space in Folk Tales by Marko K. Cepenkov 233
II. На тие зборои… (On those words…) – Place and Function of Prepositions in Folk Tales by Marko K. Cepenkov 239
III. King Marko in the Folk Tales by Marko K. Cepenkov – Cognitive Definition 250
IV. Linguistic Stereotypes in Polish and Macedonian Folk Texts by Oskar Kolberg and Marko K. Cepenkov 259
Annex 263
V. On the Development and Needs Of Textology, That Is, On Scientific Editing in Macedonia Related to The Phototypic Edition of the Anthology of the Madinov Brothers 264
Conclusion 267
Bibliography 268
Wybierz rozdziały:
Wartość zamówienia:
0.00 zł