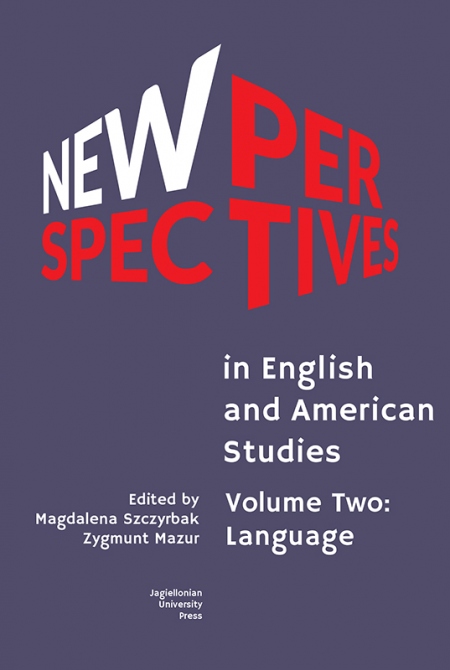 Table of Contents, Reviews
New Perspectives in English and American Studies - KOPIA
Volume One: Literature
Pages: 266 Book format: 15,8x23,5 cm Publication date: 2020
Book description
New Perspectives in English and American Studies. Volume One: Literature contains a selection of papers delivered at 14th International Conference on English and American Literature and Language, an international event organized every three years by the Institute of English Studies at the Jagiellonian University in Kraków, Poland. The editors divided the content into five broad sections reflecting the scope of academic reflection, the breadth of cultural material and the depth of its analysis.

The articles in the volume revolve around the topics of literary and cultural studies and their diversity mirrors the broad spectrum of the thematic panels of the conference.
These included, among others, Medievalism in Literature, James Joyce Studies, The Contemporary Historical Novel and Multimodality. Aside from these thematic sessions, a number of general sessions dedicated to a wide spectrum of topics pertinent to English and American studies was held – in particular, the issues of the individual's perspective upon collective history, regional myths as well as the pivotal new historical awareness.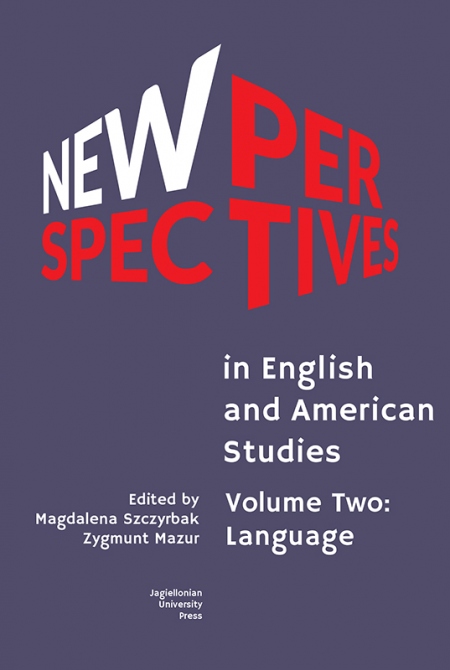 New Perspectives in English and American Studies - KOPIA
Volume One: Literature
PART 1: HISTORICAL NOVEL
Carolyne Larrington - George Martin's A Song of Ice and Fire, HBO's Game of Thrones and (Neo)Medievalism
Ib Johansen - Narrative Cross-currents and Textual Crossfires
Petr Chalupský - The (In)authenticity of Invented History in Graeme Macrae Burnet's His Bloody Project
Kinga Latała - Modern Representations of War-time Executions in William Brodrick's A Whispered Name and John Boyne's The Absolutist
Marek Pawlicki - "The Fable Splits at the Seams": An Exploration of Imagination and Myth in William Golding's The Scorpion God
Barbara Klonowska - From Trauma to Love, from Experiment to Tradition: Contemporary British Historical Romances and Historiography
Rachael Sumner - Historical Vanishing Points in Hilary Mantel's Novels Wolf Hall and Bring up the Bodies
Beata Kiersnowska - New Sporting Woman – A New Ideal of Womanhood in Late Victorian England?

PART 2: AMERICAN SOUTH
Robert H. Brinkmeyer - W.J. Cash and Hitler: The Mind of the South and the European Crisis
Anna Łozińska - The True and the Degenerate – Images of Native Americans and the Natural Environment in William Faulkner's Short Stories
Todd Hagstette - Honor, Religion, and Domesticity: New Perspectives on Southern Dueling in Augusta Jane Evans's St. Elmo
Katarzyna Jasiewicz - The Old South and a New Meaning: Kate Chopin's Stories vs. Patricia Yaeger's Dirt and Desire
Szymon Wnuk - Through the Ruins of an Orchard: Fertility Myth in Cormac McCarthy's The Road

PART 3: GENERAL AMERICAN STUDIES
Grzegorz Kotecki - "Deafened by the Roar of Its Own History": Communal Remembering and Collective Forgetting in Toni Morrison's Paradise
Tadeusz Lewandowski - Zitkála-Šá's Old Indian Legends: A New Perspective
Richard Thomas Savino - The 'Other' in Deliver Us from Evil
Joanna Durczak - Contrary Farmers and the Literature of Agri/cultural Resistance
Joanna Antoniak - Different Images of Father in Jonathan Safran Foer's Fiction
Anna Białkowska - "Lee and the Boys" – A Queer Look at William S. Burroughs
Zygmunt Mazur - Inhabiting the Moment in Time: W.S. Merwin's The Shadow of Sirius
Anna Svĕtlíková - Jonathan Edwards, John Dennis, and the Religious Sublime: A Consideration of Edwardsean Terror

PART 4: BRITISH PROSE
Anna Bugajska - The Anxiety of the Lion Influence: The Place of the Lion and Narnia
Sabina Sosin - Challenging the Codex = Challenging the Reader? Motivations behind B.S. Johnson's Aesthetical Choices in The Unfortunates
Olga Glebova - Doris Lessing and J.M. Coetzee in the Context of Contemporary Celebrity Culture

PART 5: DRAMA
Tomasz Więcek - The Conflict between Ecclesiastical Courts and the Royal Justice in the Late Medieval Passion Plays
Rowland Cotterill - "New Heaven, New Earth": Some Promised Ends and Brave New Worlds of Shakespearian Theatre
Jurgita Astrauskienė - Repartee and Quip as Modes of Literary Wit in John Webster's drama The Duchess of Malfi
Philipp Reisner - Performing Theology: David Adjmi's Satirical Tragedies

PART 6: MULTIMODALITY
Mariano D'Ambrosio - Dynamic Patterns in Contemporary Multimodal Printed Novels: The Exploration, the Quest, the Journey, the Encounter
Ioana Zirra - Digital Tracing of the "Parallactic Drift of the Socalled Fixed Stars" in James Joyce's Ulysses
New Perspectives in English and American Studies - KOPIA
Volume One: Literature
TABLE OF CONTENTS
PART 1: HISTORICAL NOVEL
Carolyne Larrington - George Martin's A Song of Ice and Fire, HBO's Game of Thrones and (Neo)Medievalism
Ib Johansen - Narrative Cross-currents and Textual Crossfires
Petr Chalupský - The (In)authenticity of Invented History in Graeme Macrae Burnet's His Bloody Project
Kinga Latała - Modern Representations of War-time Executions in William Brodrick's A Whispered Name and John Boyne's The Absolutist
Marek Pawlicki - "The Fable Splits at the Seams": An Exploration of Imagination and Myth in William Golding's The Scorpion God
Barbara Klonowska - From Trauma to Love, from Experiment to Tradition: Contemporary British Historical Romances and Historiography
Rachael Sumner - Historical Vanishing Points in Hilary Mantel's Novels Wolf Hall and Bring up the Bodies
Beata Kiersnowska - New Sporting Woman – A New Ideal of Womanhood in Late Victorian England?

PART 2: AMERICAN SOUTH
Robert H. Brinkmeyer - W.J. Cash and Hitler: The Mind of the South and the European Crisis
Anna Łozińska - The True and the Degenerate – Images of Native Americans and the Natural Environment in William Faulkner's Short Stories
Todd Hagstette - Honor, Religion, and Domesticity: New Perspectives on Southern Dueling in Augusta Jane Evans's St. Elmo
Katarzyna Jasiewicz - The Old South and a New Meaning: Kate Chopin's Stories vs. Patricia Yaeger's Dirt and Desire
Szymon Wnuk - Through the Ruins of an Orchard: Fertility Myth in Cormac McCarthy's The Road

PART 3: GENERAL AMERICAN STUDIES
Grzegorz Kotecki - "Deafened by the Roar of Its Own History": Communal Remembering and Collective Forgetting in Toni Morrison's Paradise
Tadeusz Lewandowski - Zitkála-Šá's Old Indian Legends: A New Perspective
Richard Thomas Savino - The 'Other' in Deliver Us from Evil
Joanna Durczak - Contrary Farmers and the Literature of Agri/cultural Resistance
Joanna Antoniak - Different Images of Father in Jonathan Safran Foer's Fiction
Anna Białkowska - "Lee and the Boys" – A Queer Look at William S. Burroughs
Zygmunt Mazur - Inhabiting the Moment in Time: W.S. Merwin's The Shadow of Sirius
Anna Svĕtlíková - Jonathan Edwards, John Dennis, and the Religious Sublime: A Consideration of Edwardsean Terror

PART 4: BRITISH PROSE
Anna Bugajska - The Anxiety of the Lion Influence: The Place of the Lion and Narnia
Sabina Sosin - Challenging the Codex = Challenging the Reader? Motivations behind B.S. Johnson's Aesthetical Choices in The Unfortunates
Olga Glebova - Doris Lessing and J.M. Coetzee in the Context of Contemporary Celebrity Culture

PART 5: DRAMA
Tomasz Więcek - The Conflict between Ecclesiastical Courts and the Royal Justice in the Late Medieval Passion Plays
Rowland Cotterill - "New Heaven, New Earth": Some Promised Ends and Brave New Worlds of Shakespearian Theatre
Jurgita Astrauskienė - Repartee and Quip as Modes of Literary Wit in John Webster's drama The Duchess of Malfi
Philipp Reisner - Performing Theology: David Adjmi's Satirical Tragedies

PART 6: MULTIMODALITY
Mariano D'Ambrosio - Dynamic Patterns in Contemporary Multimodal Printed Novels: The Exploration, the Quest, the Journey, the Encounter
Ioana Zirra - Digital Tracing of the "Parallactic Drift of the Socalled Fixed Stars" in James Joyce's Ulysses