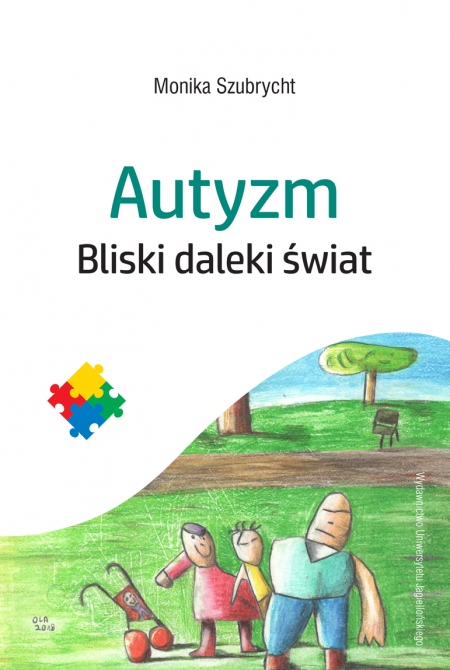 Autyzm
Bliski daleki świat
Pages: 224 Book format: 15,5x23 cm Publication date: 2022 Publication date: 26.04.2022
Book description
Alina dwa lata spędziła zamknięta w domu z synem. Na spacery wychodzili wieczorem, gdy ulice pustoszały. Pięcioletnia Kinga nie jadła, bo faktura pokarmów wywoływała u niej wstręt. Podejrzewano, że ma anoreksję. Piotr nie reagował, gdy chłopcy w szkole go obrażali, bili i okradali. Myślał, że tak ma być, w końcu to on jest "dziwny".


Autyzm w Polsce to lata walki z systemem, niezrozumieniem i brakiem właściwej diagnozy. Monika Szubrycht, dziennikarka i matka dziecka w spektrum autyzmu, oddaje głos osobom autystycznym, ich bliskim oraz specjalistom, którzy dzielą się swoimi doświadczeniami. Rodzice opowiadają o trudnej codzienności. Specjaliści pokazują, jak pracować z osobami ze spektrum autyzmu, by wesprzeć je w rozwoju. Osoby neuroatypowe opisują swoje przeżycia w świecie, który nie rozumie ich potrzeb. Zebrane w książce opowieści, często niełatwe, ale też niejednokrotnie optymistyczne, niosą nadzieję na zmiany – systemowe i mentalne.



Wśród osób w spektrum autyzmu są artyści, lekarze, prawnicy, terapeuci, pracownicy naukowi. Spotykamy ich na co dzień i nawet nie wiemy, że są autystyczni. Skończmy zatem ze sztucznym podziałem na dwa światy – wszyscy żyjemy w tym samym. Znajdzie się w nim miejsce dla każdego, wystarczy się trochę przesunąć.
Monika Szubrycht
Głęboko humanistyczne, mądre i poruszające rozmowy z ludźmi, którym temat autyzmu jest tak bliski, jak mnie – rodzicami, osobami w spektrum autyzmu i specjalistami. Na taką książkę czekałam!
Joanna Grochowska, wiceprezeska Fundacji Synapsis


Książka Moniki Szubrycht to zbiór niezwykle poruszających rozmów: z rodzicami osób z autyzmem, specjalistami oraz samorzecznikami. Ogromną wartością tej pozycji jest jej różnorodność – indywidualne spojrzenia, przeżycia i wnioski pozostawiają w czytelniku więcej pytań niż odpowiedzi. I to jest w niej najcenniejsze – ukazanie całego spektrum doświadczeń związanych z autyzmem bez drogi na skróty. To książka dla każdego, kto chciałby zobaczyć autyzm "od środka", oczami osób, które mają nam wiele do powiedzenia, a nie zawsze zostają wysłuchane. Lektura obowiązkowa, którą czyta się jednym tchem.
Ewa Łukowska, psycholog, psychoterapeuta, Fundacja Pomoc Autyzm


Autyzm. Bliski daleki świat otwiera przed czytelnikiem drzwi do prawdziwego świata autyzmu, a każdy rozdział pozwala oswoić się z innym wymiarem spektrum. Mamy nadzieję, że wiedza, którą dzieli się autorka, pomoże odczarować tajemniczość autyzmu i zbudować świadome rozumienie tego, czym jest neuroróżnorodność.
Joanna Jakś, Fundacja Prodeste
Monika Szubrycht – z wykształcenia polonistka, dziennikarka, neurologopedka. Dwukrotna Laureatka Nagrody Dziennikarzy Małopolski w kategorii "Dziennikarz specjalistyczny" (2017 i 2018) oraz nagrody głównej w kategorii "Twórca szczególnie wrażliwy" na Festiwalu Wrażliwym w Gdyni (2019). Wykładowczyni Krakowskiego Instytutu Rozwoju Edukacji, na którym prowadzi zajęcia dotyczące spektrum autyzmu. Autorka wywiadu rzeki z dr Moniką Wasilewską Jak być szczęśliwym dorosłym bez szczęśliwego dzieciństwa (Kraków 2021).