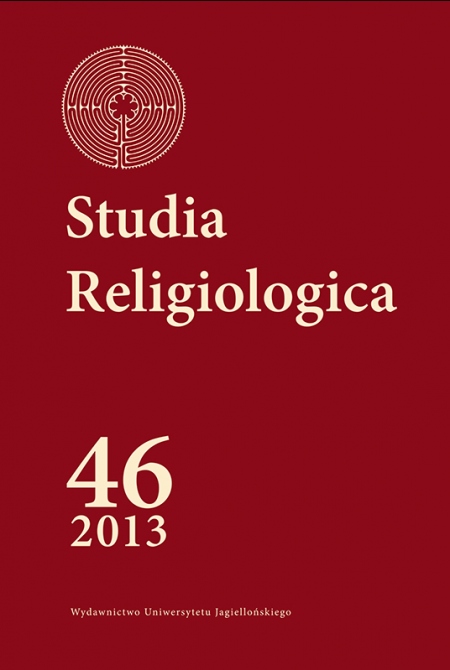 Table of Contents, Reviews
Studia Religiologica vol. 46 (2013)
Pages: 356 Book format: B5 Year of Publication: 2014 Publication date: 17.11.2014
Book description
CONTENTS: 
Christopher F. Silver, Ralph W. Hood Jr., W. Paul Williamson, The Differential Evaluation of Religious Risk Rituals Involving Serpents in Two Cultures  
Marta Trzebiatowska, Steve Bruce: 'It's all for girls': re-visiting the gender gap in New Age spiritualities  
Zhuo Chen, Nima Ghorbani, P.J. Watson, Naser Aghababaei, Muslim Experiential Religiousness and Muslim Attitudes toward Religion: Dissociation of Experiential and Attitudinal Aspects of Religiosity in Iran  
Moritz Deecke, A Critical Assessment of Psychological Theories of Ecstasy. Towards an Integrative Model for Theorising Ecstasy  
Mariusz Dobkowski, Augustyn i jego wiedza na temat manicheizmu 
Marcin Rzepka, Apostolskie dziedzictwo. Początki chrześcijaństwa zielonoświątkowego w Iranie (1908–1916) 
Marcin Rzepka, Konwersje na chrześcijaństwo w przedrewolucyjnym Iranie  
Łukasz Borowiecki, Wittgenstein, Sąd Ostateczny i niemieckie samoloty. Pojęcie dystansu w Wykładach o wierze  
Tomasz Ponikło, Prywatne objawienia religijne i sieć. Analiza na przykładzie Vassuli Ryden  
Maria Rogińska, Religia, nauka, paranauka. Zarządzanie lękami o treści naukowej w Internecie rosyjskojęzycznym  
Krystian Mesjasz, "Tworzenie tradycji" w rodzimowierczych związkach wyznaniowych  
Andrzej Gołąb, Czynniki związane ze stosunkiem ludzi do nadziei powszechnego zbawienia  
Adam Anczyk, Matouš Vencálek, Coming Home to Paganism: Theory of Religious Conversion or a Theological Principle?   
Ewa Kwiatkowska, Obraz mityczny jako obraz kulturowy  
Stanisław Radoń, Uważność jako neuro-psycho-biologiczna próba zdefiniowania fenomenu duchowości  
Moritz Deecke, The Next Step? Suggestions for an Integrative Model for Theorising Ecstasy  
Justyna Pilarska, Stosunek muzułmanów bośniackich do wahhabizmu – propozycja badań  
Josiah R. Baker, Steven A. Tuch, William V. D'Antonio, Religion, Politics, and Issue Polarization in the United States Congress, 1959–2013 
Roman Poplavsky, Religiosity in Context: towards a Deeper Understanding of the Phenomenon 
Ireneusz Ziemiński, Filozofia religii jako droga do sceptycyzmu  
Radosław Lis, Nimrod i "przerażenie imperium": Antypersona  
Zbigniew Łagosz, Robert Walter's Struggle with the UB: the Unknown Story  
Jakub Zielina, Mitlogem jednooki–jednoręki w ujęciu Georges'a Dumézila  
Zbigniew Pasek, Szacunek, cześć, kult. Biblia i protestanci 
Recenzje

Mariusz Dobkowski, Kataryzm włoski. Historia i doktryna  
Leszek Augustyn, Od Absolutu do historii, od historii do Absolutu  
Jarosław Tomasiewicz, Między tradycją i ponowoczesnością: neopoganie Europy Wschodniej w obliczu globalizacji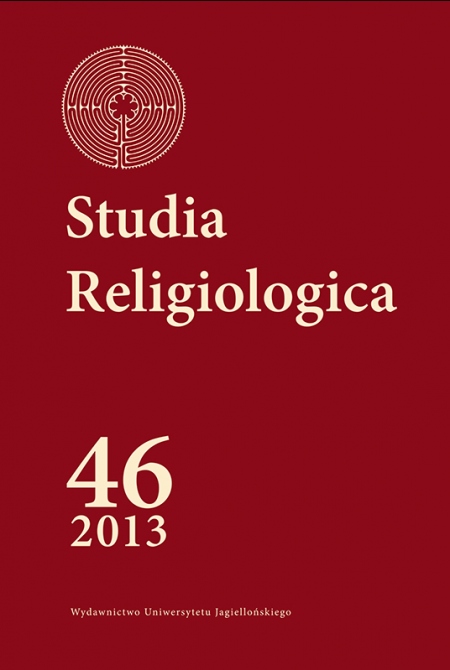 Studia Religiologica vol. 46 (2013)

Christopher F. Silver, Ralph W. Hood Jr., W. Paul Williamson, The Differential Evaluation of Religious Risk Rituals Involving Serpents in Two Cultures  

Marta Trzebiatowska, Steve Bruce: 'It's all for girls': re-visiting the gender gap in New Age spiritualities  

Zhuo Chen, Nima Ghorbani, P.J. Watson, Naser Aghababaei, Muslim Experiential Religiousness and Muslim Attitudes toward Religion: Dissociation of Experiential and Attitudinal Aspects of Religiosity in Iran  

Moritz Deecke, A Critical Assessment of Psychological Theories of Ecstasy. Towards an Integrative Model for Theorising Ecstasy  

Mariusz Dobkowski, Augustyn i jego wiedza na temat manicheizmu 

Marcin Rzepka, Apostolskie dziedzictwo. Początki chrześcijaństwa zielonoświątkowego w Iranie (1908–1916) 

Marcin Rzepka, Konwersje na chrześcijaństwo w przedrewolucyjnym Iranie  

Łukasz Borowiecki, Wittgenstein, Sąd Ostateczny i niemieckie samoloty. Pojęcie dystansu w Wykładach o wierze  

Tomasz Ponikło, Prywatne objawienia religijne i sieć. Analiza na przykładzie Vassuli Ryden  

Maria Rogińska, Religia, nauka, paranauka. Zarządzanie lękami o treści naukowej w Internecie rosyjskojęzycznym  

Krystian Mesjasz, "Tworzenie tradycji" w rodzimowierczych związkach wyznaniowych  

Andrzej Gołąb, Czynniki związane ze stosunkiem ludzi do nadziei powszechnego zbawienia  

Adam Anczyk, Matouš Vencálek, Coming Home to Paganism: Theory of Religious Conversion or a Theological Principle?   
Ewa Kwiatkowska, Obraz mityczny jako obraz kulturowy  

Stanisław Radoń, Uważność jako neuro-psycho-biologiczna próba zdefiniowania fenomenu duchowości  

Moritz Deecke, The Next Step? Suggestions for an Integrative Model for Theorising Ecstasy  

Justyna Pilarska, Stosunek muzułmanów bośniackich do wahhabizmu – propozycja badań  

Josiah R. Baker, Steven A. Tuch, William V. D'Antonio, Religion, Politics, and Issue Polarization in the United States Congress, 1959–2013 

Roman Poplavsky, Religiosity in Context: towards a Deeper Understanding of the Phenomenon 

Ireneusz Ziemiński, Filozofia religii jako droga do sceptycyzmu  

Radosław Lis, Nimrod i "przerażenie imperium": Antypersona  

Zbigniew Łagosz, Robert Walter's Struggle with the UB: the Unknown Story  

Jakub Zielina, Mitlogem jednooki–jednoręki w ujęciu Georges'a Dumézila  

Zbigniew Pasek, Szacunek, cześć, kult. Biblia i protestanci 

Recenzje

Mariusz Dobkowski, Kataryzm włoski. Historia i doktryna  

Leszek Augustyn, Od Absolutu do historii, od historii do Absolutu  

Jarosław Tomasiewicz, Między tradycją i ponowoczesnością: neopoganie Europy Wschodniej w obliczu globalizacji
Studia Religiologica vol. 46 (2013)
TABLE OF CONTENTS

Christopher F. Silver, Ralph W. Hood Jr., W. Paul Williamson, The Differential Evaluation of Religious Risk Rituals Involving Serpents in Two Cultures  

Marta Trzebiatowska, Steve Bruce: 'It's all for girls': re-visiting the gender gap in New Age spiritualities  

Zhuo Chen, Nima Ghorbani, P.J. Watson, Naser Aghababaei, Muslim Experiential Religiousness and Muslim Attitudes toward Religion: Dissociation of Experiential and Attitudinal Aspects of Religiosity in Iran  

Moritz Deecke, A Critical Assessment of Psychological Theories of Ecstasy. Towards an Integrative Model for Theorising Ecstasy  

Mariusz Dobkowski, Augustyn i jego wiedza na temat manicheizmu 

Marcin Rzepka, Apostolskie dziedzictwo. Początki chrześcijaństwa zielonoświątkowego w Iranie (1908–1916) 

Marcin Rzepka, Konwersje na chrześcijaństwo w przedrewolucyjnym Iranie  

Łukasz Borowiecki, Wittgenstein, Sąd Ostateczny i niemieckie samoloty. Pojęcie dystansu w Wykładach o wierze  

Tomasz Ponikło, Prywatne objawienia religijne i sieć. Analiza na przykładzie Vassuli Ryden  

Maria Rogińska, Religia, nauka, paranauka. Zarządzanie lękami o treści naukowej w Internecie rosyjskojęzycznym  

Krystian Mesjasz, "Tworzenie tradycji" w rodzimowierczych związkach wyznaniowych  

Andrzej Gołąb, Czynniki związane ze stosunkiem ludzi do nadziei powszechnego zbawienia  

Adam Anczyk, Matouš Vencálek, Coming Home to Paganism: Theory of Religious Conversion or a Theological Principle?   
Ewa Kwiatkowska, Obraz mityczny jako obraz kulturowy  

Stanisław Radoń, Uważność jako neuro-psycho-biologiczna próba zdefiniowania fenomenu duchowości  

Moritz Deecke, The Next Step? Suggestions for an Integrative Model for Theorising Ecstasy  

Justyna Pilarska, Stosunek muzułmanów bośniackich do wahhabizmu – propozycja badań  

Josiah R. Baker, Steven A. Tuch, William V. D'Antonio, Religion, Politics, and Issue Polarization in the United States Congress, 1959–2013 

Roman Poplavsky, Religiosity in Context: towards a Deeper Understanding of the Phenomenon 

Ireneusz Ziemiński, Filozofia religii jako droga do sceptycyzmu  

Radosław Lis, Nimrod i "przerażenie imperium": Antypersona  

Zbigniew Łagosz, Robert Walter's Struggle with the UB: the Unknown Story  

Jakub Zielina, Mitlogem jednooki–jednoręki w ujęciu Georges'a Dumézila  

Zbigniew Pasek, Szacunek, cześć, kult. Biblia i protestanci 

Recenzje

Mariusz Dobkowski, Kataryzm włoski. Historia i doktryna  

Leszek Augustyn, Od Absolutu do historii, od historii do Absolutu  

Jarosław Tomasiewicz, Między tradycją i ponowoczesnością: neopoganie Europy Wschodniej w obliczu globalizacji