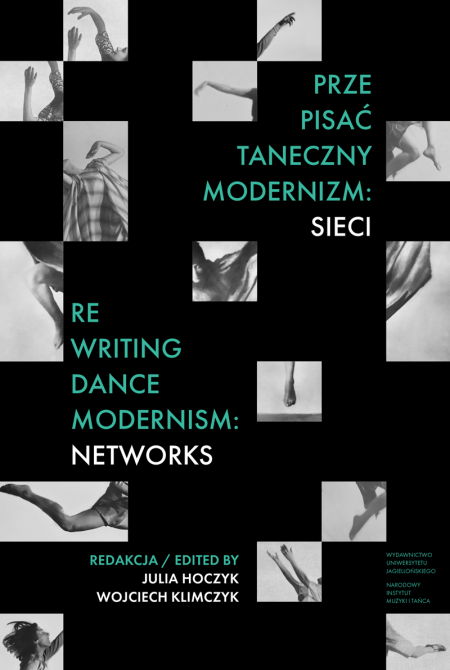 Table of Contents, Reviews
Prze-pisać taneczny modernizm: sieci / Re-writing Dance Modernism: Networks
Book format: 15,8x23,5 cm Publish date: 30.12.2022 Publication date: 31.03.2023
Book description
Dance modernism is not only a part of cultural history. It is also, perhaps above all, a multicolored reference for thinking about the dancing body's past and presence as well as its many practices. Finally, dance modernism is a story of modern longings and anxieties. The story has been constantly re-written, with a growing awareness of its global and collective character. An outcome of a meeting between dance historians and practitioners, this book is an example of said awareness.
Abour editors
Julia Hoczyk
is a theater scholar, dance critic and theorist, and editor. A graduate of the Aleksander Zelwerowicz National Academy of Dramatic Art in Warsaw, she has published critical texts for Didaskalia, Teatr, Opcje, Dwutygodnik.com and nowytaniec.pl; her academic papers have been included in several post-conference publications. Between 2005 and 2010, she was the editor of the Scena periodical on theater culture and education; from 2008 to 2011, she served in the samecapacity for the Kultura Enter online monthly; between 2011 and 2018, she was the editor-in-chief of the
taniecPOLSKA.pl
website, run by the National Institute of Music and Dance, which reports on, promotes, and documents dance (she is currently a member of the
taniecPOLSKA.pl
editorial team). Her research interests include corporeality and gender in Polish and international contemporary dance. She gives guest lectures and conducts meetings on contemporary dance and butoh. Between 2010 and 2015, she taught contemporary dance analysis and supervised undergraduate theses on the subject at the National Academy of Dramatic Art in Warsaw. In 2019, she realized the curatorial project
Around dance, choreography, performance – different approaches to contemporary dance
at the Center for Dance Art in Warsaw. She works in the Publishing and Documentation Department of the National Institute of Music and Dance.
Prof. dr hab. Wojciech Klimczyk
, Jagiellonian University is a dance scholar whose research centers around the social and political role of dance. He is the author of
Erotyzm ponowoczesny
[Postmodern Eroticism] (Universitas 2008),
Wizjonerzy ciała. Panorama współczesnego teatru tańca
[Visionaries of the Body. Panorama of Contemporary Dance Theatre] (Haart 2010) and
Wirus mobilizacji. Taniec a kształtowanie się nowoczesności 1455-1795, vol. I-II
(Universitas 2015) (reprinted in English as
The Virus of Mobilization: Dance and the Shaping of Modernity 1455-1795
(WUJ 2020)). He works at the Centre for Comparative Studies of Civilizations at the Jagiellonian University. He spent nearly a decade as a member of the Harakiri Farmers artistic collective working at the intersection of contemporary dance and theater. His collaborations as a dance dramaturge include Andre Gingras, Kirstine Ilum Soerensen, Marta Wolowiec and Poernim Gobardhan.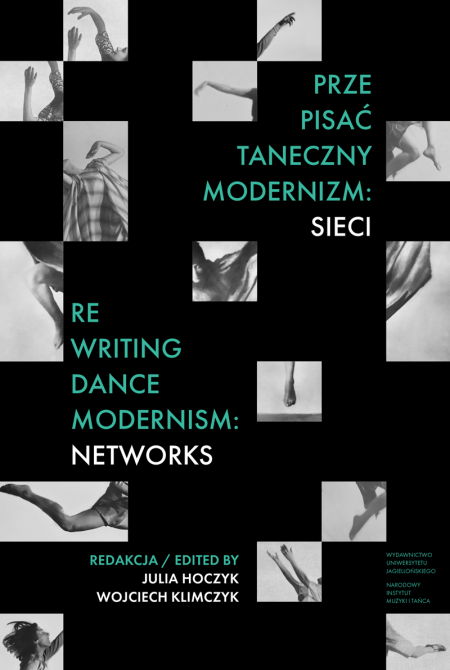 Prze-pisać taneczny modernizm: sieci / Re-writing Dance Modernism: Networks
Wojciech Klimczyk, Prze-pisać taneczny modernizm: sieci 9

Metodologie: usieciowianie tanecznego modernizmu
Wojciech Klimczyk, Palimpsesty: taneczny modernizm 33
Marion Kant, Historie elastyczne i nieelastyczne. Analiza wczesnodwudziestowiecznych kategorii niemieckiego tańca modern 61
Susanne Franco, Ausdruckstanz w obliczu historii i pamięci. Rekonstrukcje przeszłości 85
Lucia Ruprecht, Seksualność i queerowa uczuciowość w Karnawale Michaiła Fokina 101

Transmisje: transnarodowe trajektorie tanecznego modernizmu
Claudia Fleischle-Braun, Miejsca i transnarodowe linie tańca wyzwolonego i ekspresjonistycznego w Europie 121
Susan Manning, Mary Wigman i Azja: między orientalizmem i transnacjonalizmem 143
Matthew Isaac Cohen, W drodze do "Azji": egzotyczność, wędrówka i autokreacja a początki środkowoeuropejskiego tańca modern 163
Hana Umeda, Sada Yakko – rekonstrukcja w działaniu 187
Agata Chałupnik, Żydowskie tango i pytanie o tożsamość 203

Poszerzenia: taneczny modernizm w słowiańskiej Europie Środkowej
Małgorzata Leyko, Taniec polski w sieci transkulturowych powiązań (1918–1939) 229
Andreja Jeličić, Prze-pisać taneczny modernizm – perspektywa chorwacka 243
Jitka Pavlišová, Wybrane aspekty czeskiego modernizmu tanecznego w kontekście tanecznej (r)ewolucji z początku XX wieku 265
Hanna Raszewska-Kursa, Polskie – nasze / zagraniczne – cudzoziemskie – obce. Międzynarodowy Konkurs Tańca Artystycznego z 1933 roku w warszawskiej prasie 277
Wojciech Klimczyk, Re-writing Dance Modernism: Networks 297

Methodologies: Networking Dance Modernism
Wojciech Klimczyk, Palimpsests: Dance Modernism 321
Marion Kant, Flexible and Inflexible Histories: An Examination of Early 20th Century Categories of Modern German Dance 349
Susanne Franco, Ausdruckstanz Facing History and Memory: Reenacting the Past 371
Lucia Ruprecht, Sexuality and Queer Sentiment in Mikhail Fokine's Le Carnaval 387

Transmissions: Transnational Trajectories of Dance Modernism
Claudia Fleischle-Braun, Places and Transnational Lines of Free Dance and Expressionist Dance in Europe 407
Susan Manning, Mary Wigman and Asia: Between Orientalism and Transnationalism 427
Matthew Isaac Cohen, On the Way to 'Asia': Exoticism, Itinerancy and Self-Fashioning in the Making of Central European Modern Dance 447
Hana Umeda, Sada Yakko: Reconstruction in Action 469
Agata Chałupnik, Jewish Tango and the Question of Identity 485

Expansions: Dance Modernism in Slavic Central Europe
Małgorzata Leyko, Transcultural Cross-over: Polish Dance (1918–1939) 511
Andreja Jeličić, Re-writing Dance Modernism: A Croatian Perspective 525
Jitka Pavlišová, Selected Aspects of Czech Dance Modernism(s) in the Context of the Dance (R)evolution at the Beginning of the 20th Century 545
Hanna Raszewska-Kursa, Polish – Ours / Foreign – Alien – Stranger. The 1933 International Artistic Dance Competition in Warsaw's Press 557

Biogramy autorów 579
Author's Biographies 585
Indeks / Index 591
Prze-pisać taneczny modernizm: sieci / Re-writing Dance Modernism: Networks
TABLE OF CONTENTS
Wojciech Klimczyk, Prze-pisać taneczny modernizm: sieci 9

Metodologie: usieciowianie tanecznego modernizmu
Wojciech Klimczyk, Palimpsesty: taneczny modernizm 33
Marion Kant, Historie elastyczne i nieelastyczne. Analiza wczesnodwudziestowiecznych kategorii niemieckiego tańca modern 61
Susanne Franco, Ausdruckstanz w obliczu historii i pamięci. Rekonstrukcje przeszłości 85
Lucia Ruprecht, Seksualność i queerowa uczuciowość w Karnawale Michaiła Fokina 101

Transmisje: transnarodowe trajektorie tanecznego modernizmu
Claudia Fleischle-Braun, Miejsca i transnarodowe linie tańca wyzwolonego i ekspresjonistycznego w Europie 121
Susan Manning, Mary Wigman i Azja: między orientalizmem i transnacjonalizmem 143
Matthew Isaac Cohen, W drodze do "Azji": egzotyczność, wędrówka i autokreacja a początki środkowoeuropejskiego tańca modern 163
Hana Umeda, Sada Yakko – rekonstrukcja w działaniu 187
Agata Chałupnik, Żydowskie tango i pytanie o tożsamość 203

Poszerzenia: taneczny modernizm w słowiańskiej Europie Środkowej
Małgorzata Leyko, Taniec polski w sieci transkulturowych powiązań (1918–1939) 229
Andreja Jeličić, Prze-pisać taneczny modernizm – perspektywa chorwacka 243
Jitka Pavlišová, Wybrane aspekty czeskiego modernizmu tanecznego w kontekście tanecznej (r)ewolucji z początku XX wieku 265
Hanna Raszewska-Kursa, Polskie – nasze / zagraniczne – cudzoziemskie – obce. Międzynarodowy Konkurs Tańca Artystycznego z 1933 roku w warszawskiej prasie 277
Wojciech Klimczyk, Re-writing Dance Modernism: Networks 297

Methodologies: Networking Dance Modernism
Wojciech Klimczyk, Palimpsests: Dance Modernism 321
Marion Kant, Flexible and Inflexible Histories: An Examination of Early 20th Century Categories of Modern German Dance 349
Susanne Franco, Ausdruckstanz Facing History and Memory: Reenacting the Past 371
Lucia Ruprecht, Sexuality and Queer Sentiment in Mikhail Fokine's Le Carnaval 387

Transmissions: Transnational Trajectories of Dance Modernism
Claudia Fleischle-Braun, Places and Transnational Lines of Free Dance and Expressionist Dance in Europe 407
Susan Manning, Mary Wigman and Asia: Between Orientalism and Transnationalism 427
Matthew Isaac Cohen, On the Way to 'Asia': Exoticism, Itinerancy and Self-Fashioning in the Making of Central European Modern Dance 447
Hana Umeda, Sada Yakko: Reconstruction in Action 469
Agata Chałupnik, Jewish Tango and the Question of Identity 485

Expansions: Dance Modernism in Slavic Central Europe
Małgorzata Leyko, Transcultural Cross-over: Polish Dance (1918–1939) 511
Andreja Jeličić, Re-writing Dance Modernism: A Croatian Perspective 525
Jitka Pavlišová, Selected Aspects of Czech Dance Modernism(s) in the Context of the Dance (R)evolution at the Beginning of the 20th Century 545
Hanna Raszewska-Kursa, Polish – Ours / Foreign – Alien – Stranger. The 1933 International Artistic Dance Competition in Warsaw's Press 557

Biogramy autorów 579
Author's Biographies 585
Indeks / Index 591