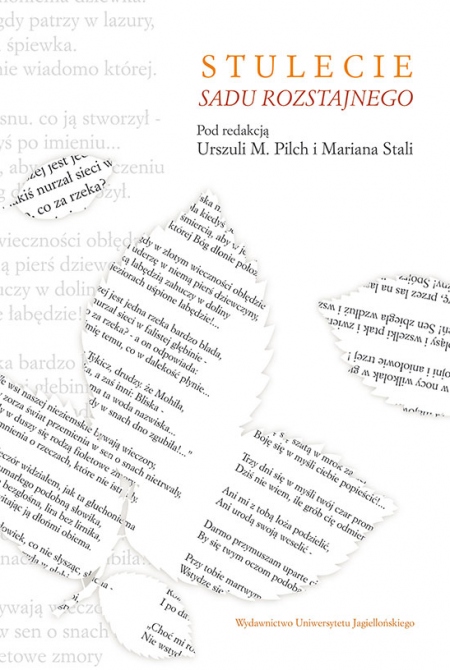 Stulecie Sadu rozstajnego
Pages: 396 Book format: B5 Publication date: 2014 Publication date: 29.05.2014
Book description
Sad rozstajny
ukazał się w roku 1912. W momencie wydania był to spóźniony debiut, z dzisiejszej perspektywy jest to pierwsza książka wielkiego poety. Warto się dokładnie przyjrzeć temu zbiorowi, usytuowanemu pomiędzy wczesnymi wierszami Bolesława Leśmiana, publikowanymi w młodopolskich czasopismach, a znakomitymi tomami ogłoszonymi w dwudziestoleciu międzywojennym. Warto zapytać, kim był Leśmian znajdujący się w połowie drogi do wielkości i jak pracowała wówczas jego poetycka wyobraźnia.
Pierwszym wrażeniem, jakie nasuwa się po lekturze dwudziestu dwu artykułów składających się na książkę Stulecie Sadu rozstajnego, jest przekonanie o potrzebie i sukcesie zaprezentowanych w niej spojrzeń badawczych oraz o bardzo dobrej, przemyślanej kompozycji całości. Prowadzi ona od rozważań nad tytułem Leśmianowskiego zbioru ku analizom wybranych jego wątków i przekrojów, dopełniającym się, ale i wchodzącym z sobą, dzięki sąsiedztwu, w wyraźny dialog nieraz odmiennych wniosków. Silne jest też wrażenie, że przy oczywistym zindywidualizowaniu studiów pisanych przez wielu autorów, z kilku pokoleń i "szkół" literaturoznawczych, niniejsza praca jest całością zwartą, komplementarną, stanowiącą w istocie wieloaspektową monografię Sadu..., wiele mówiącą także o późniejszej twórczości Leśmiana.
Konstrukcja tej książki daje ważny, przekrojowy wgląd w leśmianologię i rozmaite metody analizy tekstu, na których zyskuje wyłaniający się z niej obraz zbioru interpretowanego po latach, i wiele mówi o naszych – polonistycznych, poetologicznych – orientacjach i przeorientowaniach, o zmieniających się obszarach lektury i mocno rozciągniętej skali, normie historycznoliterackiego czy interpretacyjnego pisarstwa naukowego.
Z recenzji dr hab. Danuty Opackiej-Walasek, prof. UŚ  

e-ISBN (pdf): 978-83-233-9052-7