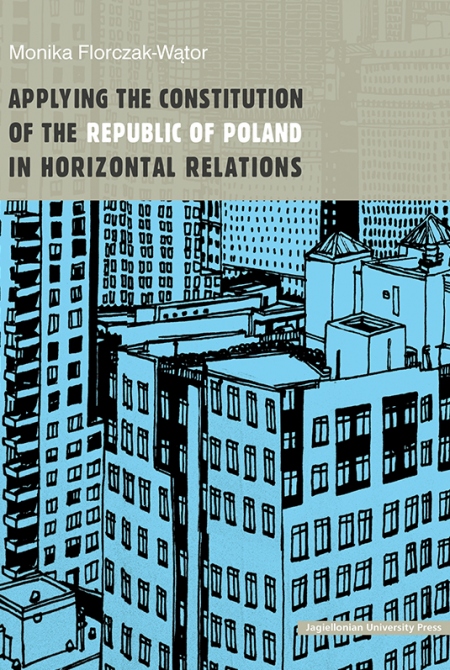 Table of Contents, Reviews
Applying the Constitution of the Republic of Poland in Horizontal Relations
Pages: 154 Book format: B5 Year of Publication: 2015 Publication date: 19.11.2015
Book description
There is no doubt in contemporary jurisprudence that constitutional norms, including those that enshrine rights and freedoms, not only determine the shape of the relations between an individual and the state (so-called vertical relations), but also influence relations between private entities (so-called horizontal relations). This is so, because private law may not be formed independently of the constitution, which has the supreme legal force, while relations between private entities may not be entirely detached from the rights guaranteed by the state to the parties to these relations. In view of the foregoing, for several decades now, in the legal literature of a number of countries references have been made to the horizontal application of constitutional rights, their horizontal dimension or their horizontal effect.

Despite volumes of research on the subject, the problem of the horizontal effect of constitutional rights continues to enjoy steadfast interest in Western literature, as evidenced by the recent collective studies that analyze this issue from a comparative perspective. These collective works have failed, however, to present the approach of Polish jurisprudence and judicature. Although the problem of the horizontal application of constitutional rights has so far been only sporadically taken up in the Polish legal literature, the Constitution of the Republic of Poland is applied in the judicature and influences the shape of private relations. Polish courts also adopt solutions specific to  the particular models for the horizontal application of constitutional rights, although they do not explicitly refer to the models. This inspired Monika Florczak-Wątor (Department of  Constitutional Law, Jagiellonian University in Cracow) to initiate research on the problem of the horizontal effect of constitutional rights, the results of which have been presented in a monograph Horyzontalny wymiar praw konstytucyjnych (Jagiellonian University Press, Cracow 2014).

This book is an abbreviated version of that monograph, and its purpose is to make the results of her research known to English-speaking readers and to disseminate the approach of the Polish judicature and jurisprudence on the horizontal effect of individual rights beyond the boundaries of Poland. This book has been written in the framework of the research project 'The horizontal dimension of the constitutional rights in a comparative perspective' financed by the Foundation for Polish Science.
e-ISBN: 978-83-233-9319-1
DOI: 10.4467/K9319.30/e/15.15.4127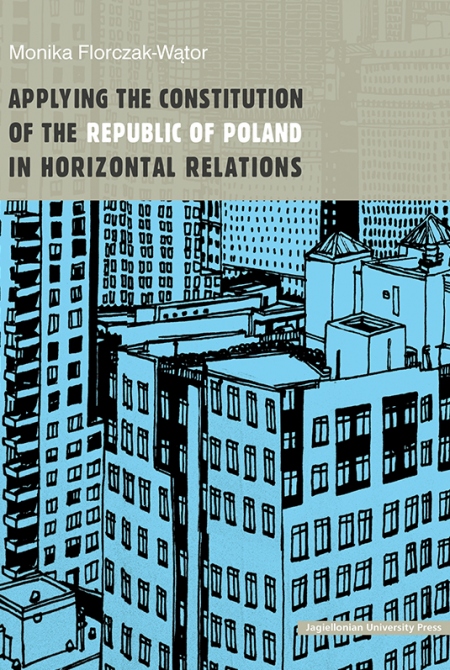 Applying the Constitution of the Republic of Poland in Horizontal Relations
CONTENTS

Introduction  7

1. The Problem of the Horizontal Effect of Constitutional Rights during the Drafting of the Polish Constitution 13

1.1. The Period Preceding the Drafting of the Constitution  13

1.2. Solutions Adopted in Drafts of the Constitution  15

1.3. Discussion on the Inclusion of the Horizontal Effect Clause  17

1.4. Conclusions Impacting the Interpretation of Constitutional Provisions  18

2. Holders of Constitutional Rights and Freedoms  21

2.1. Regulation of Rights and Freedoms in the Polish Constitution  21

2.2. Th e Principle of Universal Enjoyment of Constitutional Rights and Freedoms  24

2.3. Citizen as a Holder of Constitutional Rights and Freedoms  25

2.4. Special Defi nitions of Holders of Constitutional Rights and Freedoms 27

2.5. Question of the Constitutional Personality of Entities Performing the Functions of Public Authorities  28

2.6. Question of the Constitutional Personality of Public-Sector Economic Entities  30

3. Direct Application of the Constitution as the Condition for the Horizontal Effect of Constitutional Rights and Freedoms  35

3.1. Normative Content of the Principle of Direct Application of the Constitution  35

3.2. The Principle of Direct Application of the Constitution versus the Principle of its Supremacy  37

3.3. Conditions Underlying the Direct Application of the Constitution  38

3.4. Forms of Direct Application of the Constitution  40
3.4.1. Autonomous Application of the Constitution  40
3.4.2. Co-application of the Constitution and Statutes  44
3.4.3. Control Application of the Constitution and Statutes  46

3.5. Exceptions to the Rule of Direct Application of the Constitution  48

4. The Scope of the Horizontal Eff ect of Constitutional Rights  51

4.1. Preliminary Remarks  51
4.2. The Notion of Collision of Constitutional Rights  52
4.3. Constitutional Rights as Principles (Optimization Requirements)  53
4.4. The Principle of Proportionality and Its Importance for the Horizontal Effect of Constitutional Rights  55

4.5. The Mechanism of Balancing Values Underlying Constitutional Rights  62
4.5.1. The Notion of Values  62
4.5.2. Axiological Foundations of the Constitution  65
4.5.3. Axiology of Constitutional Rights and Freedoms of an Individual  68
4.5.4. Principles of the Value Balancing Mechanism  70
4.5.5. The Principle of Respecting Constitutional Rights and Freedoms as a Natural Method of Resolving Collisions of Constitutional Rights  74

4.6. Closing Remarks  76

5. Adaptations of Models of the Horizontal Effect of Constitutional Rights and Freedoms in the Polish Constitutional Reality  79

5.1. The Model of the Direct Horizontal Effect of Constitutional Rights  80
5.1.1. Preliminary Remarks  80
5.1.2. Characteristics of the Model Based on Examples of States Where it is Applied  81
5.1.3. Rights and Freedoms in the Polish Constitution which are Capable of Direct Horizontal Effect  86
5.1.4. Private Entities as Entities Beholden to Implement Constitutional Rights and Freedoms  89
5.1.5. Obligations Correlated with Constitutional Rights and Freedoms  94
5.1.6. Consequences of Infringements of Constitutional Rights and Freedoms by Private Entities  97
5.1.7. Closing Remarks  104

5.2. The Model of the Indirect Horizontal Eff ect of Constitutional Rights  105
5.2.1. Preliminary Remarks  105
5.2.2. Characteristics of the Model Based on Examples of States Where it is Applied  106
5.2.3. Transposition of Constitutional Values into Private Law as a Result of the Direct Application of the Polish Constitution  109
5.2.3.1. Basic Assumptions of the Constitutional Values Radiating Effect  109
5.2.3.2. The Role of General Clauses and Other Indeterminate Phrases  110
5.2.3.3. Co-Application of the Constitution and Statutes as a Method of Endowing General Clauses and Other Indeterminate Phrases with Contents  116
5.2.3.4. The Court as the Authority Transposing Constitutional Values into Private Law  118
5.2.3.5. Controlling the Manner of Transposing Constitutional Values into Private Law  119
5.2.3.6. Closing Remarks  122

5.3. The Model of the State's Protective Obligations in Horizontal Relations  122
5.3.1. Preliminary Remarks  122
5.3.2. Characteristics of the Model Based on Example of State Where it is Applied  124
5.3.3. The State as an Entity Beholden to Implement Constitutional Rights and Freedoms  126
5.3.4. Positive Character of the State's Obligation to Protect Constitutional Rights and Freedoms of Individuals  128
5.3.5. Obligation for the State to Protect the Weaker Party to the Horizontal Relation  132
5.3.6. Closing Remarks 136

Conclusion  139
Bibliography  143
Applying the Constitution of the Republic of Poland in Horizontal Relations
TABLE OF CONTENTS
CONTENTS

Introduction  7

1. The Problem of the Horizontal Effect of Constitutional Rights during the Drafting of the Polish Constitution 13

1.1. The Period Preceding the Drafting of the Constitution  13

1.2. Solutions Adopted in Drafts of the Constitution  15

1.3. Discussion on the Inclusion of the Horizontal Effect Clause  17

1.4. Conclusions Impacting the Interpretation of Constitutional Provisions  18

2. Holders of Constitutional Rights and Freedoms  21

2.1. Regulation of Rights and Freedoms in the Polish Constitution  21

2.2. Th e Principle of Universal Enjoyment of Constitutional Rights and Freedoms  24

2.3. Citizen as a Holder of Constitutional Rights and Freedoms  25

2.4. Special Defi nitions of Holders of Constitutional Rights and Freedoms 27

2.5. Question of the Constitutional Personality of Entities Performing the Functions of Public Authorities  28

2.6. Question of the Constitutional Personality of Public-Sector Economic Entities  30

3. Direct Application of the Constitution as the Condition for the Horizontal Effect of Constitutional Rights and Freedoms  35

3.1. Normative Content of the Principle of Direct Application of the Constitution  35

3.2. The Principle of Direct Application of the Constitution versus the Principle of its Supremacy  37

3.3. Conditions Underlying the Direct Application of the Constitution  38

3.4. Forms of Direct Application of the Constitution  40
3.4.1. Autonomous Application of the Constitution  40
3.4.2. Co-application of the Constitution and Statutes  44
3.4.3. Control Application of the Constitution and Statutes  46

3.5. Exceptions to the Rule of Direct Application of the Constitution  48

4. The Scope of the Horizontal Eff ect of Constitutional Rights  51

4.1. Preliminary Remarks  51
4.2. The Notion of Collision of Constitutional Rights  52
4.3. Constitutional Rights as Principles (Optimization Requirements)  53
4.4. The Principle of Proportionality and Its Importance for the Horizontal Effect of Constitutional Rights  55

4.5. The Mechanism of Balancing Values Underlying Constitutional Rights  62
4.5.1. The Notion of Values  62
4.5.2. Axiological Foundations of the Constitution  65
4.5.3. Axiology of Constitutional Rights and Freedoms of an Individual  68
4.5.4. Principles of the Value Balancing Mechanism  70
4.5.5. The Principle of Respecting Constitutional Rights and Freedoms as a Natural Method of Resolving Collisions of Constitutional Rights  74

4.6. Closing Remarks  76

5. Adaptations of Models of the Horizontal Effect of Constitutional Rights and Freedoms in the Polish Constitutional Reality  79

5.1. The Model of the Direct Horizontal Effect of Constitutional Rights  80
5.1.1. Preliminary Remarks  80
5.1.2. Characteristics of the Model Based on Examples of States Where it is Applied  81
5.1.3. Rights and Freedoms in the Polish Constitution which are Capable of Direct Horizontal Effect  86
5.1.4. Private Entities as Entities Beholden to Implement Constitutional Rights and Freedoms  89
5.1.5. Obligations Correlated with Constitutional Rights and Freedoms  94
5.1.6. Consequences of Infringements of Constitutional Rights and Freedoms by Private Entities  97
5.1.7. Closing Remarks  104

5.2. The Model of the Indirect Horizontal Eff ect of Constitutional Rights  105
5.2.1. Preliminary Remarks  105
5.2.2. Characteristics of the Model Based on Examples of States Where it is Applied  106
5.2.3. Transposition of Constitutional Values into Private Law as a Result of the Direct Application of the Polish Constitution  109
5.2.3.1. Basic Assumptions of the Constitutional Values Radiating Effect  109
5.2.3.2. The Role of General Clauses and Other Indeterminate Phrases  110
5.2.3.3. Co-Application of the Constitution and Statutes as a Method of Endowing General Clauses and Other Indeterminate Phrases with Contents  116
5.2.3.4. The Court as the Authority Transposing Constitutional Values into Private Law  118
5.2.3.5. Controlling the Manner of Transposing Constitutional Values into Private Law  119
5.2.3.6. Closing Remarks  122

5.3. The Model of the State's Protective Obligations in Horizontal Relations  122
5.3.1. Preliminary Remarks  122
5.3.2. Characteristics of the Model Based on Example of State Where it is Applied  124
5.3.3. The State as an Entity Beholden to Implement Constitutional Rights and Freedoms  126
5.3.4. Positive Character of the State's Obligation to Protect Constitutional Rights and Freedoms of Individuals  128
5.3.5. Obligation for the State to Protect the Weaker Party to the Horizontal Relation  132
5.3.6. Closing Remarks 136

Conclusion  139
Bibliography  143