Nienawidzę cię! Nie odchodź! Wydanie II
Zrozumieć osobowość borderline
Pages: 368 Book format: 15,5x23 cm Publish date: 14.04.2023
Book description
The revised and expanded third edition of the bestselling guide to understanding borderline personality disorder – with advice for communicating with and helping the borderline individuals in your life.
 
After more than three decades as the essential guide to borderline personality disorder (BPD), the third edition of I Hate You – Don't Leave Me now reflects the most up-to-date research that has opened doors to the neurobiological, genetic, and developmental roots of the disorder, as well as connections between BPD and substance abuse, sexual abuse, post-traumatic stress syndrome, ADHD, and eating disorders.
 
Both pharmacological and psychotherapeutic advancements point to real hope for success in the treatment and understanding of BPD.
Abour Authors
Jerold J. Kreisman
, MD, is a psychiatrist and leading expert on borderline personality disorder. He has written two books on the disorder: the bestselling 
I Hate You – Don't Leave Me and Sometimes I Act Crazy
. He contributes regularly for Psychology Today and is in private practice in St. Louis, Missouri.
Hal Straus
is a professional health and medical writer who has penned five books, including the bestselling 
I Hate You – Don't Leave Me
(with Jerold J. Kreisman, MD), and has contributed numerous articles to Ladies' Home Journal, Men's Health, and Redbook.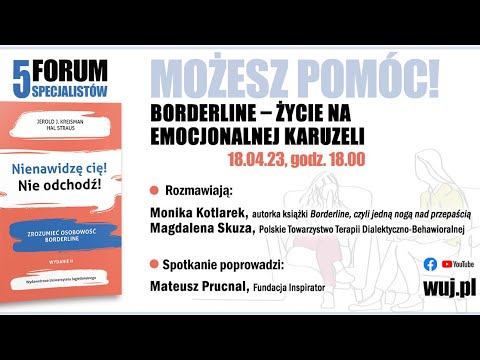 Original title
I Hate You - Don't Leave Me: Third Edition
Original language
English
e-ISBN (mobi,epub): 978-83-233-7460-2
Nienawidzę cię! Nie odchodź! Wydanie II
Zrozumieć osobowość borderline
Nienawidzę cię! Nie odchodź! Wydanie II
Zrozumieć osobowość borderline