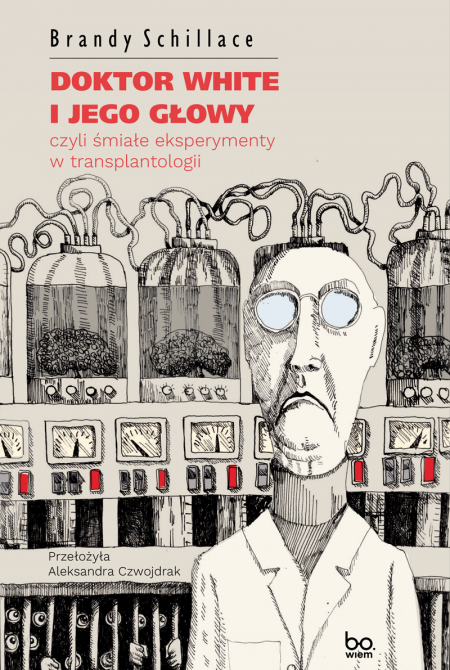 Doktor White i jego głowy,
czyli śmiałe eksperymenty w transplantologii
Pages: 320 Book format: 15x23 cm Publication date: 2023 Publication date: 15.02.2023
Book description
In the early days of the Cold War, a spirit of desperate scientific rivalry birthed a different kind of space race: not the race to outer space that we all know, but a race to master the inner space of the human body. While surgeons on either side of the Iron Curtain competed to become the first to transplant organs like the kidney and heart, a young American neurosurgeon had an even more ambitious thought: Why not transplant the brain?

Dr. Robert White was a friend to two popes and a founder of the Vatican's Commission on Bioethics. He developed lifesaving neurosurgical techniques still used in hospitals today and was nominated for the Nobel Prize. But like Dr. Jekyll before him, Dr. White had another identity. In his lab, he was waging a battle against the limits of science and against mortality itself—working to perfect a surgery that would allow the soul to live on after the human body had died.
Abour author
Brandy Schillace is a historian of medicine and the critically acclaimed author of Death's Summer Coat: What Death and Dying Teach Us About Life and Living and Clockwork Futures: The Science of Steampunk. The host of the Peculiar Book Club, a livestream community for authors and their readers, she has appeared on the Travel Channel's Mysteries at the Museum, NPR's Here and Now, and FOX's American Built. Dr. Schillace is a 2018 winner of the Arthur P. Sloan Science Foundation award and serves as editor-in-chief of BMJ's Medical Humanities Journal.
Original title
Mr. Humble and Dr. Butcher: A Monkey's Head, the Pope's Neuroscientist, and the Quest to Transplant the Soul
Original language
English
Cover design
Paweł Sepielak
e-ISBN (mobi,epub): 978-83-233-7425-1