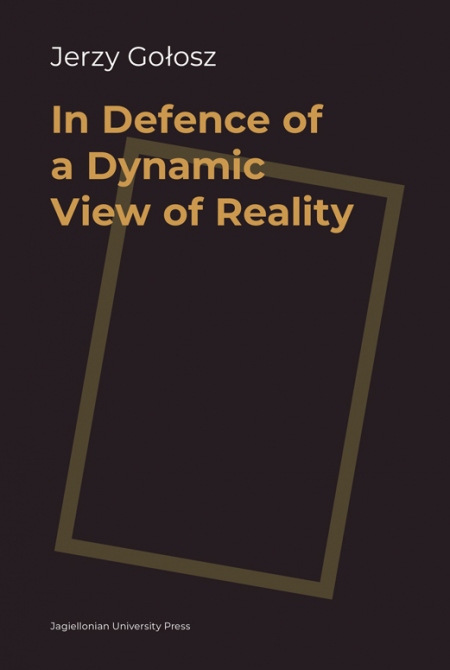 Table of Contents, Reviews
In Defence of a Dynamic View of Reality
Pages: 176 Book format: 15x23 cm Publication date: 2022 E-book publication date: 27.09.2023
Book description
This collection of papers defends a dynamic view of reality which is founded on the assumption of the objective existence of the flow of time. The vindication makes use of a metaphysical theory of the flow of time developed by the author which is based on the notion of dynamic existence.
"The topics covered in the book are presented in an exhaustive and complete way. The defended position is presented in many aspects — ontological, methodological and scientific (physical). (…) It will certainly be a valuable contribution to the ongoing discussions on the passage of time, the problem of time asymmetry, and the relationship between the ontology of time and modern physics."
From the review by Prof. Tomasz Bigaj
JERZY GOŁOSZ
is an Associate Professor at the Institute of Philosophy at the Jagiellonian University. He received his Habilitation in Philosophy from the Jagiellonian University and also holds an MSc in Physics which he obtained at the University of Warsaw. His general interests are in philosophy of science and the metaphysics of time. He has written two books and numerous papers on these topics, with publications in, among others,
Axiomathes, Entropy, Erkenntnis, International Studies in the Philosophy of Science, Journal for General Philosophy of Science,
and
Logic and Logical Philosophy.
e-ISBN (pdf): 978-83-233-7307-0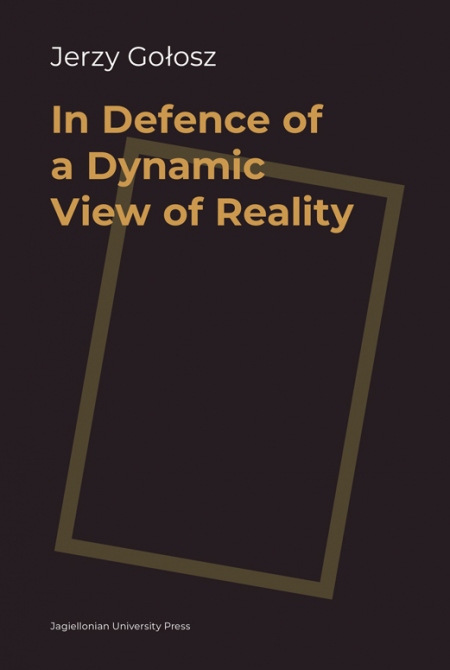 In Defence of a Dynamic View of Reality
Introduction 9
Acknowledgments 21
1. Presentism, Eternalism, and the Triviality Problem 22
1. Introduction 22
2. What does "to exist" mean? 23
3. Final remarks 35
2. Weak Interactions: Asymmetry of Time or Asymmetry in Time? 37
1. Introduction 37
2. The direct evidence for time reversal violation of weak interactions 38
3. Is time itself asymmetric because of existence of time-asymmetric laws? 40
3.1 Horwich's gambit 40
3.2 Sakharov to the rescue 44
3.3 Detour strategy 46
3.4 Sklar's general argument 50
3.5 Horwich's main assumption revisited 52
4. Conclusions 54
3. Presentism and the Flow of Time 56
1. Introduction 56
2. Is the existence of the flow of time necessary for presentism? 58
3. Is the existence of becoming a sufficient condition for presentism? 63
4. Conclusions 67
4. Presentism and the Notion of Existence 68
1. Introduction 68
2. St. Augustine's challenge 70
3. Presentism, flow of time, and dynamic existence 73
4. St. Augustine's questions revisited: a new insight into the nature of time? 83
5. Dynamic existence and empirical sciences 85
6. Conclusions 93
5. Meyer's Struggle with Presentism or How We Can Understand the Debate between Presentism and Eternalism 95
1. Introduction: Meyer's objection 95
2. Meyer's objection extended 98
3. Meyer's objection refuted 98
4. How can we understand the debate between presentism and eternalism? 109
5. The triviality objection once again: conclusions 111
6. Dynamic Presentism and the Grounding Objection 112
1. Introduction 112
2. Past-tense propositions and the grounding objection 114
3. Presentism and dynamic existence 118
4. In support of metaphysical category of past things and past facts 125
5. Conclusions 128
7. Brute Past Presentism, Dynamic Presentism, and the Objection from Being-Supervenience 129
1. Introduction 129
2. The problem: diagnosis 130
3. A remedy with an extra bonus 135
4. Conclusions 142
8. Entropy and the Direction of Time 145
1. Introduction: the asymmetry of time and the asymmetry in time 145
2. The increase of entropy as a process asymmetrical in time 148
3. Final remarks 153
Bibliography 158
Index of Subjects 169
Index of Names 173
In Defence of a Dynamic View of Reality
TABLE OF CONTENTS
Introduction 9
Acknowledgments 21
1. Presentism, Eternalism, and the Triviality Problem 22
1. Introduction 22
2. What does "to exist" mean? 23
3. Final remarks 35
2. Weak Interactions: Asymmetry of Time or Asymmetry in Time? 37
1. Introduction 37
2. The direct evidence for time reversal violation of weak interactions 38
3. Is time itself asymmetric because of existence of time-asymmetric laws? 40
3.1 Horwich's gambit 40
3.2 Sakharov to the rescue 44
3.3 Detour strategy 46
3.4 Sklar's general argument 50
3.5 Horwich's main assumption revisited 52
4. Conclusions 54
3. Presentism and the Flow of Time 56
1. Introduction 56
2. Is the existence of the flow of time necessary for presentism? 58
3. Is the existence of becoming a sufficient condition for presentism? 63
4. Conclusions 67
4. Presentism and the Notion of Existence 68
1. Introduction 68
2. St. Augustine's challenge 70
3. Presentism, flow of time, and dynamic existence 73
4. St. Augustine's questions revisited: a new insight into the nature of time? 83
5. Dynamic existence and empirical sciences 85
6. Conclusions 93
5. Meyer's Struggle with Presentism or How We Can Understand the Debate between Presentism and Eternalism 95
1. Introduction: Meyer's objection 95
2. Meyer's objection extended 98
3. Meyer's objection refuted 98
4. How can we understand the debate between presentism and eternalism? 109
5. The triviality objection once again: conclusions 111
6. Dynamic Presentism and the Grounding Objection 112
1. Introduction 112
2. Past-tense propositions and the grounding objection 114
3. Presentism and dynamic existence 118
4. In support of metaphysical category of past things and past facts 125
5. Conclusions 128
7. Brute Past Presentism, Dynamic Presentism, and the Objection from Being-Supervenience 129
1. Introduction 129
2. The problem: diagnosis 130
3. A remedy with an extra bonus 135
4. Conclusions 142
8. Entropy and the Direction of Time 145
1. Introduction: the asymmetry of time and the asymmetry in time 145
2. The increase of entropy as a process asymmetrical in time 148
3. Final remarks 153
Bibliography 158
Index of Subjects 169
Index of Names 173