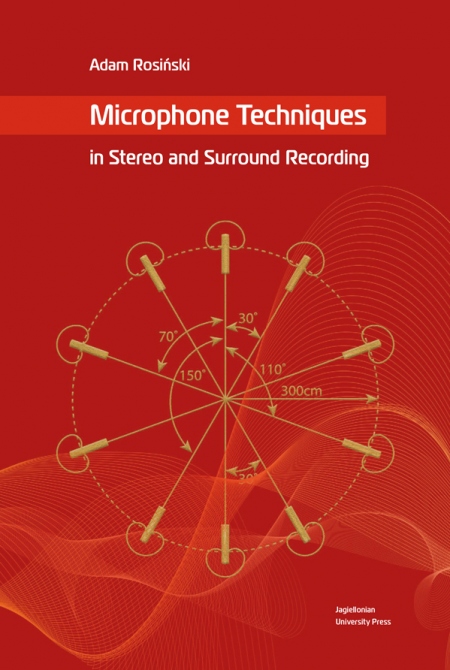 Spis treści, fragmenty, recenzje
Microphone Techniques in Stereo and Surround Recording
Liczba stron: 252 Format: 15,8x23,5 cm Rok wydania: 2022 Data premiery: 22.11.2022
Opis książki
Sound engineering is one of the fastest-growing branches of music production. The need for a broad-based discussion on the issues constituting the art of sound engineering persists and loses none of its relevance, revealing that sound engineering should not be investigated only in the mathematical and physical context (musical acoustics) or the engineering aspect (signal processing and modification).

Publications targeted primarily at musicians are few and far between, which is why the mutual understanding for different priorities which effectively concern the same issues faced by the engineer, the acoustician and the musician, seems to be a complex problem and the main concept explored in this publication.

This book is intended for musicians or sound directors, but also acousticians and sound engineers wishing to learn how the musicians think. The monograph is also addressed to musicians who intend to record their material in the studio in the near future, but do not possess knowledge on studio construction, studio workflow or the art of recording. It seems important to familiarize the musicians with the reality that awaits them on the other side of the glass, thus fostering their responsibility for the work jointly produced by them – entering the studio – and the sound director.
Język publikacji
angielski
e-ISBN (pdf): 978-83-233-7385-8
Otwarty dostęp
Wszystkie prawa zastrzeżone. Otwarty dostęp na dozwolony w ramach ustawowego zakresu dozwolonego użytku utworów chronionych.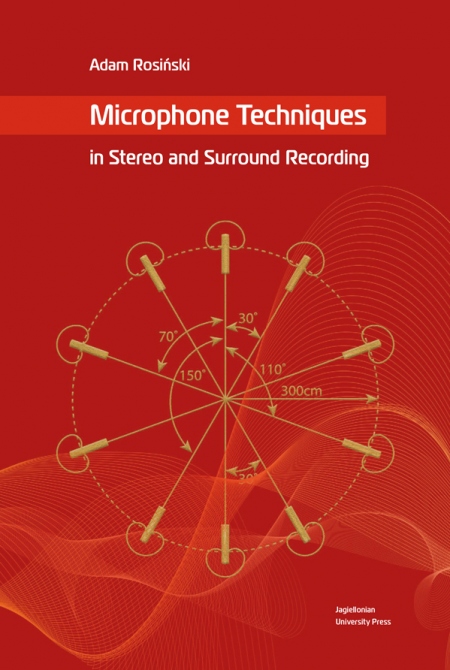 Microphone Techniques in Stereo and Surround Recording
Introduction 11

Chapter 1. Microphone parameters, types, and characteristics 17
1.1. Microphone parameters 17
1.1.1. Frequency response characteristics 17
1.1.2. Sensitivity 18
1.1.3. Maximum sound pressure level (SPL) 18
1.1.4. Handling noise 20
1.1.5. Dynamic range 20
1.2. Microphone types 20
1.2.1. The dynamic (magnetoelectric) microphone 21
1.2.2. Condenser (capacitor) microphone 24
1.2.3. Ribbon microphone 27
1.2.4. Contact microphone 29
1.2.5. Tube microphone 29
1.2.6. Shotgun microphone 32
1.3. Other kinds of microphones 33
1.3.1. Stereo microphone 33
1.3.2. Surround microphone (ambisonics) 34
1.3.3. Dummy head microphone 37
1.3.4. Rosiński dummy head surround microphone 39
1.3.5. 22.2 Surround microphone 40
1.3.6. 32 / 64 channel ambisonic microphone 41
1.4. Sound pickup pattern (directionality) 42
1.4.1. Omnidirectional pattern 43
1.4.2. The subcardioid pickup pattern 44
1.4.3. Cardioid pattern 44
1.4.4. Supercardioid and hypercardioid patterns 45
1.4.5. Bidirectional pattern 47

Chapter 2. Speaker parameters and types. Arrangement and calibration of studio monitors 53
2.1. Speaker parameters 55
2.1.1. Efficiency 55
2.1.2. RMS power 56
2.1.3. Program power handling 56
2.1.4. Peak power handling 56
2.1.5. Frequency response characteristics 56
2.1.6. Bandwidth 57
2.1.7. Impedance 57
2.2. Cone speaker 58
2.3. Horn speakers 59
2.4. Passive speaker units 61
2.5. Active speaker units 62
2.6. Studio monitors 63
2.7. Adaptation to room acoustics and studio monitor parameters 71
2.8. Setting monitors in the control room 72
2.8.1. Monitor configuration 73
2.8.2. Monitor set-up 74
2.8.3. Monitor orientation 74
2.8.4. Monitor orientation in relation to tweeters 74
2.8.5. Settings of the console in relation to the monitors 75

Chapter 3. Selected commercial standards for surround sound and audio coding standards 77
3.1. Multichannel playback systems 77
3.1.1. Quadraphonic playback 79
3.1.2. Dolby Surround 79
3.1.3. Dolby Pro Logic 79
3.1.4. 5.1 System 80
3.1.5. Dolby Digital 81
3.1.6. Dolby Pro Logic II 82
3.1.7. Digital Theatre System 82
3.1.8. 6.1 System 83
3.1.9. Dolby Digital EX 84
3.1.10. DTS-ES 84
3.1.11. 7.1 System 85
3.1.12. Dolby Pro Logic IIx / Dolby Pro Logic IIz 85
3.1.13. Dolby Digital Plus 85
3.1.14. Dolby TrueHD 86
3.1.15. DTS-HD 86
3.1.16. 10.2 System 87
3.1.17. 22.2 System 89
3.1.18. Periphonic sound system 93

Chapter 4. Connectors and connections 95
4.1. The DI box (Direct Injection Box) 96
4.2. XLR (commonly referred to as Cannon – from the name of James H. Cannon) 98
4.3. TS / TRS (colloquially known as the big Jack – 6.3mm in diameter, micro Jack – 3.5mm in diameter, and micro Jack – 2.5mm) 99
4.4. RCA (Radio Corporation of America; colloquially known as the cinch) 101
4.5. Speakon 101
4.6. Toslink (Toshiba LINK) 102
4.7. AES / EBU (Audio Engineering Society / European Broadcasting Union) 102
4.8. S / PDIF (Sony / Philips Digital Interface Format) 103
4.9. ADAT (Alesis Digital Audio Tape) 103
4.10. MADI (Multichannel Digital Interface) 104
4.11. Word Clock 105
4.12. Connections based on the Internet Protocol (fig. 84 a) and b)) 107

Chapter 5. Production methods for stereo recordings 117
5.1. Miking techniques 117
5.1.1. Mono recordings 118
5.1.2. The orchestra angle 119
5.1.3. The X-Y technique 123
5.1.4. The A / B method 125
5.1.5. The A / B + M technique 127
5.1.6. The X-Y + M technique 129
5.1.7. The X-Y technique + ambience 131
5.1.8. ORTF / NOS 132
5.1.9. The Blumlein technique 133
5.1.10. The MM technique 135
5.1.11. The MS technique 137
5.1.12. MS 180° 139
5.1.13. Native 2D FOA recording 139
5.1.14. 2D FOA (1) 140
5.1.15. 2D FOA (2) 141
5.1.16. INA 3 (German: Ideale Nieren Anordnung or ICA 3 Ideal Cardioid Arrangement) 141
5.1.17. Decca Tree / ABC Stereo 143
5.1.18. OCT (Optimized Cardioid Triangle) 144
5.1.19. Omni +8 144
5.1.20. Omni Triad 145
5.2. The recording of selected acoustic instruments, solo vocals and instrumental section 145
5.2.1. The piano 146
5.2.2. The violin and the viola 148
5.2.3. The acoustic guitar 148
5.2.4. The classical guitar 149
5.2.5. The harp 150
5.2.6. The electric guitar and the bass guitar 151
5.2.7. Leslie speaker (Hammond organ) 151
5.2.8. The saxophone 152
5.2.9. The trombone, the French horn and the trumpet 152
5.2.10. The transverse flute (Western concert flute) 153
5.2.11. The recorder (the English flute) / the piccolo 153
5.2.12. The shaker 154
5.2.13. The vibraphone / the xylophone 154
5.2.14. The drums 154
5.2.15. Solo vocals 156
5.2.16. The instrumental section 157

Chapter 6. Production methods for surround recordings 159
6.1. Multi-channel miking techniques 159
6.1.1. IRT atmo-cross 159
6.1.2. Hamasaki Surround / NHK Surround + Ambience Matrix 160
6.1.3. 3D FOA 161
6.1.4. Tetrahedral array 161
6.1.5. Double X-Y 162
6.1.6. Double A / B 163
6.1.7. Double MS 163
6.1.8. IRT Cross / ORTF Surround (Institute of Radio Technology) 165
6.1.9. OCT Surround (Optimized Cardioid Triangle) 166
6.1.10. OCT + IRT Cross 167
6.1.11. Hamasaki Square 169
6.1.12. OCT + Hamasaki Square 169
6.1.13. INA 5 (German: Ideale Nieren Anordnung or ICA 5 Ideal Cardioid Arrangement) 170
6.1.14. Polyhymnia Pentagon 171
6.1.15. Hamasaki Surround / NHK Surround 172
6.1.16. Multichannel Microphone Array Design (MMAD) 173
6.1.17. Five channel surround / MMA (based on MMAD) 194
6.1.18. Decca Tree Surround (1) (based on MMAD) 195
6.1.19. Decca Tree Surround (2) (based on MMAD) 196
6.1.20. The Wide Cardioid Surround Array 197
6.1.21. Fukada Tree 198
6.1.22. Corey / Martin Tree 199
6.1.23. A basic approach to direct / ambient surround 200
6.1.24. Delor VR (Virtual Reality) 200
6.1.25. DMP (Digital Music Production) 201
6.1.26. NHK (named after the Japanese Broadcasting Corporation) 202
6.1.27. Woszczyk (named after Wiesław Woszczyk, founder of the technique) 203
6.1.28. Omni +8 surround 204
6.1.29. Cardioid Trapeze / Trapezium, Theile Trapezoid 205
6.1.30. Trinnov array 205
6.1.31. Rosiński 7.1 206
6.1.32. Rosiński's Hexagon 207
6.1.33. Rosiński's Decagon 208
6.2. Dummy head recording techniques for surround sound 209
6.2.1. Five channel 209
6.2.2. Multichannel recording of a jazz band 209
6.2.3. Klepko 210
6.2.4. Double MS + dummy head 211
6.2.5. Creating your own dummy head 212
6.3. Multi-layer recording techniques for surround sound 213
6.3.1. Immersive audio with height 213
6.3.2. Wide a / b 214
6.3.3. OCT 9 215
6.3.4. The Hyunkook Lee mixed technique 217
6.3.5. The Janet Grab mixed 22.2 technique 218
6.4. Recording large ensembles 219

Conclusions 223

References 225

Internet sources 235

List of tables 237

List of figures 239
Microphone Techniques in Stereo and Surround Recording
SPIS TREŚCI
Introduction 11

Chapter 1. Microphone parameters, types, and characteristics 17
1.1. Microphone parameters 17
1.1.1. Frequency response characteristics 17
1.1.2. Sensitivity 18
1.1.3. Maximum sound pressure level (SPL) 18
1.1.4. Handling noise 20
1.1.5. Dynamic range 20
1.2. Microphone types 20
1.2.1. The dynamic (magnetoelectric) microphone 21
1.2.2. Condenser (capacitor) microphone 24
1.2.3. Ribbon microphone 27
1.2.4. Contact microphone 29
1.2.5. Tube microphone 29
1.2.6. Shotgun microphone 32
1.3. Other kinds of microphones 33
1.3.1. Stereo microphone 33
1.3.2. Surround microphone (ambisonics) 34
1.3.3. Dummy head microphone 37
1.3.4. Rosiński dummy head surround microphone 39
1.3.5. 22.2 Surround microphone 40
1.3.6. 32 / 64 channel ambisonic microphone 41
1.4. Sound pickup pattern (directionality) 42
1.4.1. Omnidirectional pattern 43
1.4.2. The subcardioid pickup pattern 44
1.4.3. Cardioid pattern 44
1.4.4. Supercardioid and hypercardioid patterns 45
1.4.5. Bidirectional pattern 47

Chapter 2. Speaker parameters and types. Arrangement and calibration of studio monitors 53
2.1. Speaker parameters 55
2.1.1. Efficiency 55
2.1.2. RMS power 56
2.1.3. Program power handling 56
2.1.4. Peak power handling 56
2.1.5. Frequency response characteristics 56
2.1.6. Bandwidth 57
2.1.7. Impedance 57
2.2. Cone speaker 58
2.3. Horn speakers 59
2.4. Passive speaker units 61
2.5. Active speaker units 62
2.6. Studio monitors 63
2.7. Adaptation to room acoustics and studio monitor parameters 71
2.8. Setting monitors in the control room 72
2.8.1. Monitor configuration 73
2.8.2. Monitor set-up 74
2.8.3. Monitor orientation 74
2.8.4. Monitor orientation in relation to tweeters 74
2.8.5. Settings of the console in relation to the monitors 75

Chapter 3. Selected commercial standards for surround sound and audio coding standards 77
3.1. Multichannel playback systems 77
3.1.1. Quadraphonic playback 79
3.1.2. Dolby Surround 79
3.1.3. Dolby Pro Logic 79
3.1.4. 5.1 System 80
3.1.5. Dolby Digital 81
3.1.6. Dolby Pro Logic II 82
3.1.7. Digital Theatre System 82
3.1.8. 6.1 System 83
3.1.9. Dolby Digital EX 84
3.1.10. DTS-ES 84
3.1.11. 7.1 System 85
3.1.12. Dolby Pro Logic IIx / Dolby Pro Logic IIz 85
3.1.13. Dolby Digital Plus 85
3.1.14. Dolby TrueHD 86
3.1.15. DTS-HD 86
3.1.16. 10.2 System 87
3.1.17. 22.2 System 89
3.1.18. Periphonic sound system 93

Chapter 4. Connectors and connections 95
4.1. The DI box (Direct Injection Box) 96
4.2. XLR (commonly referred to as Cannon – from the name of James H. Cannon) 98
4.3. TS / TRS (colloquially known as the big Jack – 6.3mm in diameter, micro Jack – 3.5mm in diameter, and micro Jack – 2.5mm) 99
4.4. RCA (Radio Corporation of America; colloquially known as the cinch) 101
4.5. Speakon 101
4.6. Toslink (Toshiba LINK) 102
4.7. AES / EBU (Audio Engineering Society / European Broadcasting Union) 102
4.8. S / PDIF (Sony / Philips Digital Interface Format) 103
4.9. ADAT (Alesis Digital Audio Tape) 103
4.10. MADI (Multichannel Digital Interface) 104
4.11. Word Clock 105
4.12. Connections based on the Internet Protocol (fig. 84 a) and b)) 107

Chapter 5. Production methods for stereo recordings 117
5.1. Miking techniques 117
5.1.1. Mono recordings 118
5.1.2. The orchestra angle 119
5.1.3. The X-Y technique 123
5.1.4. The A / B method 125
5.1.5. The A / B + M technique 127
5.1.6. The X-Y + M technique 129
5.1.7. The X-Y technique + ambience 131
5.1.8. ORTF / NOS 132
5.1.9. The Blumlein technique 133
5.1.10. The MM technique 135
5.1.11. The MS technique 137
5.1.12. MS 180° 139
5.1.13. Native 2D FOA recording 139
5.1.14. 2D FOA (1) 140
5.1.15. 2D FOA (2) 141
5.1.16. INA 3 (German: Ideale Nieren Anordnung or ICA 3 Ideal Cardioid Arrangement) 141
5.1.17. Decca Tree / ABC Stereo 143
5.1.18. OCT (Optimized Cardioid Triangle) 144
5.1.19. Omni +8 144
5.1.20. Omni Triad 145
5.2. The recording of selected acoustic instruments, solo vocals and instrumental section 145
5.2.1. The piano 146
5.2.2. The violin and the viola 148
5.2.3. The acoustic guitar 148
5.2.4. The classical guitar 149
5.2.5. The harp 150
5.2.6. The electric guitar and the bass guitar 151
5.2.7. Leslie speaker (Hammond organ) 151
5.2.8. The saxophone 152
5.2.9. The trombone, the French horn and the trumpet 152
5.2.10. The transverse flute (Western concert flute) 153
5.2.11. The recorder (the English flute) / the piccolo 153
5.2.12. The shaker 154
5.2.13. The vibraphone / the xylophone 154
5.2.14. The drums 154
5.2.15. Solo vocals 156
5.2.16. The instrumental section 157

Chapter 6. Production methods for surround recordings 159
6.1. Multi-channel miking techniques 159
6.1.1. IRT atmo-cross 159
6.1.2. Hamasaki Surround / NHK Surround + Ambience Matrix 160
6.1.3. 3D FOA 161
6.1.4. Tetrahedral array 161
6.1.5. Double X-Y 162
6.1.6. Double A / B 163
6.1.7. Double MS 163
6.1.8. IRT Cross / ORTF Surround (Institute of Radio Technology) 165
6.1.9. OCT Surround (Optimized Cardioid Triangle) 166
6.1.10. OCT + IRT Cross 167
6.1.11. Hamasaki Square 169
6.1.12. OCT + Hamasaki Square 169
6.1.13. INA 5 (German: Ideale Nieren Anordnung or ICA 5 Ideal Cardioid Arrangement) 170
6.1.14. Polyhymnia Pentagon 171
6.1.15. Hamasaki Surround / NHK Surround 172
6.1.16. Multichannel Microphone Array Design (MMAD) 173
6.1.17. Five channel surround / MMA (based on MMAD) 194
6.1.18. Decca Tree Surround (1) (based on MMAD) 195
6.1.19. Decca Tree Surround (2) (based on MMAD) 196
6.1.20. The Wide Cardioid Surround Array 197
6.1.21. Fukada Tree 198
6.1.22. Corey / Martin Tree 199
6.1.23. A basic approach to direct / ambient surround 200
6.1.24. Delor VR (Virtual Reality) 200
6.1.25. DMP (Digital Music Production) 201
6.1.26. NHK (named after the Japanese Broadcasting Corporation) 202
6.1.27. Woszczyk (named after Wiesław Woszczyk, founder of the technique) 203
6.1.28. Omni +8 surround 204
6.1.29. Cardioid Trapeze / Trapezium, Theile Trapezoid 205
6.1.30. Trinnov array 205
6.1.31. Rosiński 7.1 206
6.1.32. Rosiński's Hexagon 207
6.1.33. Rosiński's Decagon 208
6.2. Dummy head recording techniques for surround sound 209
6.2.1. Five channel 209
6.2.2. Multichannel recording of a jazz band 209
6.2.3. Klepko 210
6.2.4. Double MS + dummy head 211
6.2.5. Creating your own dummy head 212
6.3. Multi-layer recording techniques for surround sound 213
6.3.1. Immersive audio with height 213
6.3.2. Wide a / b 214
6.3.3. OCT 9 215
6.3.4. The Hyunkook Lee mixed technique 217
6.3.5. The Janet Grab mixed 22.2 technique 218
6.4. Recording large ensembles 219

Conclusions 223

References 225

Internet sources 235

List of tables 237

List of figures 239
Wybierz rozdziały:
Wartość zamówienia:
0.00 zł