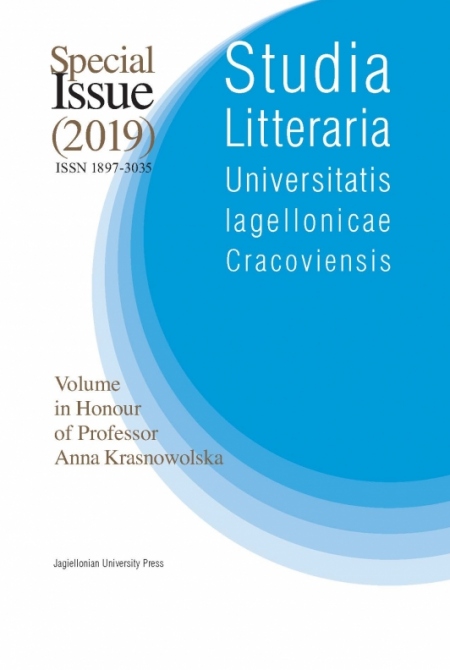 Studia Litteraria Universitatis Iagellonicae Cracoviensis. Special issue
Volume in honour of Professor Anna Krasnowolska
Pages: 286 Book format: 16,5x23,5 cm Publish date: 05.11.2019
Book description
Contents
Renata Rusek-Kowalska, Professor Anna Krasnowolska – Our Master
Renata Rusek-Kowalska, Profesor Anna Krasnowolska – nasza Mistrzyni
پروفسور آنا کراسنوولسکا – شیر زنی مهربان و فروتن
Selected Writings of Professor Anna Krasnowolska
Arakelova Victoria, Еще один миф о происхождении езидов
Asatrian Garnik S., "Frog" in Persian and *-š- > -l- Change in Western New Iranian
Bocheńska Joanna, The Power of Humanisation. The role of literary studies and of Kurdish literature
Daryaee Touraj, Honey: A Demonic Food in Zoroastrian Iran
Fragner Bert G., The Mental mapping of Iran, identity and patriotism in early modern Iran – The case of Moḥammad-e Mofīd
Haag-Higuchi Roxane, Literary Heroization for the Cause of National Liberation
Jahani Carina, We are going up to Jerusalem! Toponyms in two translations of the Gospels into Balochi
Kanarkowski Radosław, Some remarks on adaptive phonetic changes of Arabic and Persian loanwords in Daghestanian languages
Matthee Rudi, A Safe Space for the Shah and His Women: The Practice of Quruq in the Safavid Period
Melvile Charles, A mechanical clock in Kashan in the early 17th century
Michalak-Pikulska Barbara, Identity in Literary output and Cultural Life in Oman
Milewska Iwona, Topos indyjskiego bohatera epickiego czyli wyobrażenie władcy doskonałego w Mahabharacie.
Niechciał Paulina, Female Post-Revolutionary Voices – Literature and Art without Men
Olbrycht Marek jan, The Memory of the Past: the Achaemenid Legacy in the Arsakid Period
Pedersen Claus Valling, Shahriyar Mandanipur, In Between Modernism and Post-Modernist Ways of Writing
Pisowicz Andrzej, A review of Armenian proverbs from the territory of Iranian Azerbaijan (the Salmast dialect)
Rzepka Marcin, To make Christianity more Iranian. Studying the conversions to Christianity in Iran in the early Pahlavi Period
Shahshahani Soheila, Travel Account of Nasser Khosrow Qobâdiâni or Daily Accounts of an Anthropologist in Retrospect
Sierakowska-Dyndo Jolanta, Polish Judge Defended the Iranian Stance (Anglo-Iranian dispute in 1951)
Sudyka Lidia, "Like sugar in milk": Zarathustrians in Pune
Szántó Iván, Two Islamic Strongholds in Nineteenth-Century Styria
Szuppe Maria, Shāhnāma and other manuscripts calligraphed by Ādina Kāteb Bokhāri in late 16th-early 17th c.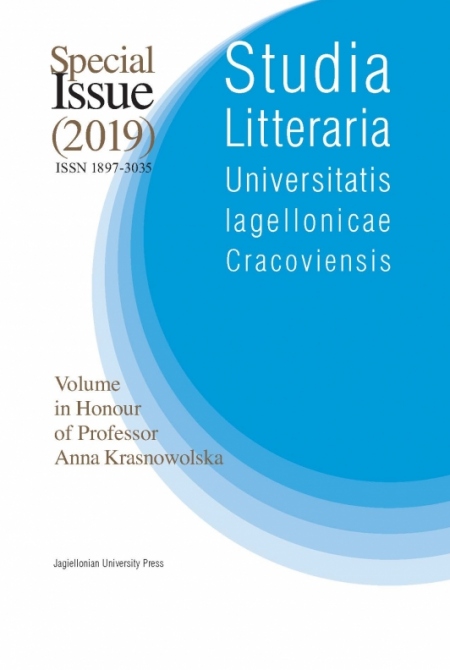 Studia Litteraria Universitatis Iagellonicae Cracoviensis. Special issue
Volume in honour of Professor Anna Krasnowolska
Studia Litteraria Universitatis Iagellonicae Cracoviensis. Special issue
Volume in honour of Professor Anna Krasnowolska