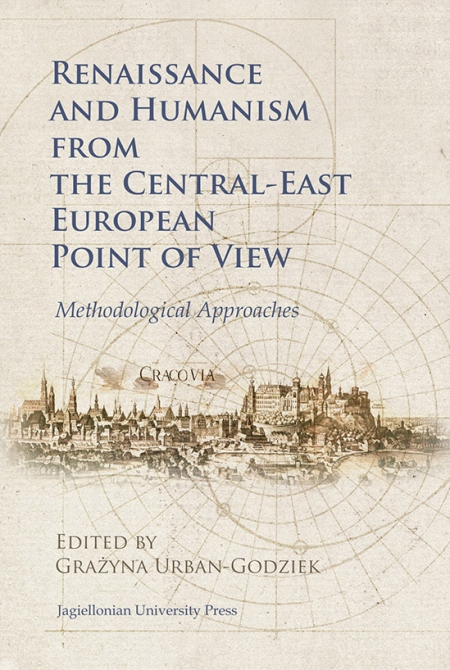 Table of Contents, Reviews
Renaissance and Humanism from the Central-East European Point of View
Methodological Approaches
Pages: 326 Book format: 15,8x23,5 cm Publication date: 2015 Publication date: 23.02.2015 E-book publication date: 31.01.2023
Book description
This volume shows the panorama of the contemporary studies of the Polish Renaissance, presented here in the Italian and transalpine context, taking into consideration its characteristics. An important aspect of this volume is the specification of the research needs and the definition of new directions of studies and their methodology.

A large, multiethnic and multireligious state, which was Polish Lithuanian Commonwealth (Rzeczpospolita Obojga Narodow) shaped its modern identity in the 16* century. This period gave rise to the flowering of literature and art, creating the Golden Age of Polish culture. The ideas of Renaissance humanism proved to be vitally attractive for the domestic elites and contributed to the creation of the foundations of the political system of the Commonwealth, becoming its pride - a republic with an elected king, where both passive and active electoral rights were vested in the entire Gentry Nation. The Latin Culture of the Renaissance became also an integrating factor for this multilingual state organism, and Latin, together with Polish was the main medium of communication among nobility (who accounted for about 10 % of the inhabitants of the Republic).

The disintegration of this commonwealth, the loss of independence for more than a century (1795-1918), and then loss of sovereignty for another half of a century (1939-1989) and then isolation between Poland and the West resulted in the fact that the culture of this area w.as not included in the studies of the European Renaissance, which were commenced in the 19th century. This gap has been seen until today in the Western course books and more general overviews.

The purpose of this volume is, at least to a limited degree, to fill in the lack of scientific analyses of the Polish Renaissance in western languages and also to invite foreign scholars to a debate about Polish humanistic literature.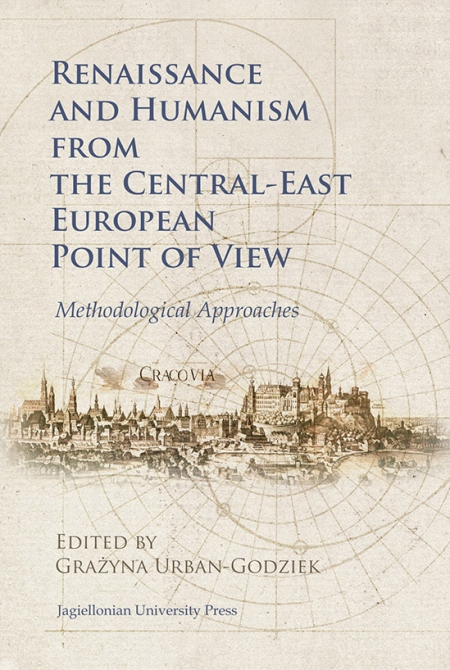 Renaissance and Humanism from the Central-East European Point of View
Methodological Approaches
Grażyna Urban-Godziek, Introduction. The Polish Golden Age – Current State of the Arts and Challenges  7

From the History of the Renaissance Idea
Riccardo Fubini (Firenze), Old Trends and New Perspectives in Renaissance Scholarship  15
Ryszard Kasperowicz (Lublin), A Portrait of Renaissance Man in the Writings of Jacob Burckhardt  35
Barbara Kaszowska-Wandor (Katowice), The Renaissance and Humanism in the Light of the New Historicism  49
The State of Research on the Renaissance Humanism (Poland Case Mainly) Tadeusz Ulewicz (Kraków), The Earliest Harbingers of Polish Humanism in the Golden Autumn of the Jagiellonian Middle Ages  59
Sante Graciotti (Roma), The Renaissance and Non-Renaissance in Polish Renaissance Literature.  75
Andrzej Borowski (Kraków), Major Currents in the Renaissance and Humanism Studies in Poland in the Last Fifty Years  101
Jerzy Starnawski (Łódź), Aleksander Brückner as a Scholar and the Publisher of Mikołaj Rej's Works 117
Maciej Włodarski (Kraków), Mikołaj Rej as a Reformation Writer  131
Piotr Wilczek (Warszawa), The Radical Reformation in Poland: Research Models in the Second Half of the 20th Century  145
Jerzy Axer (Warszawa), Latinitas Polonorum or Pedantry à la polonaise 153
Martin Faber (Freiburg im Breisgau), The Formation of European Nationalism during the Renaissance   165
Wacław Walecki (Kraków), Remarks on the Foreign Primary and Secondary Bibliography of the Polish Renaissance  171
Noémi Petneki (Kraków), The State of Research of the Polish-Hungarian Contacts during the Renaissance. An Outline  177

Editing of Primary Sources
Janusz Gruchała (Kraków), Problems in Editing Renaissance Texts  187
Jeanine De Landtsheer (Leuven), Iusti Lipsi Epistolae after Half a Century: Status Questions and Prospects  197

Old and Contemporary Translation Studies
Elwira Buszewicz (Kraków), From the Renaissance through to Our Times: The Reception of Neo-Latin Poetry in Polish Translation  221
Emiliano Ranocchi (Udine), Some Remarks on Translation in Old Polish Literature: The Kochanowski Case 233

The Renaissance Genres
Maria Maślanka-Soro (Kraków), The Concept and Form of Tragedy from the End of Antiquity to the Renaissance  247
Grażyna Urban-Godziek (Kraków), Two Polish Renaissance Elegiac Cycles (by Klemens Janicki and Jan Kochanowski) in the Light of the Contemporary European Practice  261
Roman Krzywy (Warszawa), Jan Kochanowski and Epic Poetry – an Attempt to Reorganize the Current State of Knowledge  277
Magdalena Ryszka-Kurczab (Kraków), The Role of Literary Genetics in the Research into Renaissance Dialogue  293
Aneta Kliszcz (Kraków), In Search of the Renaissance Genre and Its Theory  305

Index of Names 313
Renaissance and Humanism from the Central-East European Point of View
Methodological Approaches
TABLE OF CONTENTS
Grażyna Urban-Godziek, Introduction. The Polish Golden Age – Current State of the Arts and Challenges  7

From the History of the Renaissance Idea
Riccardo Fubini (Firenze), Old Trends and New Perspectives in Renaissance Scholarship  15
Ryszard Kasperowicz (Lublin), A Portrait of Renaissance Man in the Writings of Jacob Burckhardt  35
Barbara Kaszowska-Wandor (Katowice), The Renaissance and Humanism in the Light of the New Historicism  49
The State of Research on the Renaissance Humanism (Poland Case Mainly) Tadeusz Ulewicz (Kraków), The Earliest Harbingers of Polish Humanism in the Golden Autumn of the Jagiellonian Middle Ages  59
Sante Graciotti (Roma), The Renaissance and Non-Renaissance in Polish Renaissance Literature.  75
Andrzej Borowski (Kraków), Major Currents in the Renaissance and Humanism Studies in Poland in the Last Fifty Years  101
Jerzy Starnawski (Łódź), Aleksander Brückner as a Scholar and the Publisher of Mikołaj Rej's Works 117
Maciej Włodarski (Kraków), Mikołaj Rej as a Reformation Writer  131
Piotr Wilczek (Warszawa), The Radical Reformation in Poland: Research Models in the Second Half of the 20th Century  145
Jerzy Axer (Warszawa), Latinitas Polonorum or Pedantry à la polonaise 153
Martin Faber (Freiburg im Breisgau), The Formation of European Nationalism during the Renaissance   165
Wacław Walecki (Kraków), Remarks on the Foreign Primary and Secondary Bibliography of the Polish Renaissance  171
Noémi Petneki (Kraków), The State of Research of the Polish-Hungarian Contacts during the Renaissance. An Outline  177

Editing of Primary Sources
Janusz Gruchała (Kraków), Problems in Editing Renaissance Texts  187
Jeanine De Landtsheer (Leuven), Iusti Lipsi Epistolae after Half a Century: Status Questions and Prospects  197

Old and Contemporary Translation Studies
Elwira Buszewicz (Kraków), From the Renaissance through to Our Times: The Reception of Neo-Latin Poetry in Polish Translation  221
Emiliano Ranocchi (Udine), Some Remarks on Translation in Old Polish Literature: The Kochanowski Case 233

The Renaissance Genres
Maria Maślanka-Soro (Kraków), The Concept and Form of Tragedy from the End of Antiquity to the Renaissance  247
Grażyna Urban-Godziek (Kraków), Two Polish Renaissance Elegiac Cycles (by Klemens Janicki and Jan Kochanowski) in the Light of the Contemporary European Practice  261
Roman Krzywy (Warszawa), Jan Kochanowski and Epic Poetry – an Attempt to Reorganize the Current State of Knowledge  277
Magdalena Ryszka-Kurczab (Kraków), The Role of Literary Genetics in the Research into Renaissance Dialogue  293
Aneta Kliszcz (Kraków), In Search of the Renaissance Genre and Its Theory  305

Index of Names 313