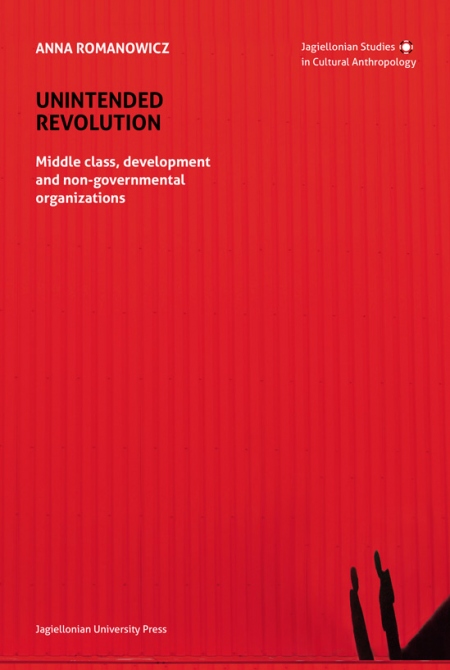 Unintended revolution
Middle class, development and non-governmental organizations
Pages: 182 Book format: B5 Year of Publication: 2017 Publication date: 11.09.2017
Book description
The author describes the ways in which development performed in and by non-governmental organizations in one of Indian metropolises serves as a tool for reinforcing and upgrading social standing. She argues that the NGO environment gives a particular opportunity to middle class members whose cultural and economic capitals are being (re)produced in such an environment. She concludes that ineffectiveness of development is in the interest of this group. She also argues that class status is the most important factor in acquiring a job position in a contemporary NGO, and that it cuts across gender, caste, nationality, as well as other identities.
The book is based on a PhD dissertation, one of the top three shortlisted for the 10th International Convention of Asia Scholars (ICAS 10) Book Prize 2017.

"In a compelling combination of useful theory and literature and enlightening personal anecdote, this book is remarkably readable and promises to become an indispensable for anyone who wants to know the class dimension, and social and cultural capital used to work in the areas of women's empowerment and development."
Amiya Kumar Das
Assistant Professor, Department of Sociology
Tezpur University, Assam, India

"Indeed, it is an artistry to show so complicated picture of a social world that the Author encountered during her fieldwork, to show the social hierarchies of contemporary India, through the insight into a particular environment. […] The thing is to – in this micro-scale – spot something that is difficult to see from a distance (far away) – the world of people who are being located in social relationships through hegemonic cultural hierarchies. This is something that Anna Romanowicz has achieved."
Professor Michał Buchowski
Adam Mickiewicz University, Poznań, Poland
Europa Universität Viadrina, Frankfurt/Oder, Germany

Anna Romanowicz is an Assistant Professor at the Institute of Ethnology and Cultural Anthropology, Jagiellonian University (Krakow, Poland). Her research interests include class analysis, non-governmental organizations, women's rights, and anthropology of development and globalization. Recently she also works on the issues of love in context of social class.