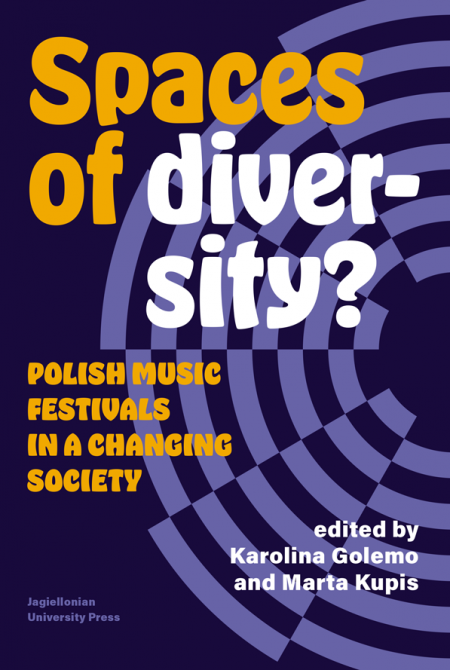 Table of Contents, Reviews
Spaces of Diversity?
Polish Music Festivals in a Changing Society
Pages: 220 Book format: 15,8x23,5 cm Publication date: 2022 Publication date: 23.01.2023 E-book publication date: 02.02.2023
Book description
Music festivals are unique events in the Polish cultural landscape. Organized for fans of various genres of music, they make space for any and all preferences. They perform an integrating function, by helping the participants to collectively experience joy. Are they an echo of already forgotten traditions or a phenomenon that is substantially new? Do they belong to the carnivalization of culture or to the culture of consumption? The answers are worth looking for. And the book Spaces of Diversity? Polish music festivals in a changing society fits into the interdisciplinary research approach, the aim of which is to capture many different aspects and contexts of the discussed cultural phenomena—festivals: their permanent and fleeting elements, their importance for local communities, but also for development of global trends, including those promoting multiculturalism in an authentic, culturally rooted version.
From the review by Prof. Urszula Jarecka

Music festivals offer a chance to experience musical and cultural diversity, much needed in a country which, for a long time, had been separated from much of global culture. As such, they also serve as an opportunity to appreciate the musical traditions and productions from different groups, both those originating from foreign lands, and those situated locally, often created by ethnic minorities. The relatively easy-going atmosphere of music festivals and their focus on art allow for circumstances where conflict is not very likely, thus fostering mutual appreciation among people of various walks of life.  All of the essays in this volume refer to and aim to answer two fundamental questions: can music festivals serve as spaces of diversity, that is places where people can get to know other cultures and groups of people; and if so, how? Can music festivals also be a factor of socio-cultural changes?
Cover design
Karolina Szafran
e-ISBN (pdf): 978-83-233-7380-3
e-ISBN (mobi,epub): 978-83-233-7443-5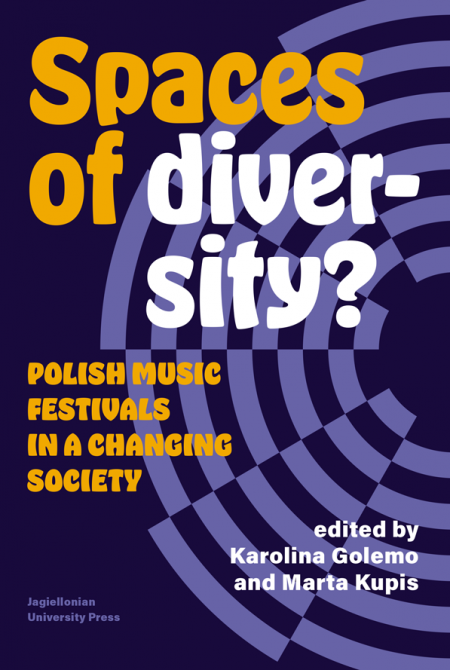 Spaces of Diversity?
Polish Music Festivals in a Changing Society
Music Festivals, Polish Society, and Change. Introductory Remarks   7

WALDEMAR KULIGOWSKI
When the Local Community Matters: The Transformation of Polish Music Festivals   15

FRANCISZEK CZECH
Music Festivals as Global Events: The Case of Major Polish Festivals  35

JOANNA DZIADOWIEC-GREGANIĆ
Festum Patrimonium: Between the Festivalisation of Traditional Music Heritage and the Heritagisation of Traditional Music Festivals   53

ADRIAN TYSZKIEWICZ
A Siesta in the City of Freedom: The Phenomenon of the Gdańsk Lotos Siesta Festival  77

ANNA G. PIOTROWSKA
Articulating Romani Public Identity at Music Festivals: The Case of the International Days of Roma Culture in Krakow   101

KAROLINA GOLEMO
The EtnoKrakow Festival: Encounters at the Crossroads of Cultures   119

ELŻBIETA WIĄCEK
From Shtetl to Zion: 30 Years of Krakow's Jewish Culture Festival  147

ANNA DUDA
Nostalgia and Lost Authenticity: The Evolution of the International Picnic Country & Folk Festival in Mrągowo into a Tourist Attraction   171

MARTA KUPIS
Festival Agora? The Academy of the Finest Arts as a Case Study of the Festivalisation of the Public Sphere   191

Index  211
Index of Polish music festivals  213
Map of selected music festivals in Poland   215
List of Contributors  217
Spaces of Diversity?
Polish Music Festivals in a Changing Society
TABLE OF CONTENTS
Music Festivals, Polish Society, and Change. Introductory Remarks   7

WALDEMAR KULIGOWSKI
When the Local Community Matters: The Transformation of Polish Music Festivals   15

FRANCISZEK CZECH
Music Festivals as Global Events: The Case of Major Polish Festivals  35

JOANNA DZIADOWIEC-GREGANIĆ
Festum Patrimonium: Between the Festivalisation of Traditional Music Heritage and the Heritagisation of Traditional Music Festivals   53

ADRIAN TYSZKIEWICZ
A Siesta in the City of Freedom: The Phenomenon of the Gdańsk Lotos Siesta Festival  77

ANNA G. PIOTROWSKA
Articulating Romani Public Identity at Music Festivals: The Case of the International Days of Roma Culture in Krakow   101

KAROLINA GOLEMO
The EtnoKrakow Festival: Encounters at the Crossroads of Cultures   119

ELŻBIETA WIĄCEK
From Shtetl to Zion: 30 Years of Krakow's Jewish Culture Festival  147

ANNA DUDA
Nostalgia and Lost Authenticity: The Evolution of the International Picnic Country & Folk Festival in Mrągowo into a Tourist Attraction   171

MARTA KUPIS
Festival Agora? The Academy of the Finest Arts as a Case Study of the Festivalisation of the Public Sphere   191

Index  211
Index of Polish music festivals  213
Map of selected music festivals in Poland   215
List of Contributors  217