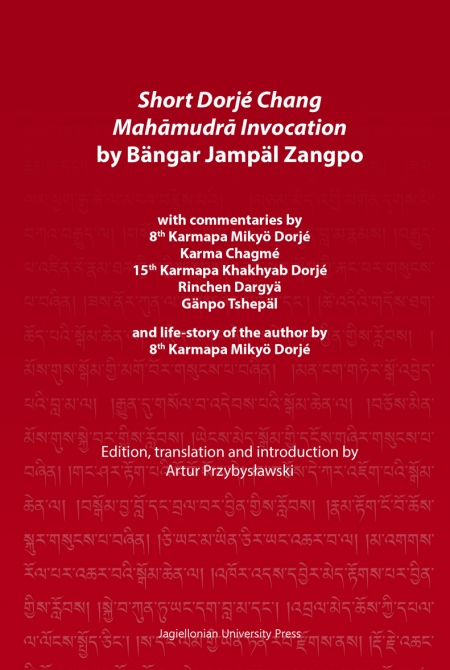 Table of Contents, Reviews
"Short Dorjé Chang Mahāmudrā Invocation" by Bängar Jampäl Zangpo
with commetaries by 8th Karmapa Mikyö Dorjé, Karma Chagmé, 15th Karmapa Khakhyab Dorjé, Rinchen Dargyä, Gänpo Tshepäl and life-story of the author by 8th Karmapa Mikyö Dorjé
Edition, translation and introduction: Artur Przybysławski
Pages: 164 Book format: 15,8x23,5 cm Publication date: 2021 Publication date: 16.12.2021
Book description
The volume presents translations and editions of crucial
mahāmudrā
texts of Tibetan Buddhism.
The Invocation
by Bängar Jampäl Zangpo is considered one of the most important teachings of the Kagyü tradition. It was commented on by prominent masters and philosophers, whose commentaries are translated here for the first time into a European language.

Dr hab. Artur Przybysławski - Lecturer of Tibetan language and Buddhist philosophy at the Centre for Comparative Studies of Civilisations of the Jagiellonian University, translator (English and Tibetan). Till 2011 worked at the Chair of Philosophy at The University of Lodz. Stipendist of Foundation for Polish Science, translator awarded by Association of Polish Translators.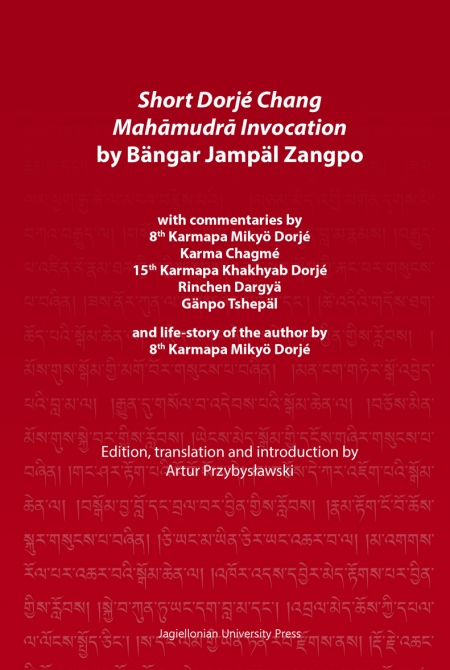 "Short Dorjé Chang Mahāmudrā Invocation" by Bängar Jampäl Zangpo
with commetaries by 8th Karmapa Mikyö Dorjé, Karma Chagmé, 15th Karmapa Khakhyab Dorjé, Rinchen Dargyä, Gänpo Tshepäl and life-story of the author by 8th Karmapa Mikyö Dorjé
Introduction 9

Bängar Jampäl Zangpo
Short Dorjé Chang Mahāmudrā Invocation 31

8th Karmapa Mikyö Dorjé
Instructions for practicing Short Dorjé Chang Mahāmudrā Invocation composed by all-knowing man from Bängar 35

Karma Chagmé
Phases of visualization of the Short Dorjé Chang Mahāmudrā Invocation being the invocation enhancing [the practice of] mahāmudrā 41

15th Karmapa Khakhyab Dorjé
Instructions for practicing Short Dorjé Chang Mahāmudrā Invocation 49

Rinchen Dargyä
Rain of inspiration that opens the gate of knowing everything. Instruction manual of Short Dorjé Chang Mahāmudrā Invocation 53

Gänpo Tshepäl
Instructions on Short Dorjé Chang Mahāmudrā Invocation. Oral teachings of the masterly lama 81

Appendix:
Complete liberation life-story of all-knowing Bängarwa by 8th Karmapa Mikyö Dorjé 91

Editions of the original texts 97

Bibliography 149

Index 161
"Short Dorjé Chang Mahāmudrā Invocation" by Bängar Jampäl Zangpo
with commetaries by 8th Karmapa Mikyö Dorjé, Karma Chagmé, 15th Karmapa Khakhyab Dorjé, Rinchen Dargyä, Gänpo Tshepäl and life-story of the author by 8th Karmapa Mikyö Dorjé
TABLE OF CONTENTS
Introduction 9

Bängar Jampäl Zangpo
Short Dorjé Chang Mahāmudrā Invocation 31

8th Karmapa Mikyö Dorjé
Instructions for practicing Short Dorjé Chang Mahāmudrā Invocation composed by all-knowing man from Bängar 35

Karma Chagmé
Phases of visualization of the Short Dorjé Chang Mahāmudrā Invocation being the invocation enhancing [the practice of] mahāmudrā 41

15th Karmapa Khakhyab Dorjé
Instructions for practicing Short Dorjé Chang Mahāmudrā Invocation 49

Rinchen Dargyä
Rain of inspiration that opens the gate of knowing everything. Instruction manual of Short Dorjé Chang Mahāmudrā Invocation 53

Gänpo Tshepäl
Instructions on Short Dorjé Chang Mahāmudrā Invocation. Oral teachings of the masterly lama 81

Appendix:
Complete liberation life-story of all-knowing Bängarwa by 8th Karmapa Mikyö Dorjé 91

Editions of the original texts 97

Bibliography 149

Index 161