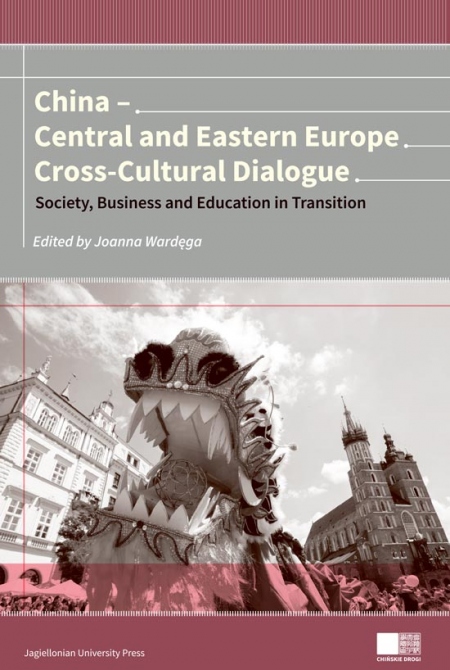 Table of Contents, Reviews
China - Central and Eastern Europe Cross-Cultural Dialogue Society, Business and Education in Transition
Pages: 454 Book format: B5 Publication date: 2016 Publication date: 12.10.2016
Book description
The impressive spiral of global dependency created by China makes it necessary to observe and compare its successes from local perspectives in every region of the world. This publication is part of this trend of constructive comparative studies as it is an analysis of the similarities and relations between China and Central and Eastern Europe countries; an analysis that stems from of the expertise and various perspectives of researchers based in the aforementioned regions.
The quality of this publication is accentuated by the fact that the academic papers were written by researchers representing various academic disciplines. These articles principally demonstrate the similarities in transformation processes of both regions, and they frequently address the challenges of socio-cultural and economic developments that have occurred in China and the Central and Eastern Europe countries.
Prof. Krzysztof Kościelniak

The relationships between China and Central and Eastern European countries (CEE) have never been so comprehensive and close before as they are now. This statement can be applied to almost all areas of cooperation that could be imagined, ranging from the political dialogue on the future bilateral relations, through economic cooperation that might bring about change in the lives of many people, and ending with the ever growing cultural and educational exchange. How these relations will develop undoubtedly requires some active commitment and intellectual support not only from CEE scientists dealing with Sinology or Chinese studies, but also from those on the Chinese side.
This book proves that academics from both sides, with great enthusiasm and true professionalism, took the challenge and presented valuable scientific results, which may encourage the development of these relations to grow, even though many of these issues have already surpassed the typical spectrum of research fields in Sinology and Chinese studies.
Prof. Zhao Gang, Beijing Foreign Studies University

Joanna Wardęga is Assistant Professor at the Institute of Middle and Far East, Jagiellonian University, Krakow. She is a Director of the Confucius Institute in Krakow. Her research interests include transformation of contemporary Chinese society, Chinese nationalism, and tourism in East Asia. Author of articles on sociology and political anthropology of China, and two books: Chiński nacjonalizm. Rekonstruowanie narodu w Chińskiej Republice Ludowej [Chinese Nationalism. The Reconstruction of Chinese Nation] (2014); Współczesne społeczeństwo chińskie. Konsekwencje przemian modernizacyjnych [Modern Chinese Society. The Consequences of China's Modernization] (2015). Editor of a book Współczesne Chiny w kontekście stosunków międzynarodowych [Contemporary China in the Context of International Relations] (2013) and originator of a "Chińskie Drogi" [Chinese Ways] book series at the Jagiellonian University Press.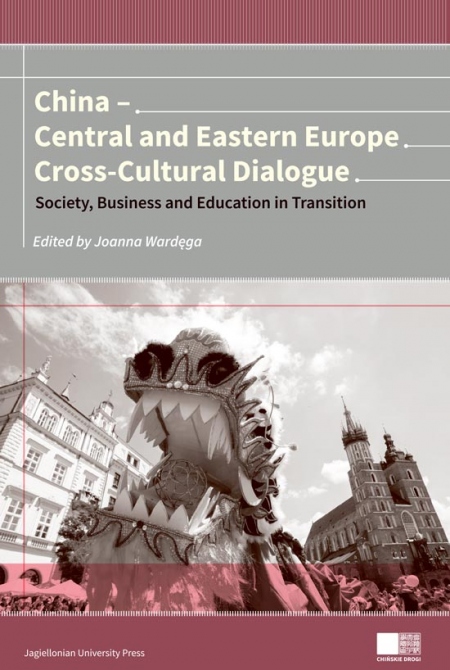 China - Central and Eastern Europe Cross-Cultural Dialogue Society, Business and Education in Transition
CONTENTS

PART I. Society and Culture in Transition

Joanna Wardęga: Foreword  9
József Poór, Péter Fodor, Péter Kollár, Attila Farkas, János Fehér, Patrick Woock
Idealism and Relativism in Ethics: Comparing China and Central Eastern Europe (CEE) 13

Balázs Sárvári
China's Role in the New World Order  35

Natalia Ożegalska-Łukasik
Redefining and Elderly Caregiving in the 21st Century China and Poland  47

Łukasz Gacek
Roadmap for Moving to a Low Carbon Economy in China and Poland. Comparative Analysis  63

Joanna Wardęga
Chinese Community in Poland – the Dynamics of its Development  83

Tamás Matura, Ágnes Szunomár
Perceptions of China among Central and Eastern European University Students  103

Jarosław Jura, Kaja Kałużyńska
Transformation of the Dragon – China's Image in the Polish Media  121

Roxana Ribu
Bridges and Obstacles in "the Way of the Ideal Government": the Transition from Mind Confucianism to Political Confucianism from Jiang Qing's Point of View  141

Mateusz Stępień
Conceptualizations of Constitutionalism in Recent China's Debates: Preliminary Typologies  155

PART TWO. Economy and Markets in Transition

Rafał Koszek
Chinese Economic Influence on the Central and Eastern Europe Countries  167

Michał Lubina
The New Silk Road and its Geopolitical Consequences for Poland  183

Agnieszka McCaleb, Ágnes Szunomár
Comparing Chinese, Japanese and South Korean FDI in Central and Eastern Europe  199

Anna H. Jankowiak
Partnership through Investment – Chinese Foreign Direct Investment in CEE Countries  213

Luciano Segreto, Magdalena Popowska
Chinese Foreign Direct Investments in Europe. The Polish Case  229

Sebastian Bobowski
Fourteen EU States Already in, Japan and USA Still not Interested – What Lies Behind China-led AIIB?  259

Alice Rezková
What Can CEE and China Learn from Each Other in Innovation?  277

Ciril Kafol, Metka Tekavcic, Ljubo Drakulevski, Atanas Kochov
Comparison of Telecommunications Development Pattern in China and the Republic of Macedonia  291

Tomasz Bieliński
Development of Chinese Mobile Phone Game Market as an Export Opportunity for CEE Mobile Game Producers  303
PART THREE. Education in Transition

Dong Xixiao
Opening the Two-Way Fast Lane for China-CEE Cultural Exchange by Equally Valuing the International Promotion of the Chinese Language and the CEE Languages Teaching  317

Wang Yan
A Contrastive Analysis of Traditional Chinese and Western Teaching Styles – A Case Study  327

Li Xiaomei, Ma Xiaoxue, Hu Tongtong
How Does Learning Style and Teaching Style Jointly Relate to Cultural Intelligence? A Study of Chinese Overseas Students  341

Jaroslava Kubátová
Preparation of University Students from Western Cultures for Cooperation with China: Reasons and Methods  363

Tina Ilgo
Facing the Challenges of Teaching Chinese through Confucius Classrooms in Slovenian Schools: Current Situation and Prospects  375

Velimir Stojkovski, Deng Shizhong, Elena Damjanoska
The Role of the Confucius Institute at Ss. Cyril and Methodius University in Skopje in Promoting the Chinese language, Culture and Business in the Republic of Macedonia  391

Stanislav Južnič
Education in Transition of China-Based Jesuits from the Austrian Province  407

Huang Zhuoyue
Link in the History: The Development of the Research on Avguštin Hallerstein and its Contemporary Meaning  433

Contributors  443
China - Central and Eastern Europe Cross-Cultural Dialogue Society, Business and Education in Transition
TABLE OF CONTENTS
CONTENTS

PART I. Society and Culture in Transition

Joanna Wardęga: Foreword  9
József Poór, Péter Fodor, Péter Kollár, Attila Farkas, János Fehér, Patrick Woock
Idealism and Relativism in Ethics: Comparing China and Central Eastern Europe (CEE) 13

Balázs Sárvári
China's Role in the New World Order  35

Natalia Ożegalska-Łukasik
Redefining and Elderly Caregiving in the 21st Century China and Poland  47

Łukasz Gacek
Roadmap for Moving to a Low Carbon Economy in China and Poland. Comparative Analysis  63

Joanna Wardęga
Chinese Community in Poland – the Dynamics of its Development  83

Tamás Matura, Ágnes Szunomár
Perceptions of China among Central and Eastern European University Students  103

Jarosław Jura, Kaja Kałużyńska
Transformation of the Dragon – China's Image in the Polish Media  121

Roxana Ribu
Bridges and Obstacles in "the Way of the Ideal Government": the Transition from Mind Confucianism to Political Confucianism from Jiang Qing's Point of View  141

Mateusz Stępień
Conceptualizations of Constitutionalism in Recent China's Debates: Preliminary Typologies  155

PART TWO. Economy and Markets in Transition

Rafał Koszek
Chinese Economic Influence on the Central and Eastern Europe Countries  167

Michał Lubina
The New Silk Road and its Geopolitical Consequences for Poland  183

Agnieszka McCaleb, Ágnes Szunomár
Comparing Chinese, Japanese and South Korean FDI in Central and Eastern Europe  199

Anna H. Jankowiak
Partnership through Investment – Chinese Foreign Direct Investment in CEE Countries  213

Luciano Segreto, Magdalena Popowska
Chinese Foreign Direct Investments in Europe. The Polish Case  229

Sebastian Bobowski
Fourteen EU States Already in, Japan and USA Still not Interested – What Lies Behind China-led AIIB?  259

Alice Rezková
What Can CEE and China Learn from Each Other in Innovation?  277

Ciril Kafol, Metka Tekavcic, Ljubo Drakulevski, Atanas Kochov
Comparison of Telecommunications Development Pattern in China and the Republic of Macedonia  291

Tomasz Bieliński
Development of Chinese Mobile Phone Game Market as an Export Opportunity for CEE Mobile Game Producers  303
PART THREE. Education in Transition

Dong Xixiao
Opening the Two-Way Fast Lane for China-CEE Cultural Exchange by Equally Valuing the International Promotion of the Chinese Language and the CEE Languages Teaching  317

Wang Yan
A Contrastive Analysis of Traditional Chinese and Western Teaching Styles – A Case Study  327

Li Xiaomei, Ma Xiaoxue, Hu Tongtong
How Does Learning Style and Teaching Style Jointly Relate to Cultural Intelligence? A Study of Chinese Overseas Students  341

Jaroslava Kubátová
Preparation of University Students from Western Cultures for Cooperation with China: Reasons and Methods  363

Tina Ilgo
Facing the Challenges of Teaching Chinese through Confucius Classrooms in Slovenian Schools: Current Situation and Prospects  375

Velimir Stojkovski, Deng Shizhong, Elena Damjanoska
The Role of the Confucius Institute at Ss. Cyril and Methodius University in Skopje in Promoting the Chinese language, Culture and Business in the Republic of Macedonia  391

Stanislav Južnič
Education in Transition of China-Based Jesuits from the Austrian Province  407

Huang Zhuoyue
Link in the History: The Development of the Research on Avguštin Hallerstein and its Contemporary Meaning  433

Contributors  443