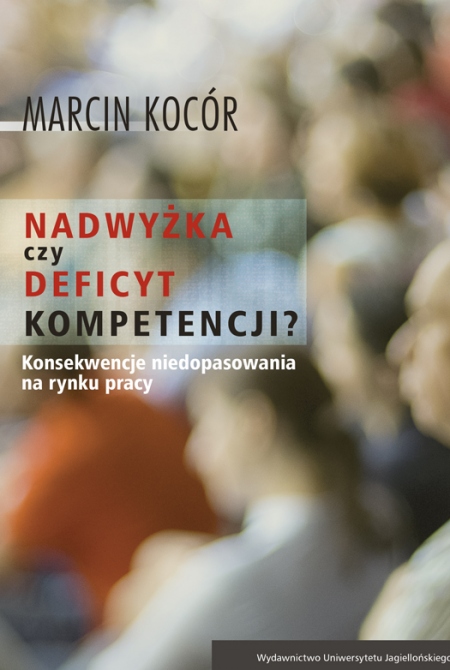 Nadwyżka czy deficyt kompetencji?
Przyczyny i konsekwencje niedopasowania na rynku pracy
Pages: 226 Book format: 16,5x23,5 cm Year of Publication: 2019 Publication date: 18.04.2019
Book description
Praca mieści się w nurcie zainteresowań problematyką kapitału ludzkiego, zaś jej zasadniczym tematem jest problem dopasowania wykształcenia i kompetencji pracowników do potrzeb rynku pracy. Autor koncentruje rozważania na sytuacji, gdy między wykształceniem i kompetencjami pracowników a potrzebami rynku pracy pojawia się rozbieżność, nazywana niedopasowaniem. Odwołując się do teorii oraz wyników badań, stara się wskazać przyczyny owego niedopasowania oraz określić jego skutki dla jednostek, społeczeństwa i gospodarki. Następnie na podstawie zaproponowanych przez siebie wskaźników dokonuje oceny zjawiska niedopasowania na polskim rynku pracy.
Spojrzenie na zagadnienie niedopasowania z perspektywy polskiego rynku pracy stanowić może dla nauki atrakcyjną propozycję. Gospodarka rynkowa w Polsce ma specyficzne korzenie i stosunkowo niedługą historię, a przez to wiele zjawisk na rynku pracy zachodzi w innych warunkach i w szybszym tempie niż w krajach, w których gospodarka rynkowa ma trwalsze podstawy. Pozwala to wyciągnąć wnioski, które trudniej uzyskać gdzie indziej. Badanie zjawiska niedopasowania w Polsce kryje więc w sobie potencjał, który przełożyć można na wkład do wiedzy naukowej.
Z recenzji dr. hab. Zbigniewa Sawińskiego, prof. IFiS PAN
Marcin Kocór
– doktor nauk humanistycznych, adiunkt w Instytucie Socjologii Uniwersytetu Jagiellońskiego w Krakowie, ekspert Centrum Ewaluacji i Analiz Polityk Publicznych. Od osiemnastu lat jest związany z badaniami marketinngowymi i społecznymi. Swoje zainteresowania skupia na zagadnieniach rynku pracy, niedopasowania kompetencyjnego, rozwoju kompetencji oraz metod badań społecznych. Autor i współautor licznych publikacji poświęconych tej tematyce. Od 2008 roku zaangażowany w projekt Bilans Kapitału Ludzkiego, w którym odpowiada za badania pracodawców.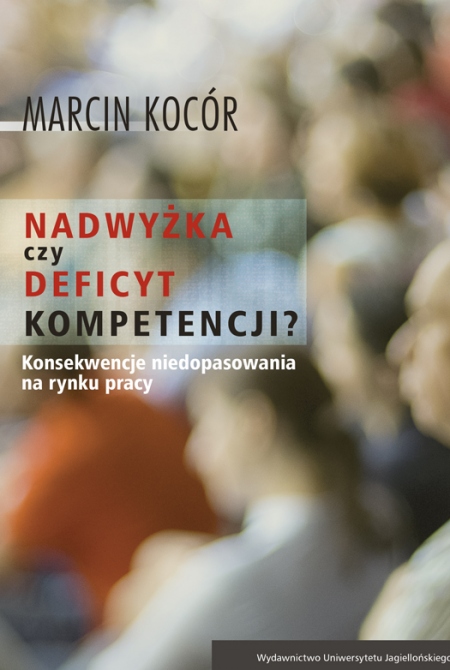 Nadwyżka czy deficyt kompetencji?
Przyczyny i konsekwencje niedopasowania na rynku pracy
Nadwyżka czy deficyt kompetencji?
Przyczyny i konsekwencje niedopasowania na rynku pracy