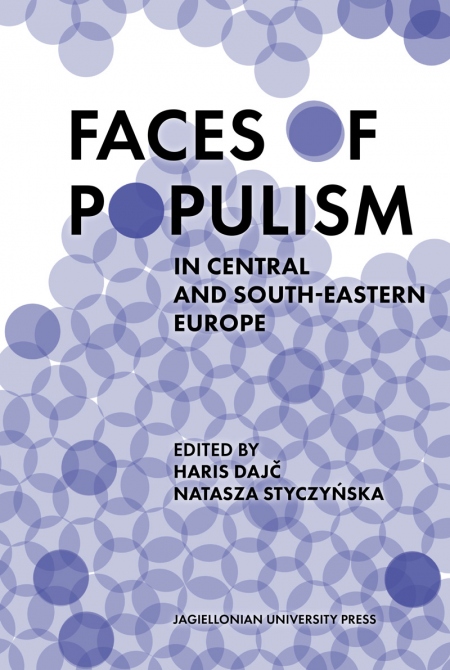 Table of Contents, Reviews
Faces of Populism in Central and South-Eastern Europe
Pages: 300 Book format: 15,8x23,5 cm Publication date: 2023 E-book publication date: 11.10.2023
Book description
Populism is one of the most frequently used terms in contemporary political debates and the media. This elusive and difficult-to-measure phenomenon became also highly politicised both in Europe and around the world. The dichotomy between 'pure people' and 'the corrupted elite' characterises all populist movements and actors, and so this book focuses on particular features that connect populist actors in the post-communist countries of Central and South-Eastern Europe. The volume gathers chapters analysing the phenomenon of populism in Central and South-Eastern Europe from multidisciplinary perspectives. The aim is to map and understand the peculiarities of populism in the region seen from the perspective of political science, economy, history, and cultural studies.

The book is a result of cooperation between researchers working on a project entitled Populist Rebellion against Modernity in 21st-century Eastern Europe: Neo-Traditionalism and Neo-Feudalism (POPREBEL). The project is funded by the European Commission's Horizon 2020 scheme and aims to analyse the rise of populism in Central and Eastern Europe. POPREBEL is run by a consortium of six European universities: University College London, Jagiellonian University, Charles University, University of Tartu, Corvinus University of Budapest, University of Belgrade, and the think tank Edgeryders.
Haris Dajč and Natasza Styczyńska
Abour editors
Haris Dajč
is an Associate Professor at the Department of History, Faculty of Philosophy, University of Belgrade. He has been working at the Faculty of Philosophy, Department of History since 2010. His teaching includes undergrad and graduate courses in Modern and Contemporary History, with the special focus on the History of the Mediterranean and the dissolution of Yugoslavia. He is the Chair of the Centre for the cooperation with the EU at the Faculty of Philosophy University of Belgrade. Haris Dajc is a scientist in charge for the University of Belgrade Faculty of Philosophy for the POPREBEL Horizon 2020 project (2019-2022). In March 2018 he was appointed by the Government of the Republic of Serbia to be its representative and Chairman of the Supervisory Board for the Jewish Restitution Law. Dr Dajč was a research fellow at University of Padova in 2015, working in Archivio di Stato, Venice. Haris Dajč is Nahum Goldman alumni and also alumni of the Israeli Foreign Ministry diplomatic YLD program in 2015. He was visiting professor at the Institute of European Studies (Jagiellonian University) in 2019,2021 and 2022.  
Natasza Styczyńska
is an Assistant Professor at the Institute of European Studies of the Jagiellonian University. Her academic interests include transformation processes in Central and Eastern Europe, party politics, nationalism, populism and Euroscepticism in the CEE region and the Balkans. She has been participating in numerous research projects: H2020 'POPREBEL - Populist rebellion against modernity in 21st-century Eastern Europe: neo-traditionalism and neo-feudalism' (2019-2022), 'EU3D - EU Differentiation, Dominance and Democracy' (2019-2023), from 2022 she is leading JU team in 'REGROUP - Rebuilding governance and resilience out of the pandemic' (2022-2025) as well as educational ones (Jean Monnet Module, EurAsia Erasmus Plus Capacity Building Project, Visegrad Fund). She published several book chapters, articles, blog posts, and radio columns to popularise research outcomes and discuss politics in CEE region and the Balkans.
Edited by
Haris Dajč

, Natasza Styczyńska

Cover design
Marta Jaszczuk
e-ISBN (pdf): 978-83-233-7466-4
e-ISBN (mobi,epub): 978-83-233-7467-1
The book is the result of the project of the European Union's Horizon 2020 research and innovation programme under grant agreement No. 822682. It reflects only the authors' views and the Agency is not responsible for any use that may be made of the information it contains.

Information about License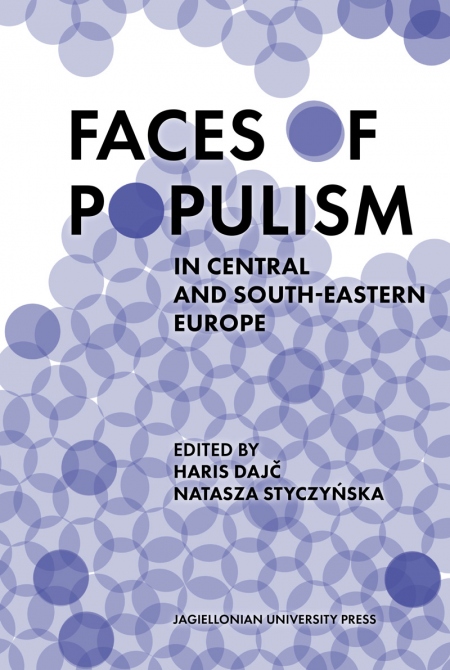 Faces of Populism in Central and South-Eastern Europe
HARIS DAJČ, NATASZA STYCZYŃSKA
ACKNOWLEDGEMENTS  7

HARIS DAJČ, NATASZA STYCZYŃSKA
INTRODUCTION  9

ALEXANDER MESAROVICH
OBSTRUCTING IN THE NAME OF THE PEOPLE: POPULISM, EUROSCEPTICISM, AND EUROPEAN UNION ACCESSION IN SOUTH-EASTERN EUROPE   15

MILAN VUKOMANOVIĆ
POPULISM AND RELIGION IN THE WESTERN BALKANS: THE ROLE OF THE SERBIAN ORTHODOX CHURCH  53

PAULINA LENIK
THE TWO DISSIMILAR CASES OF A RISE IN POPULISM: CASE STUDIES OF POLAND AND CZECHIA   79
OGNJEN RADONJIĆ
POPULIST NEO-TRADITIONALISM AND ECONOMIC NEO-FEUDALISM IN THE CASE OF THE RUSSIAN CONQUEST OF THE SERBIAN OIL AND NATURAL GAS SECTOR FROM 2008 ONWARDS  117

JOANNA ORZECHOWSKA-WACŁAWSKA, AGNIESZKA SADECKA
EU AS THE OTHER? OTHERING EUROPE IN POLISH RIGHT-WING MEDIA POST-2015   147

NATASZA STYCZYŃSKA, JAN D. MEIJER
POPULIST EUROSCEPTICISM IN POLAND: TOWARDS A FRAMEWORK FOR ANALYSIS  177

MLADEN RADULOVIĆ, HARIS DAJČ
THE NEXUS OF NATIONALISM AND EGALITARIANISM IN POPULIST NARRATIVES AND VALUE ORIENTATIONS IN SERBIA IN THE 21ST CENTURY   209

MAJA VASILJEVIĆ, LJILJANA DOBROVŠAK
NATIONALISM AND POPULISM IN 21ST CENTURY CROATIA: CONSEQUENCES OF ENCOUNTER   231

NIKOLA SAMARDŽIĆ
POSTFACE: NEW RUSSIA'S IMPERIALISM AND POPULIST DELUGE FROM THE CURRENT PERSPECTIVE OF RUSSIA'S AGGRESSION AGAINST UKRAINE  265

AUTHORS' BIOS  277
INDEX OF NAMES  283
SUBJECT INDEX  291
Faces of Populism in Central and South-Eastern Europe
TABLE OF CONTENTS
HARIS DAJČ, NATASZA STYCZYŃSKA
ACKNOWLEDGEMENTS  7

HARIS DAJČ, NATASZA STYCZYŃSKA
INTRODUCTION  9

ALEXANDER MESAROVICH
OBSTRUCTING IN THE NAME OF THE PEOPLE: POPULISM, EUROSCEPTICISM, AND EUROPEAN UNION ACCESSION IN SOUTH-EASTERN EUROPE   15

MILAN VUKOMANOVIĆ
POPULISM AND RELIGION IN THE WESTERN BALKANS: THE ROLE OF THE SERBIAN ORTHODOX CHURCH  53

PAULINA LENIK
THE TWO DISSIMILAR CASES OF A RISE IN POPULISM: CASE STUDIES OF POLAND AND CZECHIA   79
OGNJEN RADONJIĆ
POPULIST NEO-TRADITIONALISM AND ECONOMIC NEO-FEUDALISM IN THE CASE OF THE RUSSIAN CONQUEST OF THE SERBIAN OIL AND NATURAL GAS SECTOR FROM 2008 ONWARDS  117

JOANNA ORZECHOWSKA-WACŁAWSKA, AGNIESZKA SADECKA
EU AS THE OTHER? OTHERING EUROPE IN POLISH RIGHT-WING MEDIA POST-2015   147

NATASZA STYCZYŃSKA, JAN D. MEIJER
POPULIST EUROSCEPTICISM IN POLAND: TOWARDS A FRAMEWORK FOR ANALYSIS  177

MLADEN RADULOVIĆ, HARIS DAJČ
THE NEXUS OF NATIONALISM AND EGALITARIANISM IN POPULIST NARRATIVES AND VALUE ORIENTATIONS IN SERBIA IN THE 21ST CENTURY   209

MAJA VASILJEVIĆ, LJILJANA DOBROVŠAK
NATIONALISM AND POPULISM IN 21ST CENTURY CROATIA: CONSEQUENCES OF ENCOUNTER   231

NIKOLA SAMARDŽIĆ
POSTFACE: NEW RUSSIA'S IMPERIALISM AND POPULIST DELUGE FROM THE CURRENT PERSPECTIVE OF RUSSIA'S AGGRESSION AGAINST UKRAINE  265

AUTHORS' BIOS  277
INDEX OF NAMES  283
SUBJECT INDEX  291