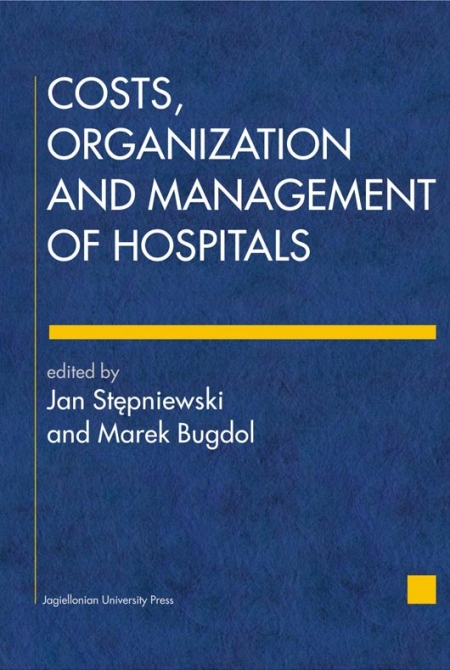 Table of Contents, Reviews
Costs, Organization and Management of Hospitals
Pages: 240 Book format: B5 Publication date: 2010 Publication date: 18.11.2010
Book description
A successful health care unit means meeting patients' expectations, taking advantage of the latest organizational and technological solutions and, at the same time, providing financial balance. To achieve such a success the units have to put stress on modern methods of management, taking into account the cost analysis, its structure, controlling and caring about income.

It is surprising why it has been so difficult for the hospitals to implement changes in their organization or management in favorable conditions for innovations. Is there any opposition to the innovations, successfully implemented in other companies and enterprises, which makes it impossible to introduce them in Polish hospitals?

Transposing organizational solutions from other fields of economy to medical units is the task not only for the scientists but also for the managers of health care who are responsible for hospitals' existence and finding a common ground for cooperation with the representatives from the world of medicine. However, the latter must join and support the system of management as all its parts are equally important so, if one single element of the system, seemingly unimportant, is inefficient, the system collapses.
Edited by
Marek Bugdol

, Jan Stępniewski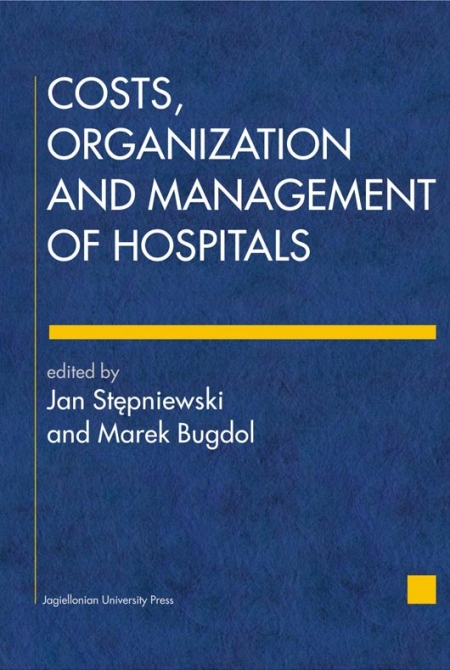 Costs, Organization and Management of Hospitals
CONTENTS

PREFACE

INTRODUCTION

PART I. Costs and finances in hospitals
1.1. New changes in public hospital funding: The French DRGs (GHS) and their consequences on Low-income patients and social disabilities
1.2. Cost accounting and its role in the management of a hospital
1.3. The aspect of resources in activity based costing for hospital management purposes
1.4. The use of cost accounting systems in health care units in the Lublin area
1.5. The role of internal audit in hospitals
1.6. Construction of the soft budget restrictions and health unit debt

PART II. Innovation, organization and management of hospitals
2.1. Organizational Innovations of hospitals
2.1.1. Innovations in hospitals
2.1.2. Innovation and Organisation in the Hospital: a French Perspective
2.1.3. Organizational Innovations in Production of Hospital Service
2.1.4. Organisational standarts of the endoscopic surgery war
2.1.5. Organisation of one day surgery clinic
2.1.6. Information Systems and Risk Management in Health Institutions. A practice-based approach
2.2 Management of hospitals
2.2.1. The application of the process-oriented management concept in improving the productivity of Hospital operation
2.2.2. Functioning of Hospitals after commercialization

PART III. Human Resource, patients' rights and quality service of hospitals
3.1. Human Resource of hospitals
3.1.1. Perspective of personnel function development in Polish hospitals
3.1.2. Interpersonal and intergroup communication process in the hospitals
3.1.3. Ethical aspects of competitions on managing position of hospitals
3.2. Patients' rights while quality of medical services
3.2.1. Quality of medical services from a point of view of patients' rights
3.2.2. Patients' satisfaction in the medical services quality management – research problems
3.2.3. Perspective of patient in managing quality of medical services
3.2.4. Quality improvement in hospital using the QFD method
3.2.5. Ethical programme of hospitals

CONCLUSIONS
Costs, Organization and Management of Hospitals
TABLE OF CONTENTS
CONTENTS

PREFACE

INTRODUCTION

PART I. Costs and finances in hospitals
1.1. New changes in public hospital funding: The French DRGs (GHS) and their consequences on Low-income patients and social disabilities
1.2. Cost accounting and its role in the management of a hospital
1.3. The aspect of resources in activity based costing for hospital management purposes
1.4. The use of cost accounting systems in health care units in the Lublin area
1.5. The role of internal audit in hospitals
1.6. Construction of the soft budget restrictions and health unit debt

PART II. Innovation, organization and management of hospitals
2.1. Organizational Innovations of hospitals
2.1.1. Innovations in hospitals
2.1.2. Innovation and Organisation in the Hospital: a French Perspective
2.1.3. Organizational Innovations in Production of Hospital Service
2.1.4. Organisational standarts of the endoscopic surgery war
2.1.5. Organisation of one day surgery clinic
2.1.6. Information Systems and Risk Management in Health Institutions. A practice-based approach
2.2 Management of hospitals
2.2.1. The application of the process-oriented management concept in improving the productivity of Hospital operation
2.2.2. Functioning of Hospitals after commercialization

PART III. Human Resource, patients' rights and quality service of hospitals
3.1. Human Resource of hospitals
3.1.1. Perspective of personnel function development in Polish hospitals
3.1.2. Interpersonal and intergroup communication process in the hospitals
3.1.3. Ethical aspects of competitions on managing position of hospitals
3.2. Patients' rights while quality of medical services
3.2.1. Quality of medical services from a point of view of patients' rights
3.2.2. Patients' satisfaction in the medical services quality management – research problems
3.2.3. Perspective of patient in managing quality of medical services
3.2.4. Quality improvement in hospital using the QFD method
3.2.5. Ethical programme of hospitals

CONCLUSIONS