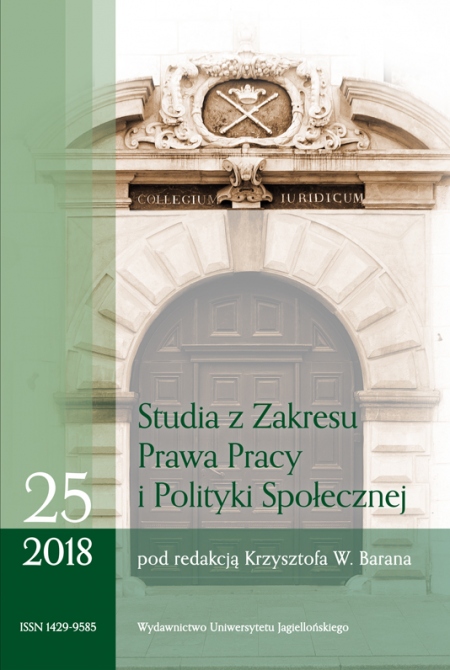 Table of Contents, Reviews
Studia z Zakresu Prawa Pracy i Polityki Społecznej (25) 2018
Pages: 452 Book format: B5 Publication date: 2018 Publication date: 17.12.2018
Book description
"Studia z Zakresu Prawa Pracy i Polityki Społecznej" (Studies on labour law and social policy) is an annual journal published by the Chair of Labour Law and Social Policy of the Jagiellonian University since 1993.
A founder and a long-time editor-in-chief was professor Andrzej Świątkowski. Since October 2015 the editor-in-chief has been professor Krzysztof Baran.
The journal addresses the issues of individual and collective labour law, social security law and legal problems of social policy. It is a forum for exchange of opinions for persons interested in the labour law from all academic centres in Poland.
On list B of rated journals of the Ministry of Science and Higher Education in Poland this journal is scored 4 points.

ISSN 1429‑9585
e-ISSN 2544-4654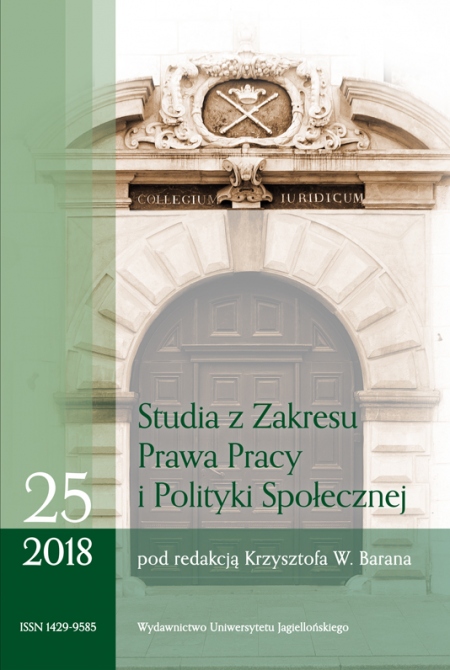 Studia z Zakresu Prawa Pracy i Polityki Społecznej (25) 2018
Założenia aksjologiczne ustawy o ograniczeniu handlu w niedzielę i święta
 Marek Strzała, Jakub Grygutis
Ekspansja przepisów ochronnych na niepracownicze stosunki zatrudnienia – rozważania de lege lata i de lege ferenda na przykładzie umów zlecenia – zagadnienia wybrane
 Żaneta Grygiel-Kaleta
Psychological and Historical Overview of Trade Unions
 Izabela Florczak
Odpowiedzialność ex contractu organizatorów nielegalnego strajku
 Janusz Żołyński
Empirical Research on Compensation Awards by the Israel Labor Court in Cases of Dismissals in Violation of Due Process: the Hearing and Good Faith Duty
 Yael Ilany
Zatrudnianie pracowników domowych w Polsce – stan obecny i perspektywy zmian
 Agata Ludera-Ruszel
Kontrowersje dotyczące obiektywnej przyczyny leżącej po stronie pracodawcy jako podstawy uzasadniającej zawarcie nielimitowanej terminowej umowy o pracę
 Justyna Czerniak-Swędzioł, Błażej Mądrzycki
Pracownicy delegowani z państw UE a uprawnienia związków zawodowych
 Marcin Wujczyk
Labour law and civil law liability for strike and/or other industrial action
 Krzysztof Wojciech Baran
Analiza charakterystyki umowy o pomocy przy zbiorach (ujęcie komparatystyczne)
 Mariusz Miąsko
O charakterze postanowień nieopartych na ustawie innych zakładowych porozumień zbiorowych
 Szymon Sternal
Znaczenie umów przedwstępnych w stosunkach pracy i zakres swobody kontraktowania stron przy ich zawieraniu
 Beata Bury
Laudacja ku czci Profesora dr. hab. Tadeusza Zielińskiego (1926–2003)
 Barbara Wagner
Kierunki kodyfikacji prawa pracy według Profesora Tadeusza Zielińskiego
Justyna Czerniak-Swędzioł
Pojęcie reprezentatywności związków zawodowych w świetle nowelizacji ustawy o związkach zawodowych
 Krzysztof Walczak
Ochrona trwałości stosunku pracy działaczy związkowych w świetle noweli ustawy o związkach zawodowych
 Antoni Dral
Teories of political philosophy as guiding principles in social securit
 Luka Mišič
The right to social security in the Constitution of the Republic of Belarus
 Olga Chesalina
Barriers to free movement due to mismatches of cross border tax and social security instruments
 Frans Pennings
Polityka społeczna i rynek pracy 4.0 a przyszłość prawa pracy, czyli aksjologiczny i pragmatyczny wymiar wyzwań w pracach nad nowym kodeksem pracy
 Jacek Męcina
Problematyka ryzyka zawodowego w stosunkach pracy i stosunkach służbowych oraz egzekwowanie jego oceny przez Państwową Inspekcję Pracy
 Marian Andrzej Liwo
Przetwarzanie danych osobowych dotyczących zatrudnienia w Kościołach i innych związkach wyznaniowych
 Olgierd Kucharski, Paweł Wolnicki
O kształtowaniu prawa pracy i jego związkach z polityką społeczną
 Barbara Godlewska-Bujok
The right to social security in the Portuguese constitution
 Duarte Abrunhosa e Sousa
Some remarks on the extraordinary complaint against the valid judicial decisions in civil proceedings pertaining to cases within the subject-matter and scope of labour law
 Andrzej Olaś, Kinga Moras-Olaś
Pension reforms and participation in Spain
 Eusebi Colàs-Neila
Non-discrimination of part-time and fixed-term workers in recent EU case law
 Miriam Kullmann
Studia z Zakresu Prawa Pracy i Polityki Społecznej (25) 2018
TABLE OF CONTENTS
Założenia aksjologiczne ustawy o ograniczeniu handlu w niedzielę i święta
 Marek Strzała, Jakub Grygutis
Ekspansja przepisów ochronnych na niepracownicze stosunki zatrudnienia – rozważania de lege lata i de lege ferenda na przykładzie umów zlecenia – zagadnienia wybrane
 Żaneta Grygiel-Kaleta
Psychological and Historical Overview of Trade Unions
 Izabela Florczak
Odpowiedzialność ex contractu organizatorów nielegalnego strajku
 Janusz Żołyński
Empirical Research on Compensation Awards by the Israel Labor Court in Cases of Dismissals in Violation of Due Process: the Hearing and Good Faith Duty
 Yael Ilany
Zatrudnianie pracowników domowych w Polsce – stan obecny i perspektywy zmian
 Agata Ludera-Ruszel
Kontrowersje dotyczące obiektywnej przyczyny leżącej po stronie pracodawcy jako podstawy uzasadniającej zawarcie nielimitowanej terminowej umowy o pracę
 Justyna Czerniak-Swędzioł, Błażej Mądrzycki
Pracownicy delegowani z państw UE a uprawnienia związków zawodowych
 Marcin Wujczyk
Labour law and civil law liability for strike and/or other industrial action
 Krzysztof Wojciech Baran
Analiza charakterystyki umowy o pomocy przy zbiorach (ujęcie komparatystyczne)
 Mariusz Miąsko
O charakterze postanowień nieopartych na ustawie innych zakładowych porozumień zbiorowych
 Szymon Sternal
Znaczenie umów przedwstępnych w stosunkach pracy i zakres swobody kontraktowania stron przy ich zawieraniu
 Beata Bury
Laudacja ku czci Profesora dr. hab. Tadeusza Zielińskiego (1926–2003)
 Barbara Wagner
Kierunki kodyfikacji prawa pracy według Profesora Tadeusza Zielińskiego
Justyna Czerniak-Swędzioł
Pojęcie reprezentatywności związków zawodowych w świetle nowelizacji ustawy o związkach zawodowych
 Krzysztof Walczak
Ochrona trwałości stosunku pracy działaczy związkowych w świetle noweli ustawy o związkach zawodowych
 Antoni Dral
Teories of political philosophy as guiding principles in social securit
 Luka Mišič
The right to social security in the Constitution of the Republic of Belarus
 Olga Chesalina
Barriers to free movement due to mismatches of cross border tax and social security instruments
 Frans Pennings
Polityka społeczna i rynek pracy 4.0 a przyszłość prawa pracy, czyli aksjologiczny i pragmatyczny wymiar wyzwań w pracach nad nowym kodeksem pracy
 Jacek Męcina
Problematyka ryzyka zawodowego w stosunkach pracy i stosunkach służbowych oraz egzekwowanie jego oceny przez Państwową Inspekcję Pracy
 Marian Andrzej Liwo
Przetwarzanie danych osobowych dotyczących zatrudnienia w Kościołach i innych związkach wyznaniowych
 Olgierd Kucharski, Paweł Wolnicki
O kształtowaniu prawa pracy i jego związkach z polityką społeczną
 Barbara Godlewska-Bujok
The right to social security in the Portuguese constitution
 Duarte Abrunhosa e Sousa
Some remarks on the extraordinary complaint against the valid judicial decisions in civil proceedings pertaining to cases within the subject-matter and scope of labour law
 Andrzej Olaś, Kinga Moras-Olaś
Pension reforms and participation in Spain
 Eusebi Colàs-Neila
Non-discrimination of part-time and fixed-term workers in recent EU case law
 Miriam Kullmann