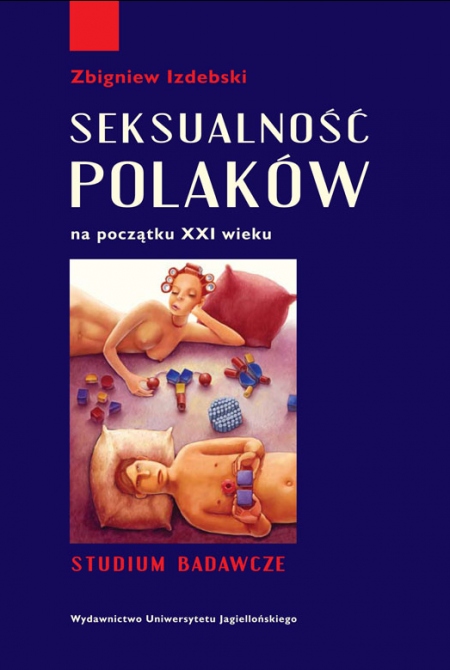 Seksualność Polaków
na początku XXI wieku. Studium badawcze (oprawa twarda)
Pages: 834 Book format: 17x24 cm Publication date: 2012 Publication date: 22.03.2012
Book description
Doczekaliśmy się "polskiego Kinseya". Trwało to długo: pierwsze opracowania Kinseya – pioniera badań nad seksualnością człowieka – pochodzą z połowy XX wieku. (…) Trzeba wyraźnie podkreślić, że publikacja ta stawia nas w absolutnej czołówce światowej nauki o seksualności współczesnego człowieka.
prof. Andrzej Jaczewski  
Autor nie tylko ukazuje szerokie spektrum danych dotyczących naszych seksualnych zachowań, potrzeb, ocen, asercji, lęków, ale także zadaje pytania, które wykraczają poza domenę seksualną, choć są z nią związane: Kim jesteśmy? Czego pragniemy? Co stanowi istotę naszych wzajemnych relacji? Prof. Zbigniew Izdebski nie daje na nie prostych odpowiedzi, bo jego książka to nie tylko kompendium wiedzy na temat seksualności naszego społeczeństwa, lecz także próba namysłu nad tym, co stanowi istotę naszych gier intymnych, tak głęboko uwikłanych w dominujący dyskurs publiczny i represyjne skłonności naszej kultury.
prof. Magdalena Środa  
Na uznanie zasługuje wszechstronność i wnikliwość opisu seksualności Polaków. (…) Niewiele jest w piśmiennictwie światowym prac tego typu i książkę Autora można uznać za znaczącą w rozwoju nauki.
prof. Zbigniew Lew-Starowicz   
O Autorze:
Prof. nadzw. dr hab. n. hum. Zbigniew Izdebski
– pedagog, seksuolog, doradca rodzinny. Dziekan Wydziału Pedagogiki, Socjologii i Nauk o Zdrowiu Uniwersytetu Zielonogórskiego. Kierownik Zakładu Poradnictwa i Seksuologii UZ. Pracuje w Zakładzie Biomedycznych i Psychologicznych Podstaw Edukacji Wydziału Pedagogicznego Uniwersytetu Warszawskiego. Kieruje Podyplomowymi Studiami Wychowania Seksualnego UW. Autor licznych polskich i międzynarodowych badań dotyczących seksualności człowieka.
Prezes Stowarzyszenia do Walki z Dziecięcą Prostytucją i Pornografią "PRO-ECPAT", Honorowy Członek Niemieckiego Towarzystwa Wychowania Seksualnego. Członek Polskiego i Europejskiego Towarzystwa Seksuologicznego. Inicjator i gospodarz corocznych Ogólnopolskich Debat o Zdrowiu Seksualnym.
W 2010 roku jako jedyny polski naukowiec uzyskał status współpracownika Naukowego Instytutu ds. Badań nad Seksem, Płciowością i Prokreacją im. Kinseya na Uniwersytecie Indiana w USA.
Patronat medialny
Partner
 
e-ISBN (pdf): 978-83-233-8437-3