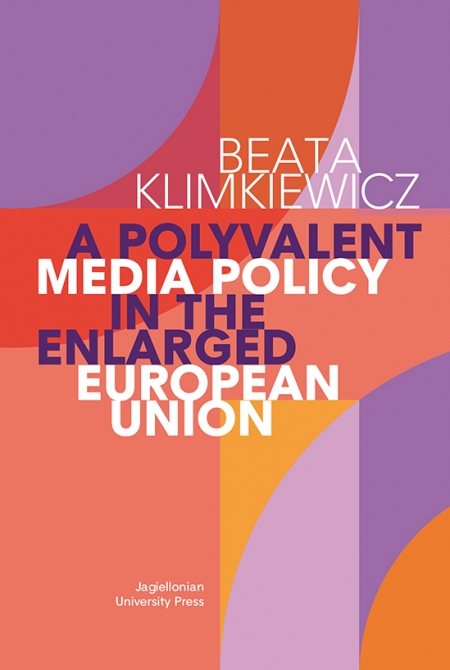 Table of Contents, Reviews
A Polyvalent Media Policy in the Enlarged European Union
Pages: 342 Book format: B5 Publication date: 2014 Publication date: 26.08.2014
Book description
An impressive work of media and communication scholarship, this meticulously researched book provides comprehensive and authoritative treatment to the development of European Union media policy, in all its complexity and competing rationales; it offers a study of EU enlargement and conditionality; and it examines in detail the EU's impact on the new member states in Central and Eastern Europe (CEE), insightfully exploring themes such as content regulation and the promotion of European works, media ownership and media pluralism, the independence of regulatory agencies, and public service media. Building on a state of the art review of existing scholarship on media and communications policy, and offering its own perspective on comparative approaches to the subject, it makes an original and informed contribution both to theory building and to empirical research. It should be a standard point of reference for the academic, stakeholder and policy communities in this field.
Peter Humphreys, Professor of Politics, The University of Manchester, UK    


This book may be read in many ways. For sure it makes quite an outstanding, well composed compendium on the process of European media policy formed during last decades. In its other dimension, it is an efficient demonstration of the way the media should be examined nowadays: multidimensionally and progressively, as an elemental force intermingled with social, political, financial and cultural systems. Being aware of these complexities, and presenting a high level of competence, Beata Klimkiewicz takes the floor in the discussion on media policies in contemporary Europe. Her voice is eloquent and convincing.
Jacek H. Kołodziej, Associate Professor at the Institute of European Studies,  
Jagiellonian University, Kraków, Poland  


This book explores media policymaking in an environment of regional governance and globalized communications. It explores how varying competences and capabilities to address issues involving different media and forms of communication have led European policymakers to seek novel ways to align policy to the rapidly changing communication ecosystem. Klimkiewicz shows how the EU attempts to balance social, political, technological, and economic demands in creating media policy, whilst making it applicable to a broad range of media systems and media cultures in member states and why its struggles to do so have produced uneven results.  
Professor Robert G. Picard, Reuters Institute,   
University of Oxford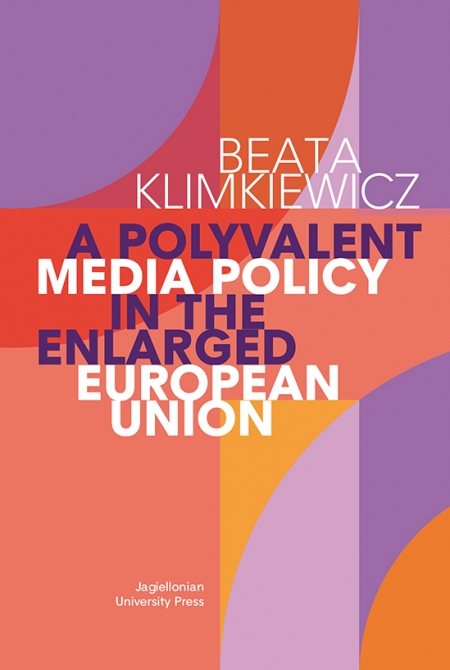 A Polyvalent Media Policy in the Enlarged European Union
ACKNOWLEDGEMENTS 7

1. CHANGING MEDIA, CHANGING PUBLIC SPHERES: THE CONCEPTUAL GROUNDS FOR STUDYING MEDIA POLICY 9
1.1. An Introduction 9
1.2. Media are so Specific: Five Functions and Five Arguments 11
1.3. Media Systems, Media Environments and Other Objects of Media and Communication Policy 26
1.4. Media and Communication Policy: a Conceptual Framework and Evolving Paradigms 35
1.5. Polyvalent Media, Polyvalent Policy: A Methodological Note 39
1.6. Outline of the Book 45

2. EUROPEAN MEDIA POLICIES: STAGES OF HARMONISATION AND DISCORD 47
2.1. Three Introductory Observations 47
2.2. A Difficult Terrain for Ambitious Projects 50
2.3. Four Symptoms of Complexity 54
2.4. United for Competitiveness of European Markets and Cultures: TWF and AVMS Directives 63
2.5. Pan-European Media 67
2.6. EU Support for Audiovisual Production 71
2.7. The Public Service Media 73
2.8. Media Pluralism and Structural Regulation 77
2.9. Convergence: From Information Society to the Digital Agenda for Europe 85
2.10. Media Literacy and Digital Divide 90
2.11. EU Initiatives on Community and Minority Media 93
2.12. International Trade and Cultural Diversity 97
2.13. Harmonisation or Discord? 100

3. EU ENLARGEMENT AND MEDIA POLICY: A SUPERFICIAL SYNCHRONICITY 103
3.1. An Introduction: Elusive Boundaries and Normative Expectations 103
3.2. A Policy of Conditionality 107
3.3. Monitoring of Media-related Issues under the Political Criteria 111
3.4. Monitoring of Media-related Issues under the Audiovisual Acquis 118
3.5. Post-Accession Developments 121
3.6. Libel and the Gorilla Scandal: The 'Silent' Case of Slovakia 128
3.7. The Power of Regulatory Action: The 'Loud' Case of Hungary 132
3.8. Conclusion: A New Approach towards the Media and Communication Rights in the Next EU Enlargement 139

4. SHAPING A EUROPEAN AUDIOVISUAL LANDSCAPE: TWO DIMENSIONS OF AVMSD 145
4.1. An Introduction: Eroding Boundaries of 'Audiovisual' 145
4.2. European and Independent Works 149
4.3. Country of Origin, Free Circulation of Audiovisual Media Services and Internal Market 169
4.4. Legal Implementation and Compliance with the AVMS Directive in the CEE Countries: Conclusions 173

5. MEDIA PLURALISM: PUTTING ENDS AND MEANS AT THE RIGHT PLACE 185
5.1. Crystallising the Normative View on Media Pluralism in European Media Policies: An Introduction 185
5.2. Structures of Control, Function and Space 188
5.3. Protecting Media Pluralism in the CEE Countries 193
5.4. Diversity of Media Control: Patterns of Media Ownership 211
5.5. Diversity of Media Functions: Genres and Policy Measures 240
5.6. Geographical Diversity 243
5.7. Searching the Right Means for Complex Ends: Conclusions 247

6. INDEPENDENCE OF MEDIA REGULATORY AUTHORITIES AND PUBLIC SERVICE MEDIA 251
6.1. A Dynamic Relationship between Independence and External Dependency: An Introduction 251
6.2. Independence of MRA in the EU Media Policy 254
6.3. Independence of the MRA in CEE 257
6.4. The EU Policies Concerning the PSM 272
6.5. Changing Conditions of the PSM in the CEE 276
6.6. Conclusions 282

7. BETWEEN AN ORGANIC GROWTH AND GARDENING: HARMONISATION OF THE POLYVALENT MEDIA POLICY. CONCLUSIONS 285

GLOSSARY 295

BIBLIOGRAPHY 299
A Polyvalent Media Policy in the Enlarged European Union
TABLE OF CONTENTS
ACKNOWLEDGEMENTS 7

1. CHANGING MEDIA, CHANGING PUBLIC SPHERES: THE CONCEPTUAL GROUNDS FOR STUDYING MEDIA POLICY 9
1.1. An Introduction 9
1.2. Media are so Specific: Five Functions and Five Arguments 11
1.3. Media Systems, Media Environments and Other Objects of Media and Communication Policy 26
1.4. Media and Communication Policy: a Conceptual Framework and Evolving Paradigms 35
1.5. Polyvalent Media, Polyvalent Policy: A Methodological Note 39
1.6. Outline of the Book 45

2. EUROPEAN MEDIA POLICIES: STAGES OF HARMONISATION AND DISCORD 47
2.1. Three Introductory Observations 47
2.2. A Difficult Terrain for Ambitious Projects 50
2.3. Four Symptoms of Complexity 54
2.4. United for Competitiveness of European Markets and Cultures: TWF and AVMS Directives 63
2.5. Pan-European Media 67
2.6. EU Support for Audiovisual Production 71
2.7. The Public Service Media 73
2.8. Media Pluralism and Structural Regulation 77
2.9. Convergence: From Information Society to the Digital Agenda for Europe 85
2.10. Media Literacy and Digital Divide 90
2.11. EU Initiatives on Community and Minority Media 93
2.12. International Trade and Cultural Diversity 97
2.13. Harmonisation or Discord? 100

3. EU ENLARGEMENT AND MEDIA POLICY: A SUPERFICIAL SYNCHRONICITY 103
3.1. An Introduction: Elusive Boundaries and Normative Expectations 103
3.2. A Policy of Conditionality 107
3.3. Monitoring of Media-related Issues under the Political Criteria 111
3.4. Monitoring of Media-related Issues under the Audiovisual Acquis 118
3.5. Post-Accession Developments 121
3.6. Libel and the Gorilla Scandal: The 'Silent' Case of Slovakia 128
3.7. The Power of Regulatory Action: The 'Loud' Case of Hungary 132
3.8. Conclusion: A New Approach towards the Media and Communication Rights in the Next EU Enlargement 139

4. SHAPING A EUROPEAN AUDIOVISUAL LANDSCAPE: TWO DIMENSIONS OF AVMSD 145
4.1. An Introduction: Eroding Boundaries of 'Audiovisual' 145
4.2. European and Independent Works 149
4.3. Country of Origin, Free Circulation of Audiovisual Media Services and Internal Market 169
4.4. Legal Implementation and Compliance with the AVMS Directive in the CEE Countries: Conclusions 173

5. MEDIA PLURALISM: PUTTING ENDS AND MEANS AT THE RIGHT PLACE 185
5.1. Crystallising the Normative View on Media Pluralism in European Media Policies: An Introduction 185
5.2. Structures of Control, Function and Space 188
5.3. Protecting Media Pluralism in the CEE Countries 193
5.4. Diversity of Media Control: Patterns of Media Ownership 211
5.5. Diversity of Media Functions: Genres and Policy Measures 240
5.6. Geographical Diversity 243
5.7. Searching the Right Means for Complex Ends: Conclusions 247

6. INDEPENDENCE OF MEDIA REGULATORY AUTHORITIES AND PUBLIC SERVICE MEDIA 251
6.1. A Dynamic Relationship between Independence and External Dependency: An Introduction 251
6.2. Independence of MRA in the EU Media Policy 254
6.3. Independence of the MRA in CEE 257
6.4. The EU Policies Concerning the PSM 272
6.5. Changing Conditions of the PSM in the CEE 276
6.6. Conclusions 282

7. BETWEEN AN ORGANIC GROWTH AND GARDENING: HARMONISATION OF THE POLYVALENT MEDIA POLICY. CONCLUSIONS 285

GLOSSARY 295

BIBLIOGRAPHY 299