PODCAST [PL] III Forum Specjalistów - Lęk, niepokój i zamartwianie się

Ostatni  czas jest dla nas wyjątkowo trudny – dwa lata zmagaliśmy się z  pandemią, dzisiaj doświadczamy wojny toczącej się tuż obok.  Rzeczywistość napawa niepokojem. Lęk może rozpraszać, denerwować, a w  skrajnych przypadkach również obezwładniać.

Jeżeli  masz poczucie, że lęk blokuje twoje działania, hamuje rozwój i krok po  kroku przejmuje kontrolę nad twoim życiem, to ta rozmowa jest dla  Ciebie. Zaproszeni goście – Krzysztof Karauda, Mateusz Prucnal i Tomasz  Waleczko – opowiedzieli nam jaka jest natura lęku, wyjaśnili, w jaki sposób wpływa na nasze życie, a także podzielili się sposobami skutecznego radzenia sobie z nim.

Spotkanie odbyło się 7.04.2022 r. o godzinie 18.00 w ramach III Forum Specjalistów WUJ i było transmitowane na  profilu Facebook i kanale YouTube Wydawnictwa UJ:
Link do transmisji na Youtube: https://youtu.be/WYVphf6z-NY (video)
Link do transmisji na Facebook: https://fb.watch/cP8rHQEPJn/ (video)


Osobom zainteresowanym tematem polecamy książki: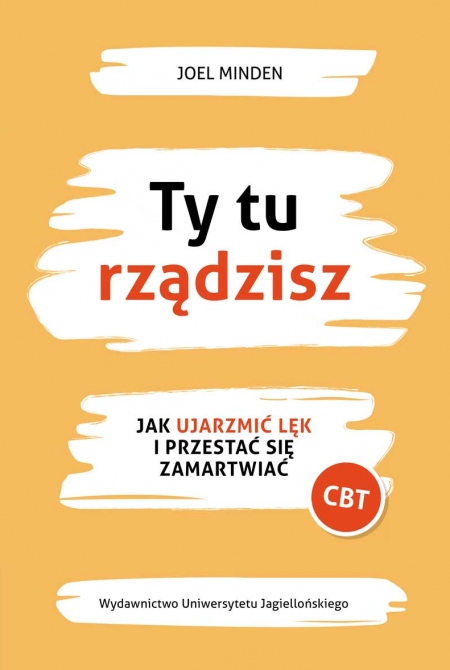 Joel Minden, Ty tu rządzisz. Jak ujarzmić lęk i przestać się zamartwiać

Odzyskaj kontrolę nad swoim życiem

Lęk rządzi Twoim życiem i nie pozwala Ci realizować pragnień? Nieustannie się zamartwiasz i przez to zamykasz się na nowe doświadczenia? Unikasz ludzi, myśli i sytuacji, które budzą tę emocję? Jeżeli masz wrażenie, że lęk przejmuje nad Tobą kontrolę, książka Ty tu rządzisz jest dla Ciebie.

Joel Minden w przejrzysty sposób wyjaśnia, jaka jest natura tego stanu emocjonalnego, w jaki sposób wpływa on na nasze działania i jak sobie z nim radzić. Zaproponowana w poradniku trzyetapowa strategia kontrolowania lęku, oparta na terapii poznawczo-behawioralnej, pokazuje, jak odpowiednio reagować na negatywne pułapki myślowe, skutecznie stawiać czoło przyszłym wyzwaniom i zaakceptować niepewność. Autor krok po kroku uczy, jak stworzyć własny zbiór narzędzi przydatnych w zrozumieniu i opanowaniu lęku. Dołączone ćwiczenia i przykłady pomogą uporać się z nadmiernym zamartwianiem się i prokrastynacją oraz wskażą drogę do wypracowania właściwych strategii działania. Jeżeli czujesz gotowość zmiany, ten poradnik pomoże Ci uwolnić się od lęku i żyć pełnią życia.

Dzięki tej książce nauczysz się:
    ♦  tworzyć użyteczne prognozy zamiast fantazji lękowych,
    ♦  podejmować działania i pokonać w sobie skłonność do unikania,
    ♦  akceptować i przekierowywać myśli lękowe.


Catherine M. Pittman, Elizabeth M. Karle, Zalękniony mózg. Jak dzięki sile neuronauki pokonać zaburzenia lękowe, ataki paniki i zamartwianie się

Przeprogramuj swój sposób myślenia i zacznij żyć bez lęku!

Osoby zmagające się z napadami lęku często nie są świadome mechanizmów i miejsc powstawania tego odczucia. Neuronauka określa je bardzo precyzjnie - lęk rodzi się w ciele migdałowatym odpowiadającym za reakcje na zewnętrzne bodźce typu "walcz lub uciekaj" oraz w korze mózgowej związanej z naszymi myślami, czyli zamartwianiem się, obsesjami i ruminacjami. Co jednak ważniejsze, współczesna wiedza o budowie mózgu pozwala nam wreszcie przejąć nad nim kontrolę!

Autorki przedstawiają sprawdzone strategie walki z lękiem oparte na najnowszych badaniach w dziedzinie neuronauki. W zrozumiały sposób omawiają, w jaki sposób lęk powstaje w mózgu i pokazują, jak wykorzystać te informacje w praktyce. Zawarte w książce ćwiczenia i wskazówki uczą m.in., jak rozpoznawać i eliminować objawy nadchodzącej paniki, wyciszać lęk przed zaśnięciem czy modyfikować negatywne schematy myślowe – a tym samym odzyskać panowanie nad własnym życiem.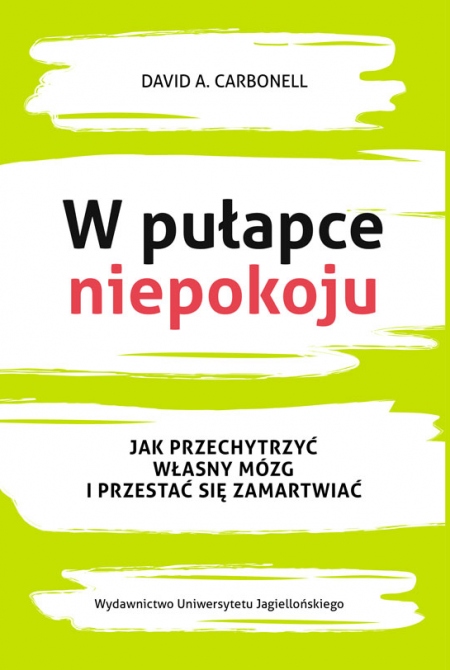 David A. Carbonell, W pułapce niepokoju. Jak przechytrzyć własny mózg i przestać się zamartwiać

Ta fantastyczna książka uczy czytelników, jak za pomocą prostych i łatwych metod zostawić lęk za sobą.

David A. Carbonell przystępnie i zajmująco tłumaczy, dlaczego stare, sztampowe strategie zwalczania lęku nie działają i czemu nasze wytężone wysiłki pozbycia się niepokoju zwykle kończą się porażką. Autor odwołuje się do metod zaczerpniętych z dwóch głównych nurtów leczenia zaburzeń lękowych – terapii poznawczo-behawioralnej oraz terapii akceptacji i zaangażowania. Podpowiada, jak przerwać błędne koło zamartwiania się, spojrzeć na swoje lęki z dystansem i przechytrzyć własny mózg, by już nigdy nie wpaść w pułapkę niepokoju.

Książka Davida A. Carbonella będzie świetnym uzupełnieniem terapii osób zmagających się z chronicznym niepokojem związanym z zaburzeniami obsesyjno-kompulsyjnymi, fobią społeczną czy zespołem uogólnionego lęku (GAD). To także idealna lektura dla tych, którzy zadręczają się troskami jedynie od czasu do czasu i nigdy nie poddawali się psychoterapii. Skorzystają z niej również profesjonaliści,
którzy chcą poszerzyć swoją wiedzę na temat terapii zaburzeń lękowych.



Zajrzyj na nasz Spotify: https://open.spotify.com/show/0p1m1QAPQ57rY4gV3CFQQ0.