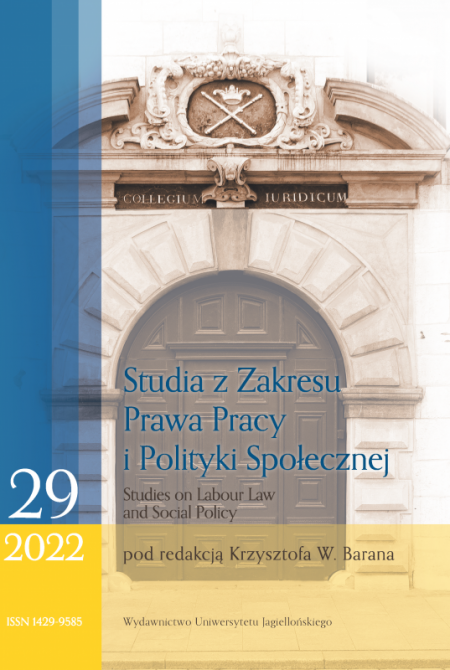 Studia z Zakresu Prawa Pracy i Polityki Społecznej (29) 2022
Pages: 458 Book format: 17x24 cm Publish date: 23.12.2022
Book description
"Studia z Zakresu Prawa Pracy i Polityki Społecznej" (Studies on labour law and social policy) is an annual journal published by the Chair of Labour Law and Social Policy of the Jagiellonian University since 1993. Until 2016 the journal was published annually, and since 2017 is has been issued as a quarterly 4 times a year.

A founder and a long-time editor-in-chief was professor Andrzej Świątkowski. Since October 2015 the editor-in-chief has been professor Krzysztof Baran.

The journal addresses the issues of individual and collective labour law, social security law and legal problems of social policy. It is a forum for exchange of opinions for persons interested in the labour law from all academic centres in Poland. During its 20-year history, the English version - the Yearbook of Polish Labour Law and Social Policy - was also published many times

The journal is a member of the prestigious International Association of Labour Law Journals, comprised of the world's top labour law periodicals.

On ministerial list of rated journals of the Ministry of Science and Higher Education in Poland this journal is scored 70 points.
Language
Polish & English