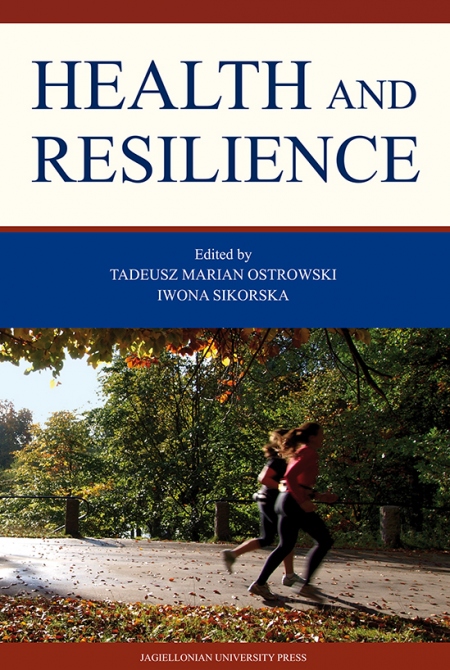 Table of Contents, Reviews
Health and Resilience
Pages: 216 Book format: B5 Publication date: 2014 Publication date: 06.01.2014
Book description
The monograph
Health and resilience
is a collection of papers providing the reader with an opportunity to look at the issue of mental health and resilience from various perspectives. It examines numerous concepts of resilience as related to patterns of adaptation in adverse contexts. Resilience accordingly can be conceived as good adaptation, effective coping or well-being attained despite of adversities. As referring to a class of complex phenomena, resilience is not only a basic category for developmental psychopathology and positive psychology, but also applies to developmental, educational, family and health psychology as well as to psychoneuroimmunology. The chapters of the book address the issue of resilience from either the nomothetic or the idiographic perspective. The monograph discusses theoretical models of resilience, investigates mechanisms and processes connected with health and resilience, scrutinizes various aspects of the latter (such as risk and protective factors or internal and external resources) and provides examples of support in difficult life circumstances.
The monograph
Health and resilience
adresses a very important and still neglected in Poland, issue of the relationship between psychological resilience and health. This issue is the subject of interest to a variety of scientific disciplines, including psychology. The very concept of resilience, however, is still variously understood and there is no common position in this regard. It is also in the context of this fact that the present monograph seems to be important. (...) The monograph may be directed at a wide audience interested in health-related issues, primarily at psychologists, both researchers and practitioners. It can also provide a valuable source of information for pedagogues, sociologists, philosophers, physicians, and other medical professions' representatives.
From the review of Professor Nina Oginska-Bulik, Ph.D., Institute of Psychology, University of Lodz
Tadeusz Marian Ostrowski, Ph.D., Associate Professor at the Jagiellonian University in Cracow, the Head of the Developmental and Health Psychology Department of this University's Institute of Applied Psychology, a 2nddegree of specialisation in adults clinical psychology holder. The area of interest: clinical health psychology, organizational psychology and existential psychology. The main topics of investigation: the function of the meaning of life in rehabilitation after recovery from myocardial infarction and in the treatment of cancer, resilience in the existential context, defence mechanisms in ischemic heart disease, occupational health - psychological mechanisms, especially those reducing the negative consequences of organization-related stress.

Iwona Sikorska, Ph.D., Assistant Professor at the Developmental and Health Psychology Department, Institute of Applied Psychology, Jagiellonian University, Cracow, Poland.
Research on resilience in children and young people including: promotion of life skills, coping with stress, adaptation to transitional life stages. Achild therapist (CBT). Scientific interests: developmental psychopathology, resilience, posttraumatic growth, philosophical anthropology.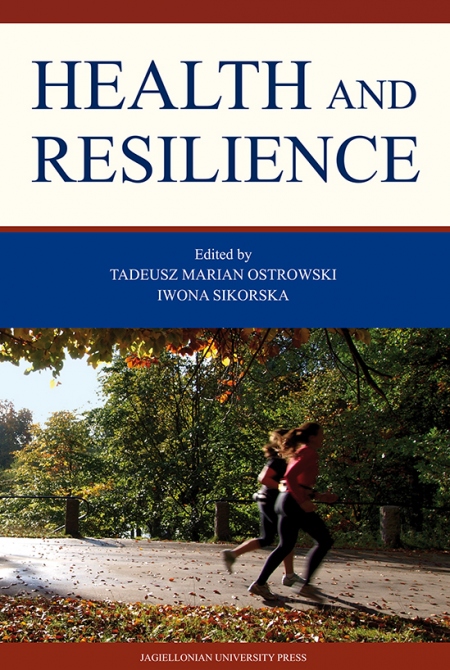 Health and Resilience
TABLE OF CONTENTS

Introduction  7

I. SOCIAL AND METHODOLOGICAL CONTECTS OF RESILIENCE

Tadeusz Marian Ostrowski, Resilience in the light of research and theoretical refl ection  13
Konrad Banicki, Naturalism, normativism and Havi Carel's phenomenological approach to health and illness  25
Krzysztof Gerc, Testing the sense of identity in people with highly functioning autism as theory-methodological problem  39
Urszula Tokarska, "The benefi cial life stories." Health and mental resilience from the narrative perspective  57

II. RESILIENCE IN DEVELOPMENT

Iwona Sikorska, Theoretical models of resilience and resilience measurement tools in children and young people  85
Bogusława Piasecka, Krzysztof Gerc, Iwona Sikorska, Siblings – a retrospective analysis of deidentifi cation processes  101
Klaus Fröhlich-Gildhoff, Maike Rönnau-Böse, Empower children! The promotion of resilience in early childhood institutions (kindergarten) and primary schools  117

III. RESILIENCE AND DISEASE

Władysława Pilecka, Resilience as a chance of developmental success for a child with a chronic illness  141
Wojciech Otrębski, Barbara Czuba, Coping with stress amongst families with children suffering from chronic psychosomatic diseases – recommendations for psychoprophylactic actions  157
Izabella Januszewska, Stanisława Steuden , Styles of coping with negative emotions and stress in patients with hypertension  169
Krzysztof Gerc, Marta Jurek, Family life dimensions and self-assessment of adolescents and young adults using psychoactive substances – the comparative studies  193

List of Authors  211
TABLE OF CONTENTS
TABLE OF CONTENTS

Introduction  7

I. SOCIAL AND METHODOLOGICAL CONTECTS OF RESILIENCE

Tadeusz Marian Ostrowski, Resilience in the light of research and theoretical refl ection  13
Konrad Banicki, Naturalism, normativism and Havi Carel's phenomenological approach to health and illness  25
Krzysztof Gerc, Testing the sense of identity in people with highly functioning autism as theory-methodological problem  39
Urszula Tokarska, "The benefi cial life stories." Health and mental resilience from the narrative perspective  57

II. RESILIENCE IN DEVELOPMENT

Iwona Sikorska, Theoretical models of resilience and resilience measurement tools in children and young people  85
Bogusława Piasecka, Krzysztof Gerc, Iwona Sikorska, Siblings – a retrospective analysis of deidentifi cation processes  101
Klaus Fröhlich-Gildhoff, Maike Rönnau-Böse, Empower children! The promotion of resilience in early childhood institutions (kindergarten) and primary schools  117

III. RESILIENCE AND DISEASE

Władysława Pilecka, Resilience as a chance of developmental success for a child with a chronic illness  141
Wojciech Otrębski, Barbara Czuba, Coping with stress amongst families with children suffering from chronic psychosomatic diseases – recommendations for psychoprophylactic actions  157
Izabella Januszewska, Stanisława Steuden , Styles of coping with negative emotions and stress in patients with hypertension  169
Krzysztof Gerc, Marta Jurek, Family life dimensions and self-assessment of adolescents and young adults using psychoactive substances – the comparative studies  193

List of Authors  211