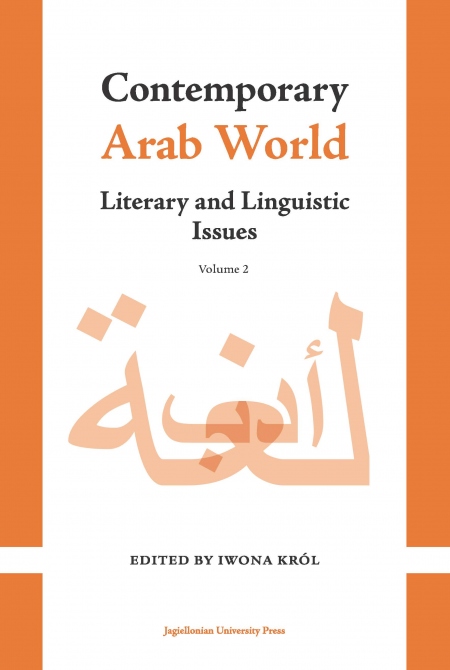 Table of Contents, Reviews
Contemporary Arab World
Literary and Linguistic Issues, Volume 2
Pages: 178 Book format: 15x23 cm Publication date: 2022 Publication date: 06.10.2022
Book description
Contemporary Arab World: Literary and Linguistic Issues
, edited by Iwona Król, is the second volume of the monograph with the same title. It consists of papers written by researchers from the Arabic Department of the Institute of Oriental Studies of the Jagiellonian University in Kraków.
The authors, on the base of original texts from broadly understood Arab culture, discuss a number of literary and linguistic issues. Individual chapters are of high academic level, and their subject matters are important from the scientific point of view.
In my opinion, the reviewed monograph will find readers among specialists from various fields: Arabic and Semitic studies, Polish philology, as well as representatives of literary criticism and general linguistics.
From the review by dr hab. Marcin Grodzki, University of Warsaw

e-ISBN (pdf): 978-83-233-7327-8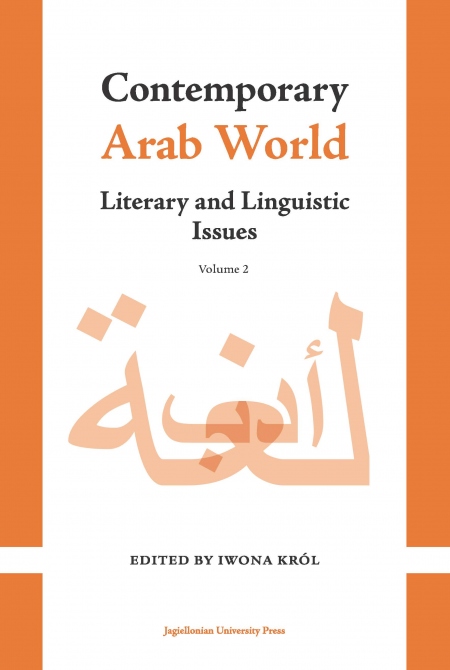 Contemporary Arab World
Literary and Linguistic Issues, Volume 2
Introduction 7

Barbara Michalak-Pikulska
Karīm Maʿtūq and Other Winners of Amīr ash-shuʿarāʾ (Prince of Poets) First Contest 9

Sebastian Gadomski
Muḥammad Ibn Dāniyāl al-Mawṣilī – Arabic Aristophanes of Shadow Theatre 23

Yousef Shʾhadeh
Connotations of Home in Contemporary Palestinian Poetry – ʿAbd Allāh ʿĪsā's Texts as an Example 37

Marcin Gajec
The "Mad Arab" Abdul Alhazred – Orient and Orientalism in the Works of Howard Phillips Lovecraft 51

Iwona Król
Functions of the Suffix -at in Nouns in Modern Standard Arabic 67

Agnieszka Pałka-Lasek
Some Remarks on the Nature of Moroccan Regionalisms Based on the Analysis of University Admission Announcements 87

Marek Piela
Polish Deverbal Verbs and Their Hebrew Equivalents – A Contrastive Analysis Outline 103

Annex Abstracts – Streszczenia 165
Contemporary Arab World
Literary and Linguistic Issues, Volume 2
TABLE OF CONTENTS
Introduction 7

Barbara Michalak-Pikulska
Karīm Maʿtūq and Other Winners of Amīr ash-shuʿarāʾ (Prince of Poets) First Contest 9

Sebastian Gadomski
Muḥammad Ibn Dāniyāl al-Mawṣilī – Arabic Aristophanes of Shadow Theatre 23

Yousef Shʾhadeh
Connotations of Home in Contemporary Palestinian Poetry – ʿAbd Allāh ʿĪsā's Texts as an Example 37

Marcin Gajec
The "Mad Arab" Abdul Alhazred – Orient and Orientalism in the Works of Howard Phillips Lovecraft 51

Iwona Król
Functions of the Suffix -at in Nouns in Modern Standard Arabic 67

Agnieszka Pałka-Lasek
Some Remarks on the Nature of Moroccan Regionalisms Based on the Analysis of University Admission Announcements 87

Marek Piela
Polish Deverbal Verbs and Their Hebrew Equivalents – A Contrastive Analysis Outline 103

Annex Abstracts – Streszczenia 165