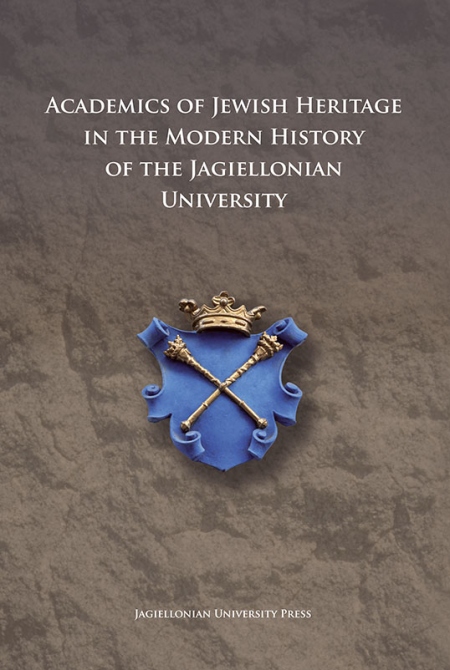 Table of Contents, Reviews
Academics of Jewish Heritage in the Modern History of the Jagiellonian University
Pages: 384 Book format: B5 Publication date: 2014 Publication date: 11.06.2015
Book description
The book
Academics of Jewish Heritage in the Modern History of the Jagiellonian University
is a collective work, anniversary commemorative publication connected with the 650th anniversary of the foundation of the Cracow Academy in 1364.
The anniversary celebrations that fall in 2014 coincide with the celebration of 25 years of the Polish Republic which was reborn in 1989. Poland in the course of this period has changed dramatically and irreversibly: political and administrative changes, coupled with social and economic ones have occurred and which tie Poland to Europe and the free world. The Jagiellonian University is an active participant and partner in this academic, civilizational development.
The 650th anniversary of the founding of the Jagiellonian University is an excellent opportunity to present and recall those academics of Jewish origin who were closely associated with the history of the university, with Cracow and with Poland, and who played a huge role in Polish science and culture. The present book is also a commemoration of those academics of Jewish origin who, together with their families, were persecuted and murdered during the Holocaust.
Prof. Wiesiaw Kozub-Ciembromewicz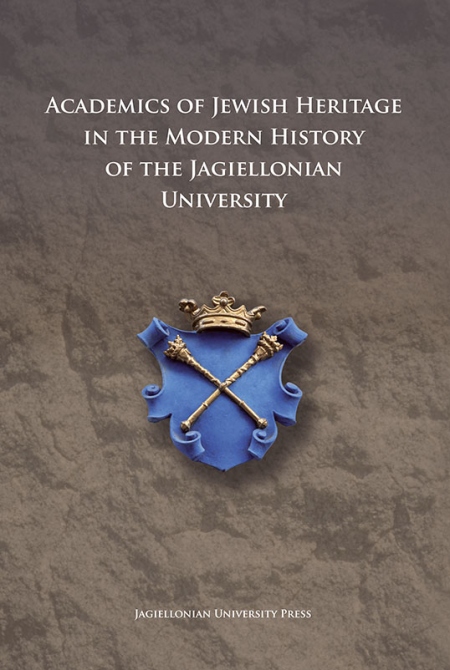 Academics of Jewish Heritage in the Modern History of the Jagiellonian University
Contents

A word from the Rector of the Jagiellonian University  7
A word from Mr. Tad Taube, Chairman, Taube Foundation for Jewish Life and Culture  9
Thanks to the sponsors  11
Introduction, W. Kozub-Ciembroniewicz  13

PART ONE

The history of Jewish relations with the Jagiellonian University: An outline, J. Sondel  19
Jewish Student Organisations at the Jagiellonian University during the Second Polish Republic, J. Kwiek  25
Antisemitism at the Jagiellonian University in the second half of the 1930s, P. Skorut  41
The events of March 1968 at the Jagiellonian University, M. Zajda  49

PART TWO

Julian Aleksandrowicz (1908–1988), A.B. Skotnicki  61
Zofia Ameisen (1897–1967), Z. Pietrzyk  69
Juliusz Bardach (1914–2010), B. Szlachta  77
Leon Blumenstock (Blumenstok)-Halban (1838–1897), J. Wordliczek Jr  87
Józef Bogusz (1904–1993), W. Stankowski  97
Maria Einhorn-Susułowska (1915–1998), M. Kielar-Turska  103
The Epstein Family (the Epsztajn Family), S. Bielański  109
Józef Feldman (1899–1946), S. Bielański  115
Ludwik Gumplowicz (1838–1909), Z. Mach  125
Laura Kaufman (1889–1972), E. Valde-Nowak  133
Jan Hilary Lachs (1881–1942), M. Pietrzyk  141
Joachim Metallmann (1889–1942), A. Cieślar  147
Władysław Natanson (1864–1937), A. Cieślar  153
Józef Oettinger (1818–1895), R.W. Gryglewski  163
Wiktor Rudolf Ormicki (1898–1941), Z. Pietrzyk  171
Maria Orwid (1930–2009), E. Gawron  179
Józef Reinhold (1884–1928), A. Dziadzio  187
Stefan Ritterman (1904–1970), K. Kozub-Ciembroniewicz  197
Józef Michał Rosenblatt (1853–1917), J. Widacki  201
Alfred Rosenblatt (1880–1947), E. Valde-Nowak   215
Antoni Rosner (1831–1896), R.W. Gryglewski  221
Aleksander Rosner (1867–1930), R.W. Gryglewski  227
Józef Sare (1850–1929), M. Kiwior-Filo  235
Leon Samuel Sternbach (1864–1940), S. Płucisz  241
Jan Sznajd (1930–1990), J. Jaworek  251
Rafał Taubenschlag (1881–1958), J. Sondel  259
Marek Wajsblum (1903–1962), Z. Pietrzyk  275
Wiktor Weintraub (1908–1988), Z. Pietrzyk  285
Ferdynand Zweig (1896–1988), K. and A. Mokrysz  295


PART THREE

Jewish Studies at the Jagiellonian University: From the Interfaculty Unit of the History and Culture of Jews in Poland to the Institute of Jewish Studies, M. Galas   307
The Jagiellonian University Centre for Studies into the History and Culture of Jews in Cracow, E. Gawron  325
The duty to explain. Th e Centre for Holocaust Studies at the Jagiellonian University, J. Ambrosewicz-Jacobs  337
Holocaust and Totalitarian Systems Studies at the Jagiellonian University, B. Kwieciński  349
The Jagiellonian University's UNESCO Chair for Holocaust Education, K. Suszkiewicz  357

Contributors  363
Index of Persons  365
Index of Places  378
List of Photographs  382
Academics of Jewish Heritage in the Modern History of the Jagiellonian University
TABLE OF CONTENTS
Contents

A word from the Rector of the Jagiellonian University  7
A word from Mr. Tad Taube, Chairman, Taube Foundation for Jewish Life and Culture  9
Thanks to the sponsors  11
Introduction, W. Kozub-Ciembroniewicz  13

PART ONE

The history of Jewish relations with the Jagiellonian University: An outline, J. Sondel  19
Jewish Student Organisations at the Jagiellonian University during the Second Polish Republic, J. Kwiek  25
Antisemitism at the Jagiellonian University in the second half of the 1930s, P. Skorut  41
The events of March 1968 at the Jagiellonian University, M. Zajda  49

PART TWO

Julian Aleksandrowicz (1908–1988), A.B. Skotnicki  61
Zofia Ameisen (1897–1967), Z. Pietrzyk  69
Juliusz Bardach (1914–2010), B. Szlachta  77
Leon Blumenstock (Blumenstok)-Halban (1838–1897), J. Wordliczek Jr  87
Józef Bogusz (1904–1993), W. Stankowski  97
Maria Einhorn-Susułowska (1915–1998), M. Kielar-Turska  103
The Epstein Family (the Epsztajn Family), S. Bielański  109
Józef Feldman (1899–1946), S. Bielański  115
Ludwik Gumplowicz (1838–1909), Z. Mach  125
Laura Kaufman (1889–1972), E. Valde-Nowak  133
Jan Hilary Lachs (1881–1942), M. Pietrzyk  141
Joachim Metallmann (1889–1942), A. Cieślar  147
Władysław Natanson (1864–1937), A. Cieślar  153
Józef Oettinger (1818–1895), R.W. Gryglewski  163
Wiktor Rudolf Ormicki (1898–1941), Z. Pietrzyk  171
Maria Orwid (1930–2009), E. Gawron  179
Józef Reinhold (1884–1928), A. Dziadzio  187
Stefan Ritterman (1904–1970), K. Kozub-Ciembroniewicz  197
Józef Michał Rosenblatt (1853–1917), J. Widacki  201
Alfred Rosenblatt (1880–1947), E. Valde-Nowak   215
Antoni Rosner (1831–1896), R.W. Gryglewski  221
Aleksander Rosner (1867–1930), R.W. Gryglewski  227
Józef Sare (1850–1929), M. Kiwior-Filo  235
Leon Samuel Sternbach (1864–1940), S. Płucisz  241
Jan Sznajd (1930–1990), J. Jaworek  251
Rafał Taubenschlag (1881–1958), J. Sondel  259
Marek Wajsblum (1903–1962), Z. Pietrzyk  275
Wiktor Weintraub (1908–1988), Z. Pietrzyk  285
Ferdynand Zweig (1896–1988), K. and A. Mokrysz  295


PART THREE

Jewish Studies at the Jagiellonian University: From the Interfaculty Unit of the History and Culture of Jews in Poland to the Institute of Jewish Studies, M. Galas   307
The Jagiellonian University Centre for Studies into the History and Culture of Jews in Cracow, E. Gawron  325
The duty to explain. Th e Centre for Holocaust Studies at the Jagiellonian University, J. Ambrosewicz-Jacobs  337
Holocaust and Totalitarian Systems Studies at the Jagiellonian University, B. Kwieciński  349
The Jagiellonian University's UNESCO Chair for Holocaust Education, K. Suszkiewicz  357

Contributors  363
Index of Persons  365
Index of Places  378
List of Photographs  382