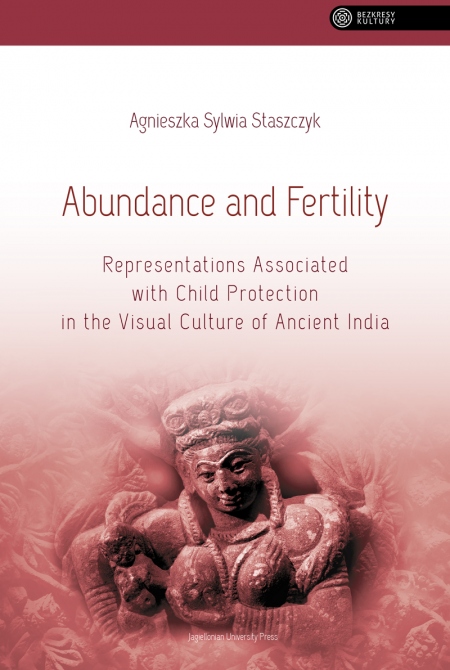 Table of Contents, Reviews
Abundance and Fertility
Representations Associated with Child Protection in the Visual Culture of Ancient India
Pages: 514 Book format: 15x23 cm Publish date: 06.09.2023
Book description
This work is a fascinating attempt to probe deep into the socio-cultural ramifications of the visual artefacts of ancient India, which has a rich heritage of iconographic treasures of varying sizes and styles. The art objects selected for analysis are mainly from the Mathura region of the Kushan era and belong to a period between 50–60 and 300 of the Common Era. This period is perceived as that of 'multicultural environment' enriched with different streams of tradition.    According to the author they are directly related to the themes of abundance and fertility, its perceived cause.  The author demonstrates how these distant fragments of visual imagery can yield rich insights of the world view of the communities which produced them. The work critically analyses the representation of 'spiritual deities' consisting of Ekanamsha, Hariti, Matrikas, Naigamesha, Shashthi and Skanda who were associated with the function of child protection. Understandably, they were the products of a belief in supernatural powers which could offer psychological protection to women cutting across different socio-economic classes at the times of great psychological stress like pregnancy, childbirth and puerperium. The artefacts are carved in stone. Sometimes they are projected as isolated individuals and at other times as belonging to multi-character panels. Depending on their size, they had different functions: bigger objects could be fixed at some places and smaller ones carried from place to place.
Excerpt from the review of Dr. C. Rajendran
Abour author
Dr Agnieszka Sylwia Staszczyk is a graduate of Indian Philology and Art History at the Jagiellonian University in Krakow. She completed her doctoral studies at the Faculty of Fine Arts of the Nicolaus Copernicus University in Toruń. Currently, she works in a research and teaching position at the Jagiellonian University. She conducts language classes, subjects presenting cultural phenomena of the Indian subcontinent, mainly in the field of visual culture. She is also a trainer of cross-cultural competences and conducts workshops preparing for work in multicultural environment. The author's research interests include socio-cultural and religious aspects of artistic patronage, resulting in founding sanctuaries or images of deities, as well as beliefs and stories related to them. She conducted projects in this area and published numerous articles and books presenting their results. She participated in field trips, scholarships as well as in international conferences and workshops. She is a member of several organisations associating researchers of Asian art, e.g. European Association for South Asian Archeology and Art.
About series
"
The Vastness of Culture
" is a series of publications presenting cultural studies and emphasizing the role of comparative research and analyses that reveal similarities, differences and intercultural influences. In our publications, cultures and civilizations are in a state of constant flux, engaging in dialogue, creating new understandings, competing for meaning under the influence of global content,  without any clear boundaries, but with a vastness that forces questions to be raised.
Authors
Agnieszka Sylwia Staszczyk

Cover design
Marta Jaszczuk
e-ISBN (pdf): 978-83-233-7447-3
e-ISBN (mobi,epub): 978-83-233-7448-0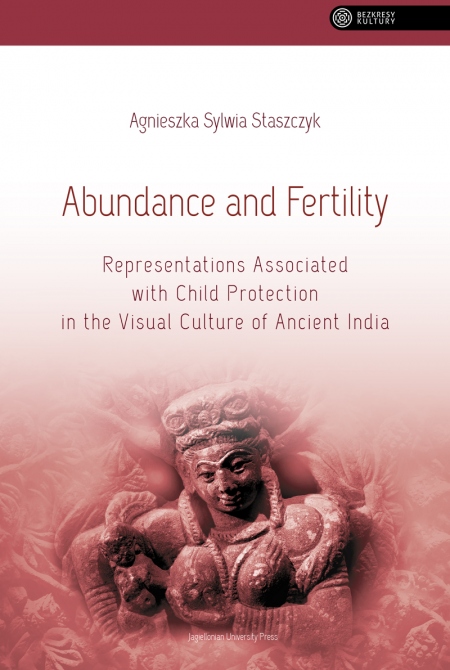 Abundance and Fertility
Representations Associated with Child Protection in the Visual Culture of Ancient India
INTRODUCTION 11
1. Subject and purpose of the study 11
2. State of Research . 25
3. Methodology 33
3.1. Strong and weak images 41
3.2. Strength of an image versus strength of a word 44
3.3. The power of symbols 47
3.4. The object-user relationship 50
3.5. Elementary human needs and the ritual-medical sphere 56
4. The structure of the book 63
5. Acknowledgments 64
Notation on foreign terms and the list of abbreviations . 65
CHAPTER 1REPRESENTATIONS ASSOCIATED WITH ABUNDANCE, FERTILITY AND MOTHERHOOD IN THE VISUAL CULTURE OF INDIA 67
1. Introduction 67
2. Symbolism of fertility versus elements of the earliest images 72
2.1. Nature as a source of symbols . 74
2.1.1. The lotus and lotus sprouts 76
2.1.2. Purnaghata – A vase of plenty . 84
2.1.3. Kalpavriksha and Kalpalata 89
2.2. The female body 92
2.2.1. The power of the Goddess or the power of a woman? 94
2.2.2. Body parts 104
2.2.3. The woman and the tree . 117
2.3. The male body 122
2.3.1. Yakshas with full bellies . 126
2.3.2. Linga and ithyphallic figures 131
2.4. A child as an attribute 138
2.5. The so-called "in labour" posture 144
3. "Lajja Gauri" alias Abundance and Fertility Deity 150
4. Conclusion 158
CHAPTER 2CULTURAL ASPECTS OF FERTILITY, PREGNANCY AND CHILDBIRTH 163
Introduction 163
2. Pregnancy, childbirth and motherhood in ancient times . 167
2.1. Rituals related to offspring 172
2.1.1. Beliefs and ceremonies regarding conception and development of the foetus . 174
2.1.2. Birth . 182
2.2. Female fertility and the role of the mother 185
2.3. Abortion 197
3. Activities promoting fertility and the protection of offspring 199
3.1. Threats, imagination of disease, and feasible countermeasures 202
3.1.1. Beliefs and the pacification of fear 215
3.1.2. Measures and material objects . 218
4. Conclusion 224
CHAPTER 3CHILD PROTECTION AND SPIRIT DEITIES AS DEPICTED IN THE MATHURA SCULPTURE 235
1. Introduction 235
1.1. Grahas and Matrikas 239
1.2. Function of the spirit-deities, role of representations 250
2. Ekanamsha 254
2.1. Representations of the deity in Mathura and their key elements 257
2.1.1. Arch of protection and a shrine niche 260
2.1.2. Strong company – the role of brothers flanking Ekanamsha 264
2.2. Cultural narratives 266
2.3. Character and function of the deity, its employment in protective activities 269
3. Hariti 273
3.1. Representations of the deity in Mathura and their key elements 275
3.1.1. Male companion (does not constitute Hariti) . 287
3.1.2. Fence, stool, or table? 293
3.2. Cultural narratives 296
3.3. Character and function of the deity, its employment in protective activities 301
4. Matrikas 306
4.1. Representations of the deities in Mathura and their key elements 309
4.1.1. Individual images 312
4.1.2. Group panels – Matrikas without assistance . 317
4.1.3. Group panels – Matrikas with assistance 321
4.1.4. The pair of abundance and fertility 330
4.1.5. How was the Matrika type created 333
4.2. Cultural narratives 339
4.3. Character and function of the deities, their employment in protective activities 348
5. Naigamesha 352
5.1. Representations of the deity in Mathura and their key elements 355
5.2. Cultural narratives 369
5.3. Character and function of the deity, its employment in protective activities 378
6. Shashthi 383
6.1. Representations of the deity in Mathura and their key elements 386
6.2. Cultural narratives 395
6.3. Character and function of the deity, its employment in protective activities 400
7. Skanda 406
7.1. Representations of the deity in Mathura and their key elements 409
7.2. Cultural narratives 415
7.3. Character and function of the deity, its employment in protective activities 424
8. Conclusion 428
CONCLUDING REMARKS 435
BIBLIOGRAPHY . 451
LIST OF ILLUSTRATIONS 477
APPENDICES 481
1. Vedic Hymns 481
1.1. Atharvaveda 8.6: A charm to exercise evil spirits who beset women 481
1.2. Atharvaveda 3.23: A charm to remove a woman's sterility, and to assure the birth of boys . 483
1.3. Atharvaveda 2.10 483
1.4. Rigveda 10.184 484
2. Excerpts from Mahabharata 485
2.1. The story of Yuvanashva 485
2.2. The stories of Matrikas 487
3. Fragments of Sushruta Samhita 491
3.1. General characteristics of nine Grahas and the example symptoms of the attack of Skanda and Skandapasmara 491
3.2. Counteracting the Skanda-Graha attack 492
Abundance and Fertility
Representations Associated with Child Protection in the Visual Culture of Ancient India
TABLE OF CONTENTS
INTRODUCTION 11
1. Subject and purpose of the study 11
2. State of Research . 25
3. Methodology 33
3.1. Strong and weak images 41
3.2. Strength of an image versus strength of a word 44
3.3. The power of symbols 47
3.4. The object-user relationship 50
3.5. Elementary human needs and the ritual-medical sphere 56
4. The structure of the book 63
5. Acknowledgments 64
Notation on foreign terms and the list of abbreviations . 65
CHAPTER 1REPRESENTATIONS ASSOCIATED WITH ABUNDANCE, FERTILITY AND MOTHERHOOD IN THE VISUAL CULTURE OF INDIA 67
1. Introduction 67
2. Symbolism of fertility versus elements of the earliest images 72
2.1. Nature as a source of symbols . 74
2.1.1. The lotus and lotus sprouts 76
2.1.2. Purnaghata – A vase of plenty . 84
2.1.3. Kalpavriksha and Kalpalata 89
2.2. The female body 92
2.2.1. The power of the Goddess or the power of a woman? 94
2.2.2. Body parts 104
2.2.3. The woman and the tree . 117
2.3. The male body 122
2.3.1. Yakshas with full bellies . 126
2.3.2. Linga and ithyphallic figures 131
2.4. A child as an attribute 138
2.5. The so-called "in labour" posture 144
3. "Lajja Gauri" alias Abundance and Fertility Deity 150
4. Conclusion 158
CHAPTER 2CULTURAL ASPECTS OF FERTILITY, PREGNANCY AND CHILDBIRTH 163
Introduction 163
2. Pregnancy, childbirth and motherhood in ancient times . 167
2.1. Rituals related to offspring 172
2.1.1. Beliefs and ceremonies regarding conception and development of the foetus . 174
2.1.2. Birth . 182
2.2. Female fertility and the role of the mother 185
2.3. Abortion 197
3. Activities promoting fertility and the protection of offspring 199
3.1. Threats, imagination of disease, and feasible countermeasures 202
3.1.1. Beliefs and the pacification of fear 215
3.1.2. Measures and material objects . 218
4. Conclusion 224
CHAPTER 3CHILD PROTECTION AND SPIRIT DEITIES AS DEPICTED IN THE MATHURA SCULPTURE 235
1. Introduction 235
1.1. Grahas and Matrikas 239
1.2. Function of the spirit-deities, role of representations 250
2. Ekanamsha 254
2.1. Representations of the deity in Mathura and their key elements 257
2.1.1. Arch of protection and a shrine niche 260
2.1.2. Strong company – the role of brothers flanking Ekanamsha 264
2.2. Cultural narratives 266
2.3. Character and function of the deity, its employment in protective activities 269
3. Hariti 273
3.1. Representations of the deity in Mathura and their key elements 275
3.1.1. Male companion (does not constitute Hariti) . 287
3.1.2. Fence, stool, or table? 293
3.2. Cultural narratives 296
3.3. Character and function of the deity, its employment in protective activities 301
4. Matrikas 306
4.1. Representations of the deities in Mathura and their key elements 309
4.1.1. Individual images 312
4.1.2. Group panels – Matrikas without assistance . 317
4.1.3. Group panels – Matrikas with assistance 321
4.1.4. The pair of abundance and fertility 330
4.1.5. How was the Matrika type created 333
4.2. Cultural narratives 339
4.3. Character and function of the deities, their employment in protective activities 348
5. Naigamesha 352
5.1. Representations of the deity in Mathura and their key elements 355
5.2. Cultural narratives 369
5.3. Character and function of the deity, its employment in protective activities 378
6. Shashthi 383
6.1. Representations of the deity in Mathura and their key elements 386
6.2. Cultural narratives 395
6.3. Character and function of the deity, its employment in protective activities 400
7. Skanda 406
7.1. Representations of the deity in Mathura and their key elements 409
7.2. Cultural narratives 415
7.3. Character and function of the deity, its employment in protective activities 424
8. Conclusion 428
CONCLUDING REMARKS 435
BIBLIOGRAPHY . 451
LIST OF ILLUSTRATIONS 477
APPENDICES 481
1. Vedic Hymns 481
1.1. Atharvaveda 8.6: A charm to exercise evil spirits who beset women 481
1.2. Atharvaveda 3.23: A charm to remove a woman's sterility, and to assure the birth of boys . 483
1.3. Atharvaveda 2.10 483
1.4. Rigveda 10.184 484
2. Excerpts from Mahabharata 485
2.1. The story of Yuvanashva 485
2.2. The stories of Matrikas 487
3. Fragments of Sushruta Samhita 491
3.1. General characteristics of nine Grahas and the example symptoms of the attack of Skanda and Skandapasmara 491
3.2. Counteracting the Skanda-Graha attack 492