Wykład wykładu / The Lecture about Lecture
The Lecture about Lecture. On Olga Tokarczuk's Nobel Speech
Pages: 90 Book format: 16x23 cm Publish date: 25.05.2021
Book description
The monographic essay by Wojciech Kajtoch – renowned expert in media studies, literary historian and scholar – has a high cognitive value. It tackles an essentially novel, still unstudied subject with the use of an original research method which incorporates elements of qualitative and quantitative analysis and applies them to the text of the speech delivered by the Polish Nobel laureate. The method is in fact akin to discourse analysis, since Kajtoch is also interested in paralinguistic factors. In the discussion, the author refers to the theory of textual image of the world, which he himself has coined and which seems particularly useful for studying the issue of complex, multi-faceted relations between linguistic activity and culture.
Excerpt from the review by prof. dr. hab. Aleksander Kiklewicz

Wojciech Kajtoch – literary scholar, linguist, expert in media studies, Polish and Russian philologist, man of letters, professor at the Jagiellonian University. He works at the Press Research Centre – department of the Institute of Journalism, Media and Social Communications of the Jagiellonian University. Author of 20 academic and literary publications. His works have been translated into Russian, English, Bulgarian, Serbian, and German.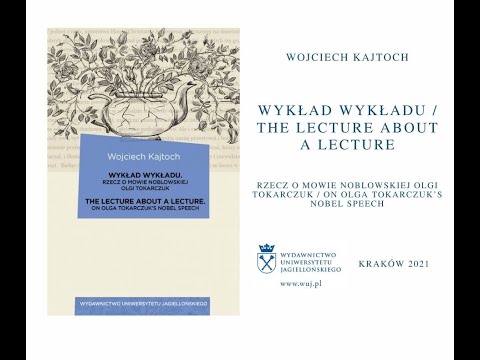 Wykład wykładu / The Lecture about Lecture
The Lecture about Lecture. On Olga Tokarczuk's Nobel Speech
Wykład wykładu / The Lecture about Lecture
The Lecture about Lecture. On Olga Tokarczuk's Nobel Speech