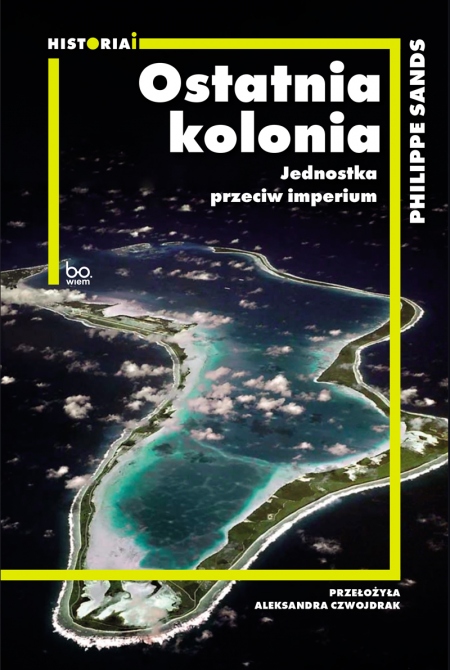 Ostatnia kolonia
Jednostka przeciw imperium
Pages: 224 Book format: 15x23 cm Publication date: 2023 Publication date: 25.10.2023 E-book publication date: 09.11.2023
Book description
After the Second World War, new international rules heralded an age of human rights and self-determination. Supported by Britain, these unprecedented changes sought to end the scourge of colonialism. But how committed was Britain?

In the 1960s, its colonial instinct ignited once more: a secret decision was taken to offer the US a base at Diego Garcia, one of the islands of the Chagos Archipelago in the Indian Ocean, create a new colony (the 'British Indian Ocean Territory') and deport the entire local population. One of those inhabitants was Liseby Elysé, twenty years old, newly married, expecting her first child. One suitcase, no pets, the British ordered, expelling her from the only home she had ever known.

For four decades the government of Mauritius fought for the return of Chagos, and the past decade Philippe Sands has been intimately involved in the cases. In 2018 Chagos and colonialism finally reached the World Court in The Hague. As Mauritius and the entire African continent challenged British and American lawlessness, fourteen international judges faced a landmark decision: would they rule that Britain illegally detached Chagos from Mauritius? Would they open the door to Liseby Elysé and her fellow Chagossians returning home - or exile them forever?

Taking us on a disturbing journey across international law, THE LAST COLONY illuminates the continuing horrors of colonial rule, the devastating impact of Britain's racist grip on its last colony in Africa, and the struggle for justice in the face of a crime against humanity. It is a tale about the making of modern international law and one woman's fight for justice, a courtroom drama and a personal journey that ends with a historic ruling.
Abour Author
Philippe Sands is Professor of Law at UCL and a practising barrister at Matrix Chambers. He has been involved in many of the most important international cases of recent years, including Pinochet, Congo, Yugoslavia, Rwanda, Iraq, Guantanamo and the Rohingya. He is the author of LAWLESS, TORTURE TEAM, EAST WEST STREET, which won the Baillie Gifford Prize for Non-fiction, and Sunday Times bestselling THE RATLINE. He is a contributor to the Financial Times, Guardian, New York Review of Books and Vanity Fair, and makes regular appearances on radio and television. He is President of English PEN and a member of the board of the Hay Festival.
Original title
The Last Colony: A Tale of Exile, Justice and Britain's Colonial Legacy
Original language
English
Cover design
Sebastian Wojnowski
e-ISBN (mobi,epub): 978-83-233-7498-5