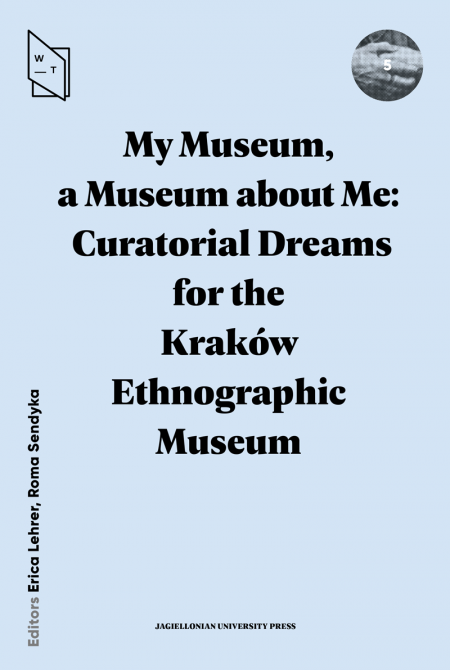 Table of Contents, Reviews
My Museum, a Museum about Me
Curatorial Dreams for the Kraków Ethnographic Museum
Pages: 196 Book format: 15,8x23,5 cm Publish date: 28.06.2023
Book description
This book […] is the result of a scholarly intervention into the space of the Kraków Ethnographic Museum. While reflecting on one specific project, it opens many questions relevant for reformulating our ideas about both the museum and the academy. The project's approach to intellectual deliberation is horizontal, engaging students on equal footing with professors, resulting in a publication that embodies collaborative practice. It is also a unique example of how thought can be manifested in creative action, which itself then produces a new object for critical reflection. It is a true blend of theory and practice; an attempt to embed the university in the broader social world while similarly urging museums to speak directly to the societies about which they teach. The project thus proposes both a new form of research and a new take on the presentation of academic knowledge. Thinking through the museum becomes – as promised – not only a critical view of the institution, but also a meditation on society, its rules, and the identities of its inhabitants.
Iwona Kurz, University of Warsaw

Abour editors
Erica Lehrer is Professor in the Departments of History and Sociology-Anthropology at Concordia University in Montreal. She is the co-founder and first director of the university's Curating and Public Scholarship Lab (CaPSL).

Roma Sendyka is Professor at the School of the Anthropology of Literature and Research on Culture in the Department of Polish Studies at the Jagiellonian University in Kraków. She is co-founder and the first director of the Research Center for Memory Cultures.
About series
The series
Exhibiting Theory
presents humanities and social science theory in a new way. Here, specialist knowledge is presented for a broad audience, as critical theoretical approaches engage activist, artistic, and museum discourses and interact with voices and methods from beyond the academy. The volumes document experimental practices of working with theory in museums, galleries, and other public sites, where new knowledge is manifested through acts of material creation, curated for and subject to public response. The results are considered in texts by theorists, critics, curators, artists, community partners, and trainees, developed in collaboration and dialogue.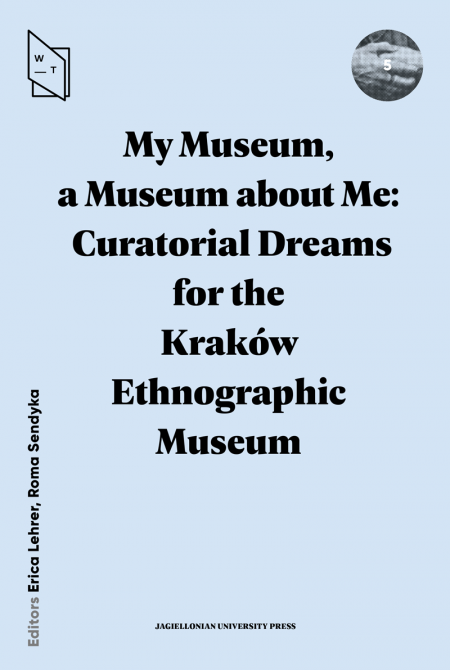 My Museum, a Museum about Me
Curatorial Dreams for the Kraków Ethnographic Museum
PART I: MUSEUM THINKING

Erica Lehrer
Introduction: My Museum, a Museum about Me 13

Roma Sendyka
Dreaming, Wishing, and Thinking in the Museum 21

Marek Tuszewicki
Slavic-Jewish Contact and Its Representation in Museum Space 31

Magdalena Zych
The Ethnographic Museum I Dream of Is a Shared Space 35

Shelley Ruth Butler
Workshop Reflections: To Play, Ponder, and Plan 45

Adam Leszczyński
Erasing Violence: The Trouble with Decolonizing the Polish Past 51

PART II: HERITAGE IN DISPUTE

Erica Lehrer
From "Heritage Communities" to "Communities of Implication"65

Roma Sendyka
Caduca, or Es(cheat)ed Legacy 81

PART III: CURATORIAL DREAMING

Shelley Ruth Butler, Erica Lehrer
Curatorial Dreaming 95

PART IV: THE INTERVENTION

Intervention—Introductory Materials 103

Jason Francisco
Photo Essay 116

Aleksandra Guja
To Whom Does the Legacy of the Polish Village Belong? Notes on a curatorial project 123

Marta Matuszak
Jewish Society in the Polish Village 135

Sylwia Papier
Deconstructing the "I" in the Museum: Eye to Eye with Personal History 143

Iga Figiel
The Village—A Difficult Inheritance 151

Marlena Nikody
When We Think of Folk Costume, What Kind of Clothing Do We Imagine? 155

Karolina Koprowska
Lesson 1. Subject: The Classroom—an Area of Contact or Conflict? 159

Daria Kołecka, Natalia Giemza
Digesting Culture 163

Mariola Gucwa
Kołatka 167

PART V: COMMENTARIES

Jerzy Franczak
Awakening 173

Maria Kobielska
She-Hackers 177

Monika Gromala
The Virus of Trans-Formation Haunts the Museum 181

Notes from Visitors to the Intervention 185

Magdalena Zych
Afterword: A Shared Space—What Next? 187

Index of Personal Names 193
My Museum, a Museum about Me
Curatorial Dreams for the Kraków Ethnographic Museum
TABLE OF CONTENTS
PART I: MUSEUM THINKING

Erica Lehrer
Introduction: My Museum, a Museum about Me 13

Roma Sendyka
Dreaming, Wishing, and Thinking in the Museum 21

Marek Tuszewicki
Slavic-Jewish Contact and Its Representation in Museum Space 31

Magdalena Zych
The Ethnographic Museum I Dream of Is a Shared Space 35

Shelley Ruth Butler
Workshop Reflections: To Play, Ponder, and Plan 45

Adam Leszczyński
Erasing Violence: The Trouble with Decolonizing the Polish Past 51

PART II: HERITAGE IN DISPUTE

Erica Lehrer
From "Heritage Communities" to "Communities of Implication"65

Roma Sendyka
Caduca, or Es(cheat)ed Legacy 81

PART III: CURATORIAL DREAMING

Shelley Ruth Butler, Erica Lehrer
Curatorial Dreaming 95

PART IV: THE INTERVENTION

Intervention—Introductory Materials 103

Jason Francisco
Photo Essay 116

Aleksandra Guja
To Whom Does the Legacy of the Polish Village Belong? Notes on a curatorial project 123

Marta Matuszak
Jewish Society in the Polish Village 135

Sylwia Papier
Deconstructing the "I" in the Museum: Eye to Eye with Personal History 143

Iga Figiel
The Village—A Difficult Inheritance 151

Marlena Nikody
When We Think of Folk Costume, What Kind of Clothing Do We Imagine? 155

Karolina Koprowska
Lesson 1. Subject: The Classroom—an Area of Contact or Conflict? 159

Daria Kołecka, Natalia Giemza
Digesting Culture 163

Mariola Gucwa
Kołatka 167

PART V: COMMENTARIES

Jerzy Franczak
Awakening 173

Maria Kobielska
She-Hackers 177

Monika Gromala
The Virus of Trans-Formation Haunts the Museum 181

Notes from Visitors to the Intervention 185

Magdalena Zych
Afterword: A Shared Space—What Next? 187

Index of Personal Names 193